Favorite color? What makes you happy? What are you good at? What is your greatest fear… "Twenty Questions" is a regular feature in which SCJs and those with whom they minister and collaborate share a bit about themselves in an informal Q&A. Participants are given the same list of questions and are invited to answer as many as they would like.
Fr. Vincent Suparman, SCJ, originally from Indonesia, is local superior of the Sacred Heart retirement community in Pinellas Park, FL.



Q: Where were you born and raised? Describe your family.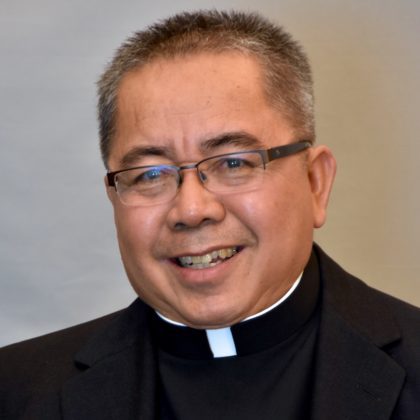 FR. VINCENT: I was born in Batanghari, a little town thirty miles East of Teluk Betung, the capital of Lampung Province, Sumatra, Indonesia.  At age 26 my father was married to my mother who was only 16. My father was an ordinary farmer who owned less than ten acres in the 1960s. My mother ran a mini grocery store until she reached the age of 70. That was six years ago. I am the oldest child in the family. We are nine, four boys and five girls.  Instead of having siesta after school hours, all the boys would work in the field until 5:00 p.m. The girls would take care of the household jobs. The boys in the family worked at least three hours in the field six days a week. On Sundays I would help my mother in her grocery store (no church; I was not baptized until I was 17).  After working on the farm I would join the village boys to play soccer. That was fun!
Q: What is your favorite book or movie?
FR. VINCENT: My favorite book is the Amungme (about one of the tribes in West Pacific) by Kal Muller; also The Jesuit Guide to (Almost) Everything by James Martin, SJ. My favorite movies are Speed and Titanic.
Q: If you could travel anywhere in the world post-pandemic – without concern about the expense – where would you go and why?
FR. VINCENT: If I could, I would travel to the Holy Land, because I have learned about the biblical stories but I have never been there.
Q: What are you good at?
FR. VINCENT: I am good at teaching mid-high school grades.
Q: What is your favorite color?
FR. VINCENT: My favorite color is dark blue.
Q: Do you have any hobbies or pastimes? If so, what are they and how did you get interested in them?
FR. VINCENT: My hobby is fishing. My father used to purchase any swamp land in the village where he would build a little dam if needed to create a body of water in which he scattered small fish (minnows) to catch larger fish.
Q: What is your favorite food?
FR. VINCENT: My favorite meal is corn and pork ribs.
Q: What is your least favorite chore?
FR. VINCENT: My least favorite chore is cleaning the ceiling, especially when I find spiderwebs!
Q: Who — living or deceased — do you most admire and why?
FR. VINCENT: I admired my father and paternal grandmother who paved the way for many of us to have a better education and to make many things possible for our extended family.
Q: What would surprise people to learn about you?
FR. VINCENT: Many people think that I cannot tell a joke but once in a blue moon I have success and they learn a bit more about me.  Also, I took a sewing class when I was in high school. I used to make my school uniforms and school bags. My teacher said that I was very good and creative in sewing. When I joined the SCJs in 1986, I passed down the manuals to my cousin because I knew that I would not have the opportunity to exercise my skills in the formation house.
Q: As a child, what did you want to be when you grew up?
FR. VINCENT: I wanted to become a truck driver to help my father haul the crops from the field to the market.
Q: What makes you happy?
FR. VINCENT: I do not feel useless.  No matter how little I have, no matter what my position, I always feel that I can make a change for better.
Q: What is your greatest fear?
FR. VINCENT: My greatest fear is when I feel like a stranger in the crowd.
Q: What trait or habit do you dislike in yourself?
FR. VINCENT: My habit that I dislike in myself is driving while eating and drinking hot coffee.
Q: What trait or habit do you dislike in others?
FR. VINCENT: The trait that I dislike in others is people who talk during movies, especially getting into the specifics of where it is filmed, how it ends, etc.
Q: List three words that describe you.
FR. VINCENT: Keep it simple/doable.
Q: How did you come to know of the Priests of the Sacred Heart (Dehonians) and what interested you about them?
FR. VINCENT: I knew the Priests of the Sacred Heart in my home province (Indonesia). Then, they were mostly Dutch SCJs.
Q: Do you consider yourself a Dehonian? If so, what does that mean to you?
FR. VINCENT: Yes, I consider myself a Dehonian. Since my first assignment in 1989 as a scholastic and then again in 1995 as a newly ordained priest, I accepted assignments in some of the most challenging places, places that are at times forgotten by others.  That means to me that God has his own plan for me and I just make myself available. There is no need to be afraid of an assignment when it fulfills the need of the congregation. This is just a little piece of my personal reflection on the spirituality of the Sacred Heart.