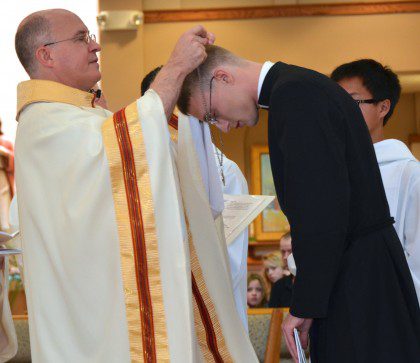 Welcome to the community!
Justin Krenke, 23, professed his first vows with the Priests of the Sacred Heart on Saturday, August 16. The ceremony took place at St. Martin of Tours parish, Franklin, Wis. Fr. Stephen Huffstetter, SCJ, provincial superior, received his vows.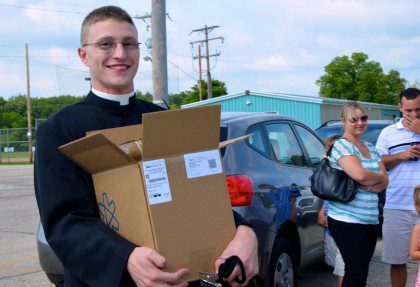 Justin has been a candidate with the Priests of the Sacred Heart since 2010; he applied for candidacy a year after graduating from W.E.B. Dubois High School in Milwaukee.
Before entering novitiate last year, Justin was a student at St. Xavier University in Chicago, living with other SCJ students in the Dehon Formation Community near Hyde Park.
A convert to Catholicism, Justin says that it was the priesthood that actually led him to the Church.
"I was 17 and I picked up the phone and called St. Margaret Mary parish, the closest one to our home. A nun answered the phone and I asked her 'how old do you have to be to become Catholic without permission?' She asked me how old I was. I told her; she said that I was old enough, but she wanted to speak to my mother . When my mother got home from work, I told her that she needed to call the nun. I was a little nervous, but I was determined that I was going to do this. My mother eventually made the call."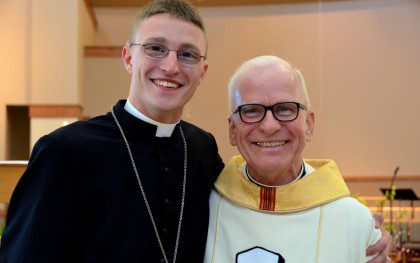 With his mother's blessing, Justin entered the RCIA program at St. Margaret Mary and grew deeper in his faith, eventually converting. He also stayed true to his desire to pursue a vocation to the priesthood.
During his candidacy Justin has done everything from volunteer work in Mississippi with the SCJs' Sacred Heart Southern Missions to assisting with Sacred Heart Seminary and School of Theology's ESL program in Hales Corners.
Each time that he has taken on a new task with the community Justin says that it has helped him to learn more about himself and ministry. After serving in Mississippi last year he said that he came to the realization that "ministry isn't just about going and helping people and then when you're done, moving on the next project. Ministry is about making connections with people, talking with them, and learning about and from them. It's about showing people that you truly do care about their situation and you want to be able to help as much as you can, even if it's just listening."
Justin will continue his studies in Chicago.
Click here to view a photo album from the ceremony.