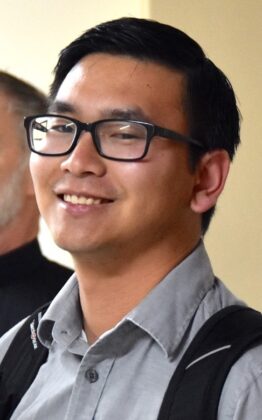 Frater Henry Bui Nguyen, SCJ, is a seminarian currently doing his pastoral year in Ecuador. Far from home, he has kept up with news of the attacks in the United States against those of Asian background. Although Frater Henry was born in the US and grew up in California, his family is from Vietnam. He shares the following reflection, beginning with his experience of the Way of the Cross, and then relates it to present day events. 
On Fridays during Lent, my family would go to the parish for the Way of the Cross. When I was still home, I was never able to attend as I was either in school or at work. This Lent, I was given the opportunity to go out to the parish for the Way of the Cross, this is a different experience from the previous years as we would hold it at the monastery and seminary.
Over the past two weeks, I have been reflecting on the Via Crucis, the Camino de la Cruz, the Way of the Cross as we are more than halfway into Lent.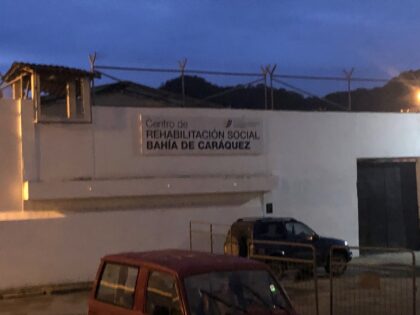 My first experience of Via Crucis in Ecuador was at the Carcel (regional prison), Centro de Rehabilitación de Bahía de Caráquez (where I visit about once a week with a group called "Caritas" of the La Merced Parish). Fr. Edson Pacheco de Almeida, SCJ, Sr. Maria Fernandez (a member of Caritas), and myself visited the carcel that day. We told the men that we will be reflecting on the last moments of Jesus and that every Friday to follow during Lent we will have Via Crucis. In the hot burning sun, with minimal shade, about a hundred men joined us. As we meditated upon each station, we had volunteers to help lead the meditation. As with each station, we moved forward towards the death of Jesus, we journeyed with Jesus as we meditated on His life.
These faces that I see almost on a weekly basis became familiar. I was welcomed by them. Little by little I learn more about them, their lives, and the experience of living in a prison in Ecuador. I have always enjoyed my time with them; I have never felt unsafe and I continue to pray for these men that I encounter.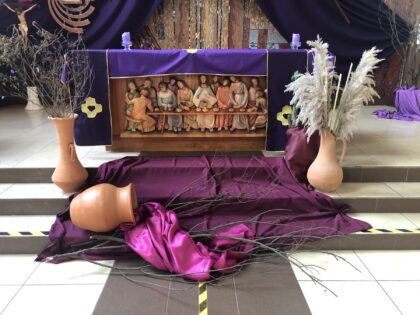 A totally different experience of the Via Crucis, happened more recently at one of our parishes, at Santa María de la Argelia Parish in Quito. The formation community joined many parishioners to meditate on the Via Crucis that was led by the Catechists of the parish. As we prayed together, meditating on His life, I started to wonder how my Lenten journey has been.
I have reflected on the Via Crucis from Jesus' perspective, from Mary's perspective, and now I reflect from His disciples' perspective. With the moments that led to Jesus' death, I'm sure that His followers were scared, confused, and felt alone. These feelings, these sentiments I am feeling more today, resonate with what the disciples could have felt during the time of Jesus's death. Jesus was killed for being different, for doing things different, out of fear and hatred. In today's world, this type of hatred still exists.
This week in Atlanta, eight women were killed; eight women who could have been someone's mother, sister, aunt or cousin, who will no longer come home to their families. Despite being several thousands of miles away from home, I can't help but to feel sad, disgusted, and frustrated with what is going on. How on earth are we still at this point where hatred, fear, whatever, could lead to someone's death?
Many people of Asian descent are in America because of what it represents, or what it should represent: freedom, hope, dreams. But we are often taught to live in fear, to hide in the shadows, to not make trouble. This is the opposite of why my dad came to this country; he came because it is a land of opportunity. The United States of America is a melting pot, made of immigrants from around the world. It is truly sad to see that racism is still so evident in our society today.
As for me, I guess I can say that I have been blessed or lucky growing up to have never really faced any racism or hatred against me for the color of my skin. Growing up in Orange County, CA, where my immediate world was prominently Asian American, I never considered myself to be of the minority. This changed when I moved away to northern California for college, where the Asian population was less than 5%. There I remember statements such as, "When did you get here?" "Your English is pretty good," "I don't hear an accent," "Where are you really from?"  I sometimes still hear these statements today.
Here in Ecuador, I have gone by the name "Duy," because it is my heritage, a name given to me by my parents. It's about bringing awareness of my identity, of my culture to other people. In Ecuador I have been asked by the local kids if I am Chinese, perhaps that is all that they really know. I share with them that I was born in the United States by parents of Vietnamese descent. Legally, I was named Duy Henry.  I had always chosen to go by Henry when I was younger; it wasn't until I was older that I had an appreciation for my culture, that I embraced my Vietnamese name, Duy. Many of my friends grew up with Vietnamese names like Thanh, Phong, Tung, where they had to "Americanize" their names so that their teachers and classmates could pronounce them, and they were still made fun of for not having English names.
Did you know that according to the Stop AAPI Hate (Asian American & Pacific Islander), there have been 3,795 reports of hate incidents targeting Asian-Americans nationwide since last March? This is an alarming number to the Asian community, and it has continually grown the last few months. I am literally afraid for my family, friends, and community back home. I don't want to imagine who could be next; it could be anyone!
This must stop. Commenting on the suspect in the killing of these Asian women, officials  said that "it was just a really bad day for him" or a reaction to his sexual addiction. I can't begin to think of what these victims' families are going through, to hear that their loved ones died because someone had a bad day. Call it out for what it is; it is a hate crime, racism. It is ridiculous! Wake up, America! Where is the love?
Solidarity! I love that I have seen so many people get together (virtually) in support of this, to end violence. We need to be heard! We need more love in our world, we need to end the violence! As Dehonians, we are called to be prophets of love and servants of reconciliation. What can I do for my brothers and sisters during this time of need?
As I walk with Jesus' disciples, I wonder what they were feeling. Were they scared as their friend was just killed? Were they afraid of speaking out, of being heard? As I walk with the disciples this Via Crucis, I try to find comfort and peace. I hope this Lenten season brings healing for all. I hope the world finds love.
The world is hurting and bleeding, healing will bring hope!