Humility is key
The power of language, and an appreciation for cultures much different than his own Pennsylvania roots, have been the narrative of Fr. Jim Walters' years of religious life and ministry. Fluent in Spanish, French and Italian (with a smattering of several other languages in his head) he has studied and served in many cultures other than his own, and has plenty of stories – both funny and touching – about being the "other." Through the Hispanic Preparation for Ministry Program at Sacred Heart Seminary and School of Theology, he has focused on helping others prepare to do the same, especially seminarians who will go on to serve the Church in a variety of cultural settings.
Besides many years of ministry to Hispanic Catholics in Texas, Fr. Jim also served for 14 years in South Dakota. It was there, he says, that he really learned about himself as a person, "and who I am as a Priest of the Sacred Heart."
It is important, Fr. Jim emphasized, to remember that knowing a language doesn't necessarily mean that a person knows a people. Language is a tool. "We need to approach all people with a sense of humility, open ears and open hearts to learn," he said. Click here or on the image above to hear his conversation with Fr. Vien Nguyen, SCJ, in our latest installment of "Heart to Heart."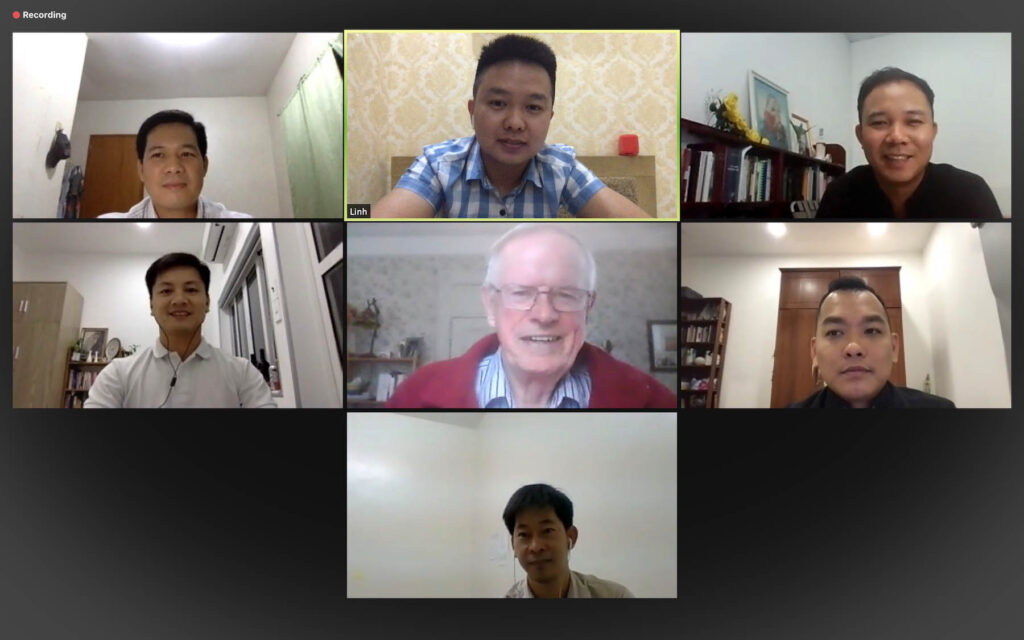 Closed borders open educational opportunities
While the pandemic has closed most borders, it has opened up a world full of educational opportunities.
The District of Vietnam has five SCJs preparing for final vows; they will make their final profession on the feast of the Sacred Heart, June 11. Fr. Francis-Vu Tran, SCJ, district superior, reached out to Fr. John van den Hengel, SCJ, to see if he could provide a few sessions for the program. Fr. John is a member of the Ottawa community in the Canadian Region, about 8,500 miles (13,700 kilometers) away from the students' desks in Vietnam.
With the help of the internet, Fr. John held four video-conference sessions for the Vietnamese SCJs between April 13-22. Time zone differences had the students and teacher meeting at different ends of the days. The students were in front of their computers at 8:00 pm, while Fr. John was next to his at 9:00 am.
The topic of the sessions focused on the social work or the social spirituality of Fr. Leo John Dehon; Fr. John said that the topic was chosen by Fr. Francis-Vu.
"It was interesting to note that the Vietnamese had little awareness or understanding of the French context out of which Fr. Dehon came and which determined much of his activity and vision," said Fr. John.
"All of the Vietnamese had their formation in the Philippines and so language was not a problem," he continued. Two of the Vietnamese –– Vincent Thoan Van Do and John Hung Dinh –– had done a pastoral year in Toronto. Paul Linh Hai Le had spent time in Dublin. "It was quite a cosmopolitan group!"
Fr. John said that "the challenge of such a presentation is to allow the Vietnamese to get beyond the literal vision of Fr. Dehon and his engagement in the social sphere and to interpret it within an Asian context with a totally different history and culture – and politics! How do you translate Fr. Dehon's notion of 'pure love,' which animated his social engagement, into the complex environment of Vietnam?"
He said that the Zoom sessions allowed for interaction between the students and presenter, "but it would have been a joy to have been able to sit in the same room in Ho Chi Minh City and to probe their vocation to the charism of Leo Dehon."
Fr. John added that COVID-19 has had a much different impact on Vietnam than on many other countries. There have been only 2,843 cases of COVID-19 in the country and 35 deaths. Closed borders and other restrictions have been credited for controlling the virus. "While the Province of Ontario is in lockdown, the students in Vietnam are now fairly free in their movements."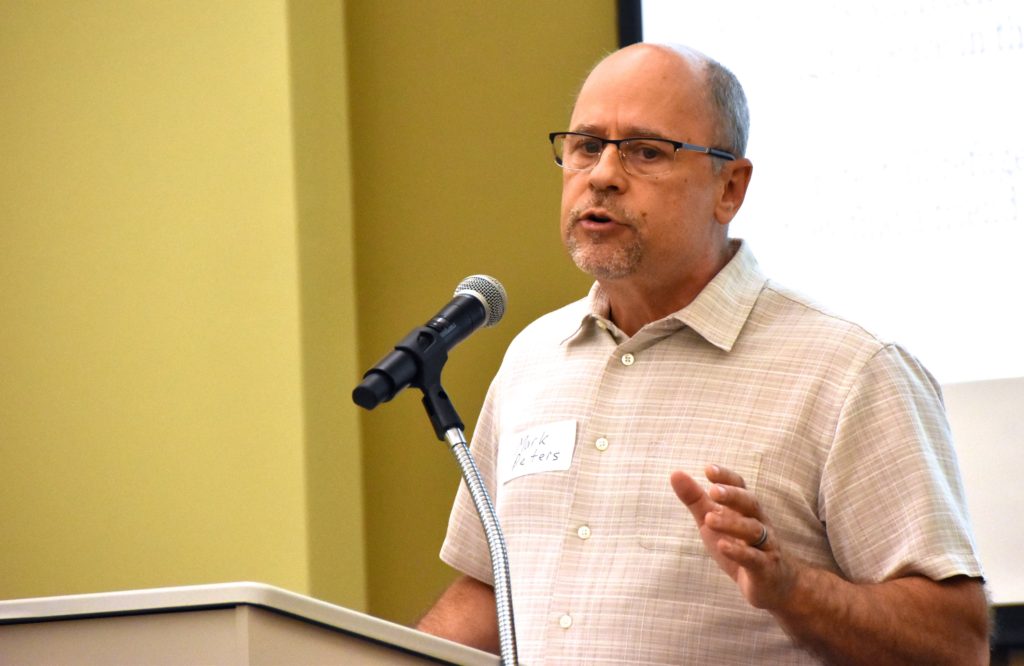 Happy retirement!
Friday, April 30, is Mark Peters' last day as director of Justice, Peace and Reconciliation for the US Province. He begins his retirement on May 1. When asked if he has plans, Mark smiled and said "not yet," adding that he was looking forward to the unstructured time that retirement can bring. However, he said that he does hope to continue to follow his passion for "social justice, community organizing, leadership and leader development, education, communication, new learnings and research."
Mark has been with the Priests of the Sacred Heart since January, 2014, when he was hired as the first non-SCJ director of JPR. He plans to write a few closing words on the Dehonian Social Justice website later this week. The Provincial Council is working with the JPR Commission to discuss how the province can best focus its efforts in social justice concerns in the future.
Best wishes, Mark!
May birthdays
Those celebrating birthdays in May include: Fr. Mark Fortner on May 4, Fr. Byron Haaland on May 6, Fr. Bryan Benoit and Fr. Jack Kurps on May 7, Fr. Guy Blair on May 8, Frater Phong (Paul) Hoang on May 9, Fr. Anthony Kluckman and Fr. Élie Munzungu Kasongo-Ngoy on May 12, Bishop Joseph Potocnak on May 13, Fr. Thi Pham on May 14, Fr. Jim Casper on May 20, Br. Andy Gancarczyk and Fr. Jerzy (George) Mordalski on May 24, Fr. Wayne Jenkins on May 25, and Fr. Stephen Huffstetter on May 31. Also, a special shout-out to Br. Duane Lemke who celebrates his birthday today and Fr. Tom Lind whose birthday is tomorrow. Happy birthday!!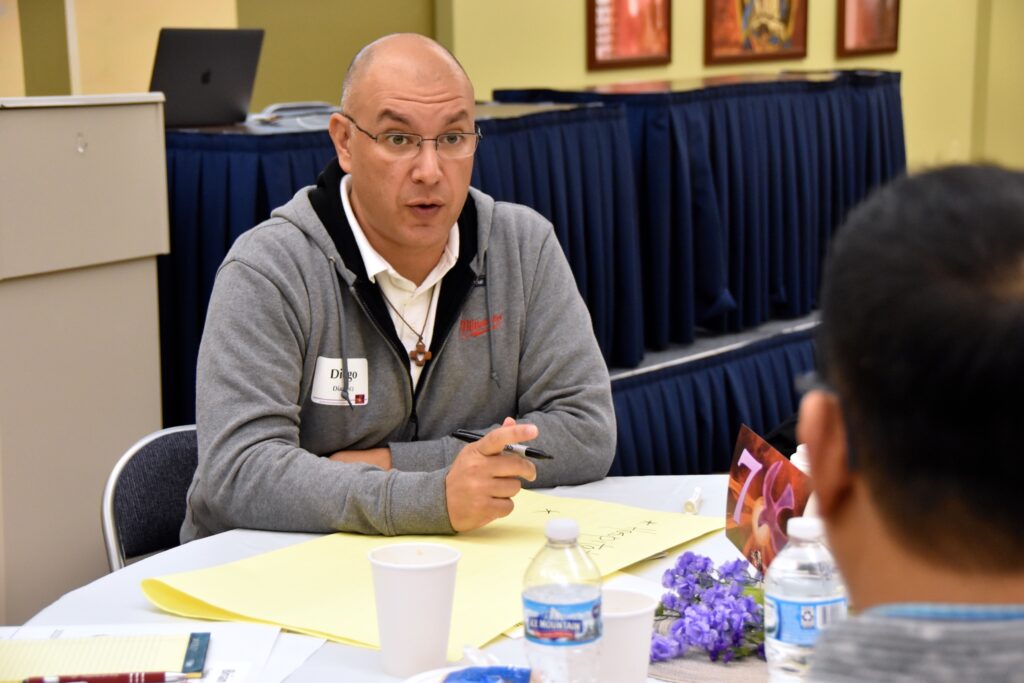 Focusing not just on the what, but the HOW of education
"I am the son of educators," said Br. Diego Diaz, SCJ. "Helping people to learn –– especially children –– has been important to me since I was very young.
It was this passion for teaching, but also in finding ways to help people to learn, that interested Br. Diego in the field of Psychopedagogy, an area of study that focuses how people learn, and how to create environments that can aid in the learning process. In early April, Br. Diego completed his final project toward his master's degree in the field.
The basis of his master's project was on Sacred Heart Southern Missions' summer programs for children. Br. Diego said that summer camps can be an ideal learning environment because "they allow the emotional space for learning, playing and socializing; it is a holistic approach to learning."
"The pedagogy of the heart was essential to Fr. Leo John Dehon, our founder," said Br. Diego. "A pedagogy of the heart means a holistic approach; it means approaching the entire person, not just a student's academic needs. Teaching our students in this way will help them to use a holistic style in other areas of their life, including their interaction with others, as they become adults and take on roles within their communities."
Click here to read more on the province website.
Please remember
+ Sr. Elaine Tworek, SLW, who had been a member of the pastoral team at Lower Brule (2003-2011), died on March 31st of complications from COVID-19. Click here to view her obituary.
Walking the Red Path
Each spring for the past 26 years, students and staff at St. Joseph's Indian School do a walk for sobriety in April, starting on campus and splitting into the four directions sacred to Native Americans. In addition to the health benefits of walking, to "walk the Red Path" in Native American spirituality means living in healthy spiritual, physical, mental and emotional balance.
This year, due to the pandemic, the walk stayed on campus. The school's equine therapy horses added spirit, with one or two horses guiding each of four grade-level communities on separate walks. Students wore T-shirts bearing the Black Elk quote, "May you always walk in beauty." Black Elk, an Oglala Lakota holy man, is revered by the students; in 2017 his sainthood cause was formally opened.
Students are pictured below during this year's walk.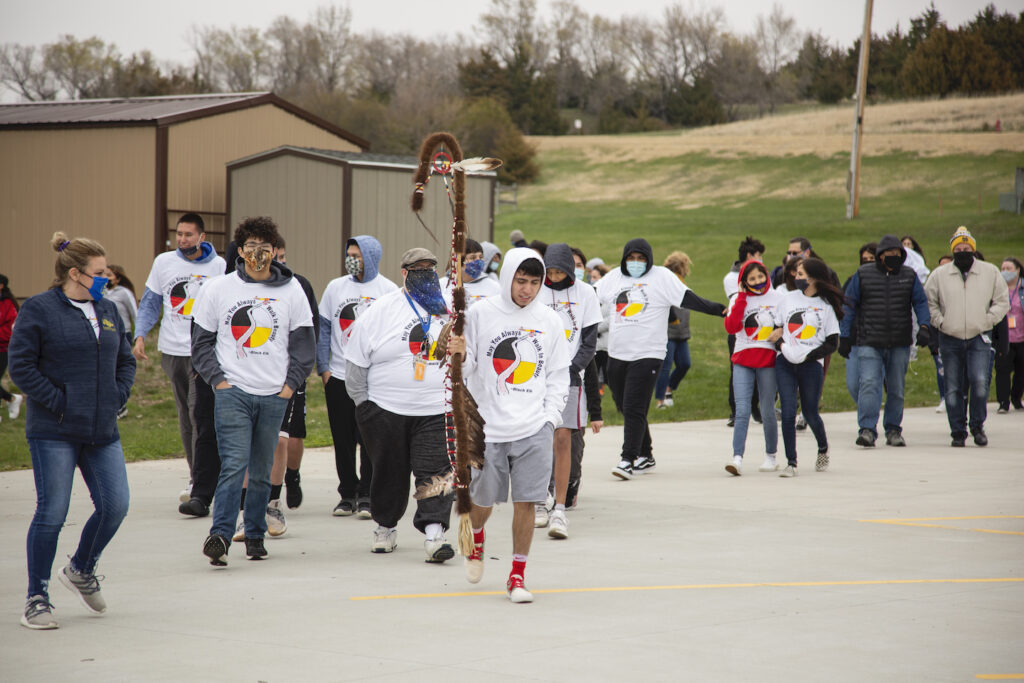 Click here to subscribe to the weekly news (Fridge Notes) via email