The novitiate year begins!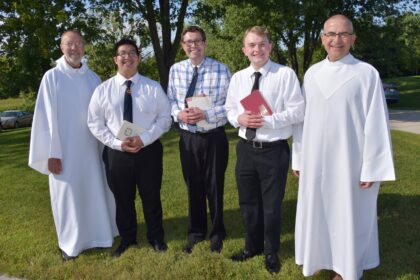 Congratulations to Jonathan Nguyen-Vuong, Jacob Smith and Michael Wodarczyk who entered the Novitiate on Saturday, August 14. The Entrance into the Novitiate ceremony took place at the Sacred Heart Novitiate in Franksville, WI, about a 20-minute drive south of Sacred Heart Monastery. Fr. Ed Kilianski, SCJ, officiated.
"Why do I want to be a Dehonian?" said Jonathan, reflecting on why he asked to enter the novitiate. "I want to imitate Venerable Fr. Leo John Dehon's journey of being totally committed to the love and devotion of the Most Sacred Heart of Jesus."
For Jacob, it was the influence of an SCJ priest that solidified his desire to enter the Novitiate. "My request to enter had many factors, but first among them was the model of Fr. Bob Tucker, who died earlier this year," said Jacob. "I'm so grateful for the example of the loving Heart of Christ that he gave to me as my formator and friend, and I want to be that person for others like Fr. Bob was for me."
At 33, Michael is the eldest of the new novices. Before entering candidacy, he earned a degree in accounting and worked full-time in inventory control. When asked why he was requesting entrance to the Novitiate, Michael's answer was short and to the point: "I want to be Dehonian!"
Click here to read more.
Click here to view photos.
Click here to view the livestream of the ceremony.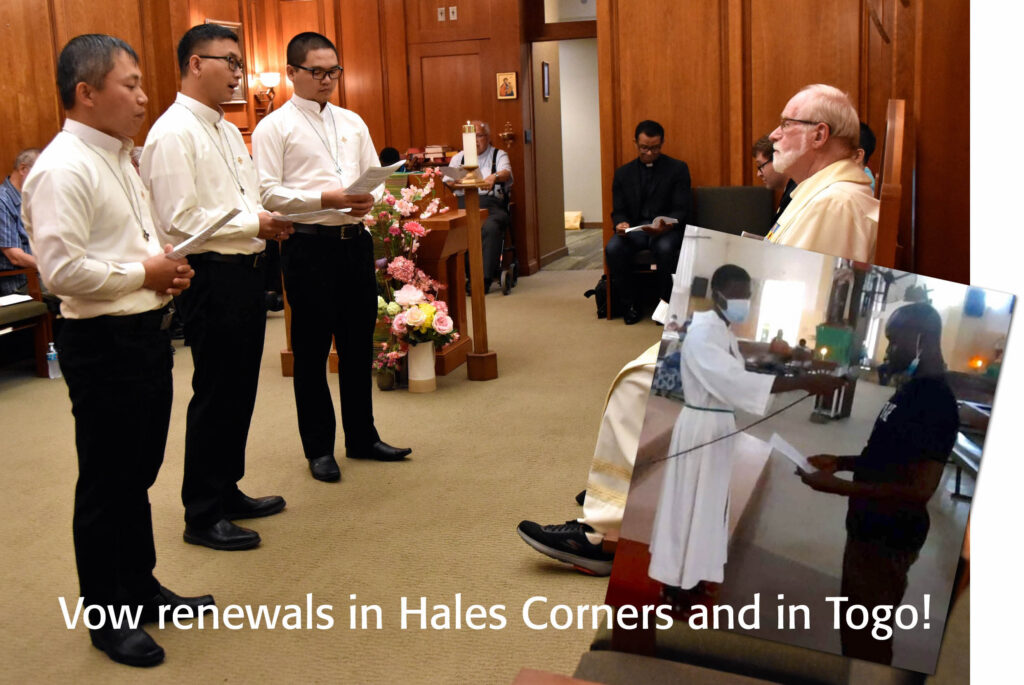 Vow renewals 
SCJ Fraters Henry Nguyen, Truc Tran and Thuan Nguyen renewed their vows at Sacred Heart Monastery on Thursday, August 12. Henry professed first vows in 2018, and Truc and Tran, members of the Vietnamese District, made their first profession just last year. Fr. Ed Kilianski, SCJ, received the vows of all three.
The next day, Frater Hubert Liassidji, SCJ, renewed his vows in Togo, where he was visiting with family.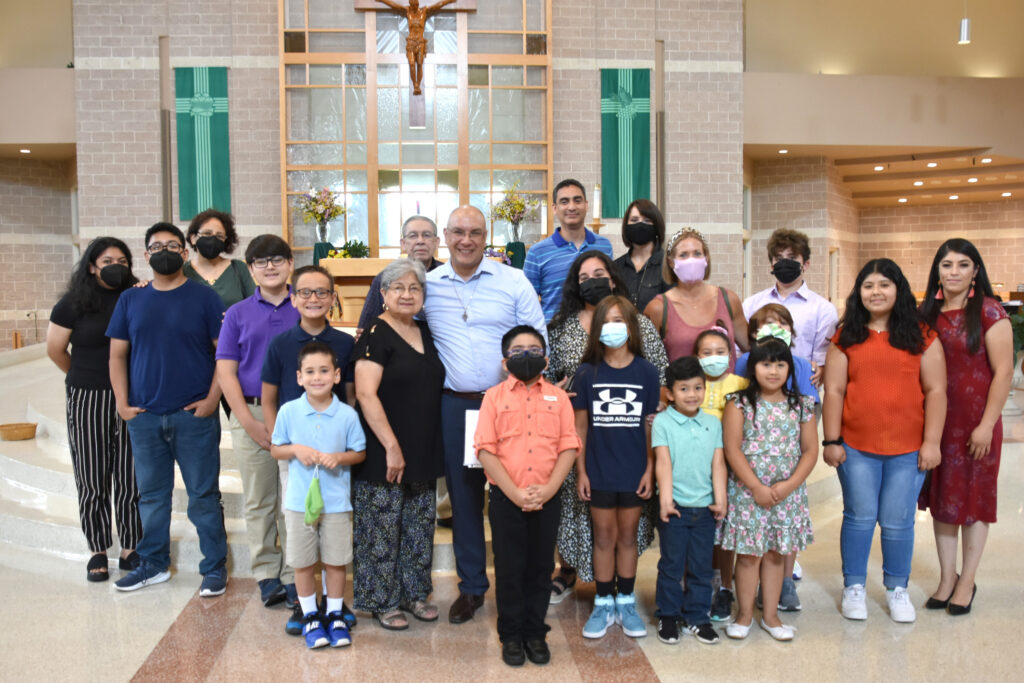 Happy anniversary!
This year Br. Diego Diaz, SCJ, celebrates his 20th anniversary of vows with the Priests of the Sacred Heart. To commemorate the occasion, he renewed his vows yesterday, August 15, during the Spanish language Mass at Christ the King parish in Southaven, MS. Br. Diego serves with Sacred Heart Southern Missions in Mississippi. He is originally from the Argentine Province.
Please remember
+ Fr. Giuseppe Potenza, a member of the South Italian Province, died on August 14. He was born in 1938, professed in in 1957, and ordained in 1965.
+ Frans Marrevee, the brother of Fr. Bill Marrevee, SCJ, of the Ottawa community, died on August 13 following a lengthy illness. He was 83 and lived in the Netherlands.
Keep in prayer
Ken Smits, the husband of Sally Smits, former VP of Finance at Sacred Heart Seminary and School of Theology, is suffering from stage 3 lung cancer and is undergoing radiation and chemotherapy. Please keep him and his family in prayer.
Back in prison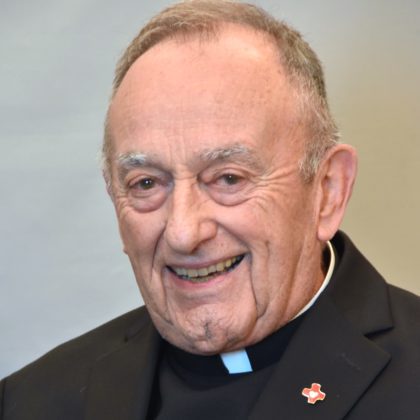 For many years, Fr. Frank Wittouck, SCJ, served as a prison chaplain in Texas. He hoped to continue the ministry when he moved to Wisconsin last year, but COVID-19 closed prisons to most visitors, including new chaplains.
After a year of processing, Fr. Frank received clearance to serve at the Racine Correctional Institution, about a 30 minute drive south of Sacred Heart Monastery. Although there are other chaplains, he is the only Catholic priest at the facility (there is a Catholic deacon). Fr. Frank will go to the facility once a week to celebrate Mass and hear confessions.
"I've grown to have tremendous respect for these incarcerated guys," said Fr. Frank in an article published on the Dismas Ministry blog in 2020. "I was an Army chaplain for 20 years, so naturally I understood the realities of a rule-oriented environment, which one finds in the Army but also in prison. I never realized it till just this very moment, but I was the stockade chaplain both in Korea and in Ft. Hood, so I guess my prison ministry experience started even earlier than I thought. Working with inmates has helped me be more patient, more tolerant, more positive. I don't lecture them or anything – but I also don't feed into their complaining, which there is, understandably, a lot of. I smile a lot. I have a habit of greeting the inmates with a smile and 'Good morning.' Prison ministry helped me get out of myself."
Fr. Frank is retired and is a member of the Sacred Heart Monastery community.
Published review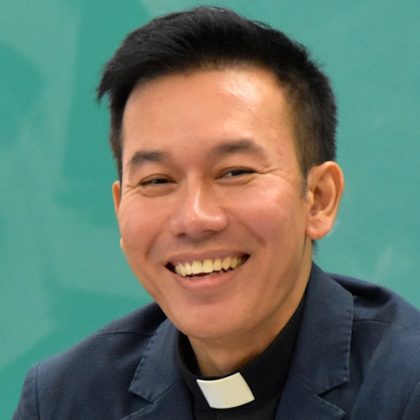 Congratulations to Fr. Vien Nguyen, SCJ, who recently had a book review published in Review for Religious. The title of the book is Religious Life for Today's World: Creating Global Communities of Hope by Maria Cimperman, RSCJ. "I would strongly recommend this book to SCJs," said Fr. Vien.
"Religious communities have a storied history in their response to God's call and specific realities and cries of the people in the world and the Church," begins Fr. Vien in his review. "Today, religious women and men are being asked once again to be mystics and prophets in the new frontiers of gospel calls (19) to "wake up the world," as reminded by Pope Francis. But what are we to do? How are we to create communities of hope that function as a transformative witness of the inbreaking of the Reign of God in the world? (xvii). Cimperman attempts to answer these questions in the book. Through the lenses of call, charism, and vows, C. examines the different dimensions of consecrated life and addresses the different ways religious congregations can create communities of hope, locally and globally, as a response to the cries of the people and the earth…
"The book is a valuable resource for those committed to delving deeply into the radical call of the Gospel life, seeking the energy of authentic renewal and revitalization, and responding prophetically to the signs of the times. It will challenge seasoned and newly professed alike to heed God's call for "open-heartedness" for the birthing of new possibilities and new communities of hope. This book, mainly the chapters on the vows and community living, should be required reading for those in initial formation. The questions for reflection and discussion will generate fruitful conversations at the dinner table and community meetings. Highly recommended."
Click here to read the full review.
Dehonian Esprit de Coeur
As many of you know, David Schimmel retired in October of 2020. Possibilities for new leadership of the Dehonian Esprit de Coeur were discussed, but not finalized. As the saying goes, "life got in the way."
We hope to find someone who might like to lead the association of SCJs, former SCJs and seminary alumni. The best candidate would be an SCJ, or an alumnus of an SCJ seminary. That person would be responsible for maintaining contact with alumni and former SCJs, and creating communications to help them stay informed about each other and the Priests of the Sacred Heart.If you would like to learn more about the position, click here to contact Fr. Jack Kurps, SCJ.
Horsing around
Our closing shot is of Fr. Greg Schill, SCJ, getting to know some of the horses which are a part of the equine therapy program at St. Joseph's Indian School. Fr. Greg recently joined the school as its new chaplain following the retirement of Fr. Anthony Kluckman, SCJ.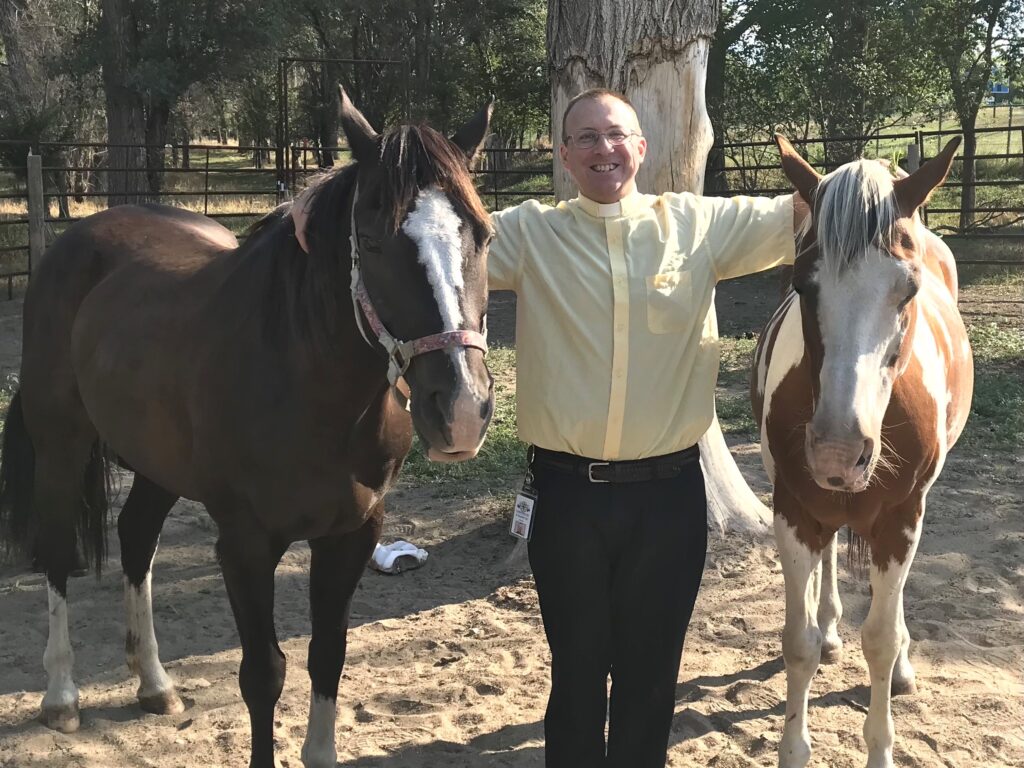 Click here to subscribe to the weekly news (Fridge Notes) via email