Preparing for a new school year
Members of the staff at St. Joseph's Indian School in Chamberlain, SD, are in the midst of an annual event that has taken place since 1927: getting ready for a new school year. St. Joseph's is one of the Dehonians' oldest ministries in the United States.
Since July 19, new members of the staff have taken part in 80 hours of staff training. By the end of the year, their combined in-person instruction will total more than 1,100 hours. All staff –– new and returning –– come together today for an entire week of preparation.
St. Joseph's Indian School is a member of the Coalition of Residential Excellence (CORE), a national organization committed to ensuring quality care for children and youth in residential communities. Child Services staff complete several trainings approved by CORE, as well as other mission-focused sessions.
The school provides wraparound student services throughout the year. Every student has a Family Service Counselor to coordinate services. Sophomore Juliana LaRoche enjoys having her own counselor on campus and knows she can always call on her. "I feel like St. Joe's is a safe place to be, and the teachers and counselors help make us feel safe while away from home. I can always go to my counselor if I need anything because I trust her, and she has the resources I need," said LaRoche.
The school also operates summer programs during June and July. Grade-school students live with houseparents on campus, attend summer school during the day and participate in recreation and short group trips. High School students can also stay, work on campus or in the community or assist with the grade-school summer program.
LaRoche participated in the high school summer program, was able to find work at a local hotel as a housekeeper, and dedicated the rest of her time to working with the 6th– through 8th-grade students attending summer school. "I think it really helped prepare the students for high school. They were able to ask us older students questions about high school and feel comfortable doing so. I felt like a mentor to the younger students, which was pretty cool," said LaRoche.100100
Grade school students will return to campus on Sunday, August 8, with classes beginning Tuesday, August 10. High school students return to school on August 15.
Meet the ECS students!
The most recent edition of Sacred Heart Seminary and School of Theology's "One Minute With…" introduces viewers to students in the first ECS summer session (English and Cultural Studies). Due to pandemic travel restrictions, class size is smaller than other years, but slowly, enrollment is increasing. "The second session will represent a more diverse number of countries," said Kelly Kornacki, VP of Intercultural Preparation for Ministry at SHSST.
Click here or on the image above to view the SHSST vlog.
Recent appointments
During their meeting last week the US Provincial Council made the following appointments:
– Fr. Jack Kurps, SCJ, was reappointed as executive director of Sacred Heart Southern Missions.
– Frater Henry Nguyen, SCJ, was appointed to the North American Migration Committee.
– Fr. Guy Blair, SCJ, Dn. David Nagel, SCJ, and Fr. David Szatkowski, SCJ, were reappointed to the US Province Admissions Board for three years; Fr. David continues as chairperson.
Looking ahead
On Saturday, August 7, Fraters Phong (Paul) Hoang, SCJ, and Hung Pham, SCJ, will renew their vows at Our Lady of Guadalupe, Houston, and on August 12, Fraters Henry Nguyen, SCJ, and Hubert Liassidji, SCJ, will renew theirs at Sacred Heart Monastery.
Entrance to Novitiate will take place on Saturday, August 14. An email will go out to SCJs later today with details about attendance and RSVP information. Being mindful of the pandemic, attendance at the ceremony will be limited primarily to SCJs and students. However, it will be livestreamed. Information about the livestream will be available soon and posted on the US Province Facebook page.
Those scheduled to enter the Novitiate: Jonathan Nguyen-Vuong, Jacob Smith and Michael Wodarczyk.
Other upcoming calendar items:
August 30: Fall semester classes begin at SHSST
September 14-15: US Provincial Council meeting
September 29: Dehon Lecture (SHSST). Dr. Robert Stackpole of the John Paul II Divine Mercy Institute is the keynote speaker.
Please remember
Fr. Walerian Swoboda, a member of the Polish Province, died on July 26. He was born in 1940, professed in 1959, and ordained in 1965.
Thanks
A message from Mary Gorski: "Many thanks for the expressions of support and concern, as well as prayer, for my husband, Dave Gorski, while he was in home hospice, and especially toward me following his death on July 23. A few people have asked to read the eulogy that I gave at the memorial; click here to access a PDF."
News items
Click here to share news and photos from your community and/or ministry!
Closing shot
With the help of generous donations, the roofing project at Our Lady of Guadalupe in Houston got underway last week. Multiple weather incidents, and age, have led to a significant deterioration in the roof in recent years.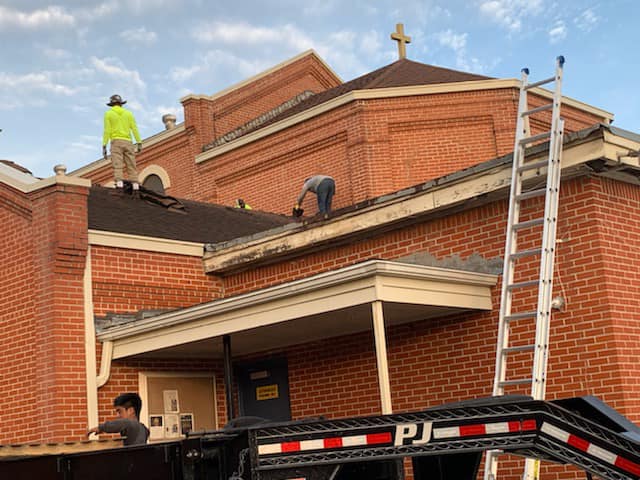 Click here to subscribe to the weekly news (Fridge Notes) via email