A different kind of summer camp
Sacred Heart Southern Missions' Dehon Village hosts a summer camp for teens age 12-16 with a focus on finance. Learning About Money and Business (LAMB) was started several years ago as a way to help young people prepare for financial responsibility as they move toward adulthood.
This year ten teens took part in the twice-a-week class. The camp focuses on banking and budgeting, as well as entrepreneurship education as a way to understand business
"It is easy to plant the seed when they are young," said Eleanor Clayborn, SHSM micro-enterprise coordinator. "This is more than financial literacy, it is early conditioning to be more responsible adults."
Among the activities during the five-week camp is the "Dehon Corner Store," a small enterprise in which the teens market and sell their own products.
"Young people compete against each other for sales and the net profit is matched by Sacred Heart," said Cynthia Loyd-Johnson, SHSM Housing Coordinator and a teacher in the camp.
"We keep the atmosphere light and fun," she added, "but more encouraging, the kids are taking it seriously."
Inspired by Fr. Dehon
Each year St. Martin of Tours parish school holds an essay contest in which they challenge eighth graders to write about Fr. Leo Dehon, founder of the Priests of the Sacred Heart. Contest winners earn a modest scholarship.
Lindsey Ferr was this year's winner. The following is from her entry:
"Fr. Dehon had many great qualities. He never gave up and didn't take no for an answer. There is one quality, however, that he and I share. We are both very strong and won't stop until we reach the end of our quests. One example of this is when I fractured my lower spine. I don't like to discuss this topic because I do not like the thought that this little accident had so much impact on my life, but it did. It really changed the way I look at things…
"This mishap had so much influence on me… it motivated me to start to enjoy things more and not to take so many every day things for granted. I will always pull through and will never let anything defeat me, just like how Fr. Dehon did, and I will encourage others to do the same…
"Fr. Dehon believed that God has a different path for all of us. He believed that God will put you to the test and see how you handle the situation. Over my time at St. Martin's, I have had a lot of time to think, and some time to question why God does all the things he does. This thought crossed my mind over a thousand times, but I think I finally found an answer thanks to Fr. Dehon: to open your eyes and see who you were meant to be. God's path for you is like a race; you can't stop running until you cross the finish line.
"Like Fr. Dehon, I will speak up for what I think is right and I will make sure that my voice is heard. I will work to continue to be a light for the world and for all the people surrounding me."
Fr. Yvon Sheehy is pastor of St. Martin of Tours; Fr. Joseph Dinh is associate pastor.
Update
Br. John Monek's phone as of August 5: 262 373-1426.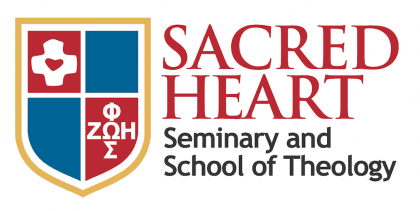 New name, new logo and seal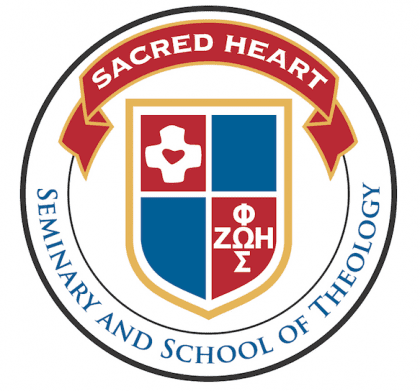 On August 15, Sacred Heart School of Theology officially becomes Sacred Heart Seminary and School of Theology. With the new name comes a new seal and logo, pictured above and at right. Jonathan Drayna, director of communications for Sacred Heart, explains the new designs:
"The mark has a shield that features alternating blue and red quadrants, with the well-known Dehonian heart and cross symbol in the upper left quadrant, reflecting our heritage and future as an SCJ institution. The lower right quadrant features the 'Greek crossword' that has been in use in symbols associated with the school and monastery for nearly 100 years. The vertical word is Phos, meaning 'light.' The horizontal word is Zoe, meaning 'life.' An early motto for the seminary was 'to spread light and give life.' It also reflects the idea that Jesus Christ is the light and life of the world."
August birthdays
A belated happy birthday to Fr. Steve Pujdak who turned 71 on Saturday, August 2. Other August birthdays include Br. Peter Mankins (85); Br. Bernard Taube (82) and Fr. Walter van As (91) on August 8; Fr. Leonard Elder (73) on August 19; Br. Ray Kozuch (69) on August 22; Br. Frank Snider (68) and Br. Frank Presto (59) on August 28; Fr. Joseph George Coppens (94) on August 29; and Fr. Herman Falke (85) on August 31.
Please remember
Fr. James Bukofsky, 70, a former SCJ, died August 1. He professed first vows in 1964 and left the community for incardination in 1982.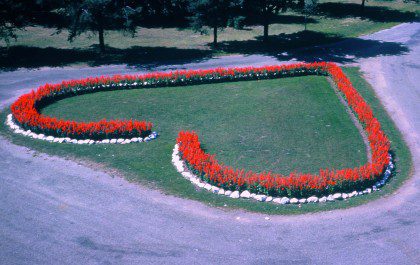 Meet at the heart!
"'Meet at the heart.'  Whether it was a Visiting Sunday, a Saturday hike, a communal recitation of the Rosary, a ride into town, or even a punishment detail, the place to meet was at the driveway turn-around in front of the main building of Divine Heart Seminary," wrote David Schimmel in the most recent Dehonian Spirituality update. "The cultivation of the triangular plot of land at the end of a long, tree-lined driveway took various forms, from a simple garden of rocks and monochromatic flowers outlining the shape of a heart to an ambitious blooming reproduction of the logo of the Priests of the Sacred Heart.
"As a visual focal point, 'the heart' indicated a place at the center of things, around which many activities revolved — welcomes, good-byes, and rendezvous.  As a quiet sentinel, 'the heart' also symbolized the core from which every activity took meaning — the unconditional love that God has for people and the Christian challenge to reflect that love in the daily grind of limitations, disappointments, comparisons, and competition.
"The image of the Heart of Jesus points not only to the essence of God, but also to the essence of humanity.  Embracing this reality, however, requires the constant spiritual practice to 'meet at the heart' — the heart of God, the heart of the individual, the heart of the matter—in order to remember one's true identity and continue growing into, as our Creator intended, an image and likeness of God."
David Schimmel is province director of Dehonian Associates. Click here to read other reflections and prayers based in Dehonian Spirituality.
Provincial's time
After a bit of vacation time Fr. Stephen Huffstetter is back in the office for a couple of days before heading to Pittsburgh, Pa., on Wednesday, for the national CMSM meeting. From there he will go to Canada to be an observer at the Canadian Regional Chapter. He returns to Milwaukee on August 15 –– just in time to receive Justin Krenke's first vows.