Moving in!
As the last remodeling details are finalized, students are now moving into Sacred Heart Monastery in preparation for the 2018-19 school year. Several SCJs have already settled in. As you may remember, the monastery was remodeled to make space for the formation community, which was previously in Chicago. Theology students will attend Sacred Heart Seminary and School of Theology and undergraduates will go to Milwaukee area universities. Pictured above is one of our first-year candidates, Landry, getting move-in help from Henry (novice) and Fr. Bob.
But before the school year begins, this week the formation community – students and staff – are on retreat at the Siena Center in Racine, WI. The experience is based on the North American Dehonian Retreat, "Open Hearts," that was held in suburban Toronto last August and at the Siena Retreat Center in May. Photos from the retreat will be on the province Facebook page during the week.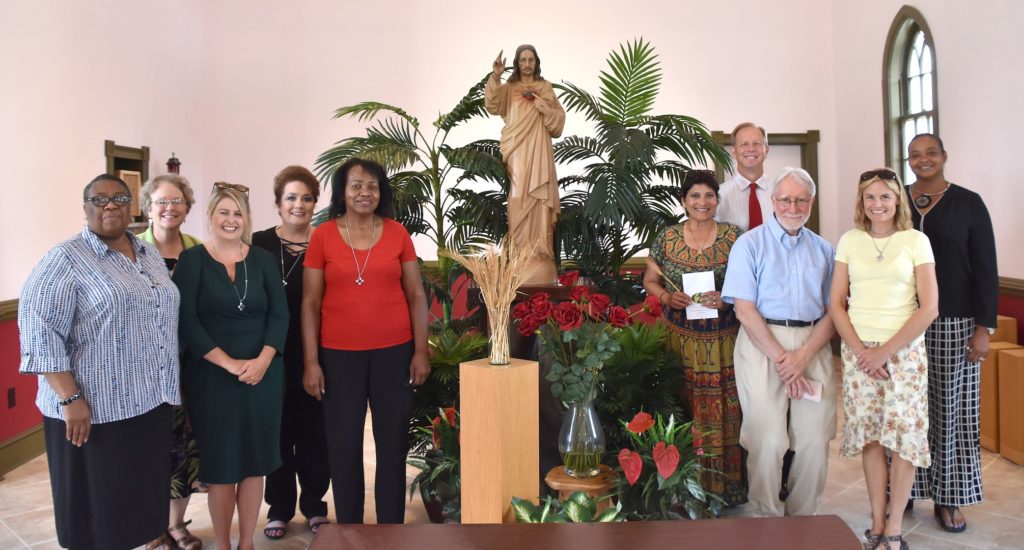 Recommitment Ceremony
A group of nine Dehonian Associates from Sacred Heart Southern Missions renewed their yearly commitment in a ceremony in Walls, MS, on July 31.  David Schimmel, Director of Dehonian Associates, received their recommitment in a prayer service that reflected on Jesus' request to "ask the Lord of the harvest to send out laborers into his harvest."
The task of the Dehonian Associates, David noted, "is to be the human touch of God."  He added, "The reward for our efforts is not necessarily success, but to find ourselves in the midst of the harvest, working side by side with Jesus, and growing more and more in the image of his Heart."
Day of Reflection focuses on the Beatitudes
"The Beatitudes of Jesus: Challenging Perceptions and Transforming Values," was the theme for a Day of Reflection for the teachers and staff of Holy Family School in Holly Springs, MS, on August 1, and Sacred Heart School in Southaven, MS, on August 2.  The Diocese of Jackson has designated the Beatitudes as the focus for the coming year's Catholic Identity module.
David Schimmel facilitated the day by explaining the biblical significance of the Beatitudes, sharing Fr. Leo John Dehon's reflections on these sayings of Jesus, and offering practical applications for teachers, staff, and students.  In the words of Fr. Dehon, the prayer for the day was, "Teach me, speak to my heart, and form my heart on the model of your Heart."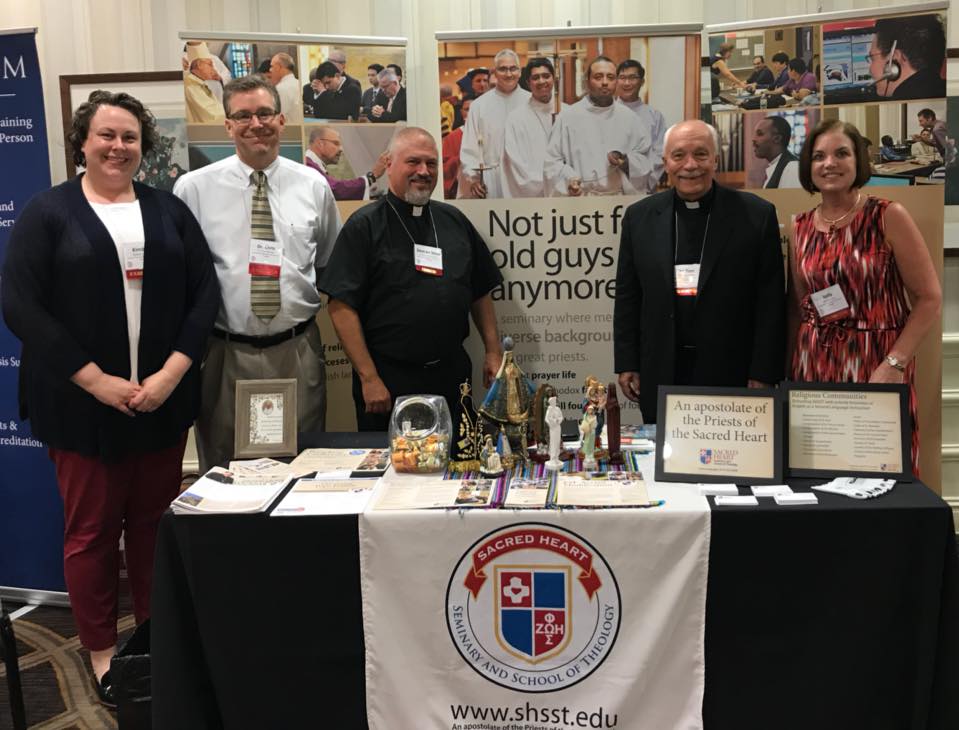 SHSST on the road at CMSM
Fr. Tom Knoebel, president-rector of Sacred Heart Seminary and School of Theology, along with several faculty and staff from SHSST (Dn. Steve Kramer, Dr. Chris McAtee, Kelly Kornacki and Kimberly Gardner) were in St. Louis last week at the Conference of Major Superiors of Men (CMSM) National Assembly. The SHSST representatives are pictured above at their booth.
Sacred Heart will also be present at the convention of the National Conference of Diocesan Vocational Directors (NCDVD) September 17-21 in Scotsdale, AZ.
Keep in prayer
Fr. Tom Cassidy was hospitalized last week with an infection. Although he was initially placed in ICU, it was due to a shortage of beds. He is now in a regular patient room at Ascension/Wheaton Franciscan hospital on 27th Street in Franklin, WI. Please keep him in prayer.
Please continue to keep Fr. Ed Kilianski in your prayers as he continues to rehab at home following surgery. As this issue of the Fridge Notes was being put together he made his first visit to the office post-surgery to catch up on messages.
Also, please remember in prayer Sheila Pocius, the niece of Fr. Bob Tucker, who was diagnosed with bladder cancer.
Memorial cards
Click here if you would like to receive a memorial card for Fr. Tom Burns.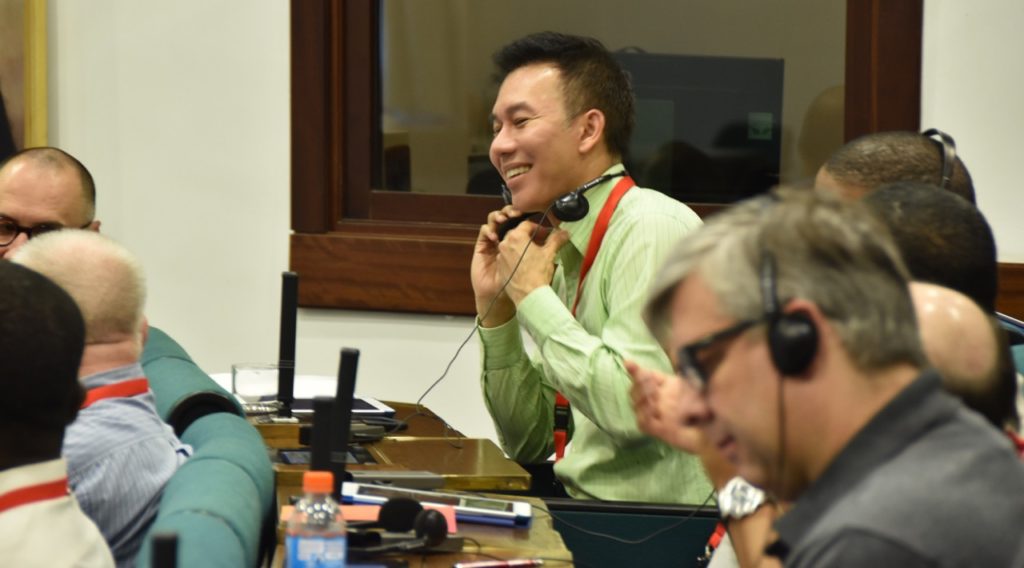 Final Message
"In the opening address of the Chapter, Fr. Carlos Enrique Caamaño Martín reminded us of the desire for a more synodal Church, a more synodal Congregation," wrote members of the XXIV General Chapter in their "Final Message" to the congregation. "The Chapter evidenced such a synodality, even in the motivation of this final message. We found the urgency in the midst of our fraternity to make our presence a prophetic sign of our times. We realized the need to reform and revitalize some aspects of our lives, concerning structure, economy, formation, vocation, internationality and interculturality in the spirit of Sint Unum. In the power of the Spirit, we heard a call for us Dehonians to fulfill our identity as the prophets who, with open heart and mind, respond to the urgent needs of the world. We have celebrated this Chapter as a search of our common voice in the Spirit."
Click here to access a PDF of the message in English.
A partner in seminary education
After a one-month summer break, the e-publication Dehonian Spirituality is back on its regular Friday schedule. The following is excerpted from the August 3 edition:
"When Dorothy Kordrupel was growing up on the family's farm in Marilla, New York, she expected one day to be a married woman. When she was in her mid-twenties and still single, she didn't become disappointed or bitter. She decided on another goal. She would make it possible for a young man to become a priest.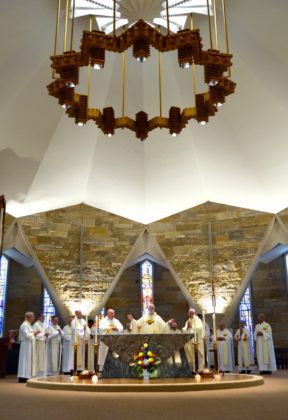 "Her inspiration was an advertisement she saw in Our Sunday Visitor. Charitable support was needed for a missionary order in East Africa.  She decided to send monthly support for seminary education and her designated seminarian corresponded with her.  When he invited her to come to Africa for his ordination, she booked a ticket and was there for the big day and for his first Mass…
"That wasn't the end of the story, however. Before long, she was supporting seminary education for the Maryknoll Fathers and the Trinity Missionaries. She had great faith that 'her boys,' now serving God as priests, would help her get to heaven.  'Then, I realized,' Dorothy said, 'that I wasn't doing anything for the Sacred Heart.'
"That began her now nearly 30 years of faithful support of the Priests of the Sacred Heart (Dehonians).  It makes Dorothy happy to realize that a portion of her charitable contributions helps in the formation of candidates preparing to become priests and brothers of the Sacred Heart.  However, in 1973, when Dorothy sent in her first check, the Priests of the Sacred Heart were already doing much more than educating their own. Three years before, Sacred Heart Seminary and School of Theology had opened its doors to second-career vocations.
"Although these were not the young men Dorothy had originally intended to help, they are often men who had heard the Lord's call from their youth but had life circumstances that did not make it possible for them to respond.  Because of the Second Career Priestly Formation Program, they were able to realize their dream and Dorothy's as well…
"Reflecting on her now 68 years of life, which included the realization of two other dreams, working in Alaska and going on walking tours of all 50 states, Dorothy sums it up back on the family farm where it all began.  'I kind of did the things I set my heart on.'"
Editor's note: Sacred Heart Seminary and School of Theology is well known for its innovative program for what were often called "second career seminarians." However, today the seminary offers much more than a program for older vocations. Young men from around the country – and the world – come to SHSST to prepare for ordained ministry. Sacred Heart also offers master's programs for lay students, and an internationally regarded ESL course specifically designed for those in or preparing for ministry in the Church.
Subscribe!
Anyone is welcome to receive Dehonian Spirituality; it is sent by email most Fridays. Click here to register.
SUBSCRIBE to our weekly electronic newsletter