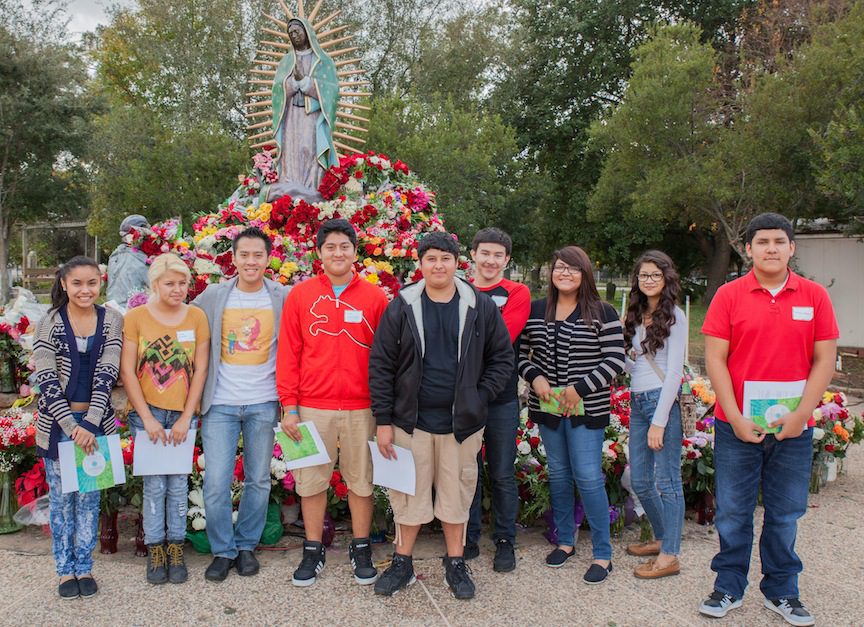 Reconciliation from a Dehonian perspective
Fraters James Nguyen and Joseph Vu led a retreat at Our Lady of Guadalupe, Houston, for high school students preparing for the Sacrament of Reconciliation.
The theme of the day was "Prophet of Love, Servant of Reconciliation." The idea for it grew out of a youth training program developed by Fr. Christianus Hendrik aimed at introducing children and teens to the Dehonian charism. James and Joseph were among several young SCJs who took part in the program.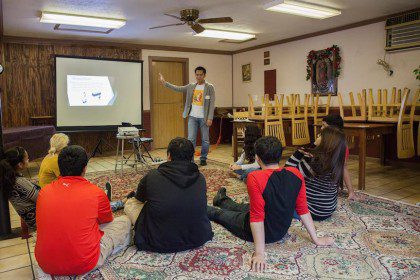 To prepare for the retreat day James and Joseph collaborated via Skype calls in the weeks leading up to it.
"We borrowed elements here and there from other retreats we've done or have been part of," said Joseph. "However, this one was the first of its kind that we are aware of: a reconciliation retreat working from a distinctly Dehonian perspective."
He added that they were inspired by No. 79 in the SCJ Constitutions: "Following the Lord's constant call to conversion, we shall be attentive to discerning the sin in our lives; we shall deeply value the frequent celebration of His forgiveness in the sacrament of reconciliation."
The OLG students will receive the Sacrament of Reconciliation in January.
Joseph is a member of the pastoral team at OLG and James is a student both at Catholic Theological Union and Loyola University of Chicago. At Loyola he is studying for a master's in pastoral counseling.
Vocation office on the road
Fr. Quang Nguyen and Br. Long Nguyen will start the new year in Nashville taking part in SEEK. Held Jan. 1-5, SEEK is a gathering for college students exploring together the questions of life's journey which calls everyone to "ask, seek and knock." [Adapted from SEEK's website]
SEEK is presented by FOCUS, the Fellowship of Catholic University Students.
From the Province JPR Office
In the wake of protest and frustration on many fronts in regards to the death of African Americans as the result of police intervention, the Province Justice, Peace and Reconciliation Commission encourages people to read a reflection that harkens back to a statement written by Dr. Martin Luther King, Jr. in his 1963 Letters from a Birmingham Jail: "Shallow understanding from people of good will is more frustrating than absolute misunderstanding from people of ill will."
Click here to read the full excerpt from Dr. King, as well as a reflection from the 8th Day Center on recent events.
Happy birthday!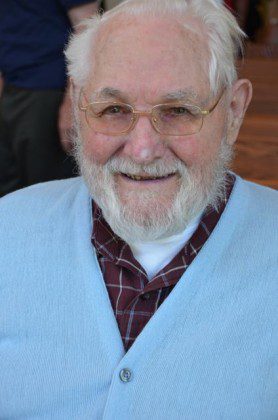 Those celebrating birthdays in January include: Fr. Leonard Tadyszak (93 – Fr. Tady is the eldest member of the US Province) on Jan. 5, Fr. Tom Westhoven (74) and Fr. Rein van Leeuwen (86) on Jan. 9, Fr. Engelbert Fotsing (53) on Jan. 14, Fr. Don Barnd (93) on Jan. 19, Fr. Ralph Intranuovo (78) on Jan. 20, Fr. Bernie Rosinski (81) on Jan. 22, and Br. Andy Lewandowski (81) on Jan. 26.
Happy birthday!
Provincial's time
Fr. Stephen Huffstetter will be close to Hales Corners during most of the next few weeks, though he plans to take a few days away to be with family.
In January he has a visitation with the Sacred Heart Community at SHML and from January 21-25 he will be in Pinellas Park for a visitation.
The core of SCJ spirituality
The final Dehonian Spirituality post of 2014 (Dec. 19) centered on the call to priesthood; it was published on the 146th anniversary of the ordination of Fr. Leo John Dehon, SCJ founder.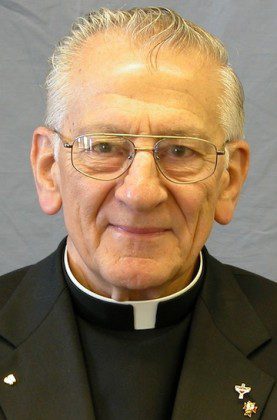 "Self-oblation is at the core of SCJ spirituality. It has been since the foundation of the community, though, I think, not always perceived that way," wrote Fr. Ed Griesemer in a reflection that was a part of the Dec. 19th post. "It was Fr. Dehon's focus from the very beginning when he named the congregation 'Oblates' of the Sacred Heart. When Rome suppressed the foundation due to an unfortunate misunderstanding of the term 'revelation,' and later gave its approval after some needed clarification, Fr. Dehon renamed it 'Priests' of the Sacred Heart, retaining the same basic meaning since the priest identifies himself with Christ at the altar of oblation…
"Ever since Fr. Giuseppe Manzoni, SCJ, elaborated extensively on this change of wording in one of our past retreats, did the idea of self-oblation as 'celebrant' in the liturgy and in 'ministerial service' become a real and lasting focus in my life…
"I saw my priesthood and daily interaction with people in the missions and in parish ministry in a much clearer and more meaningful light. It has made considerable difference in my personal spiritual life and in my relationships, not perfect yet, but as age makes a difference, so does this sense of self-oblation in my life."
Click here to read the rest of Fr. Ed's text as well as other reflections and prayers based in the Dehonian charism. Click here to be added to the subscription list for Dehonian Spirituality.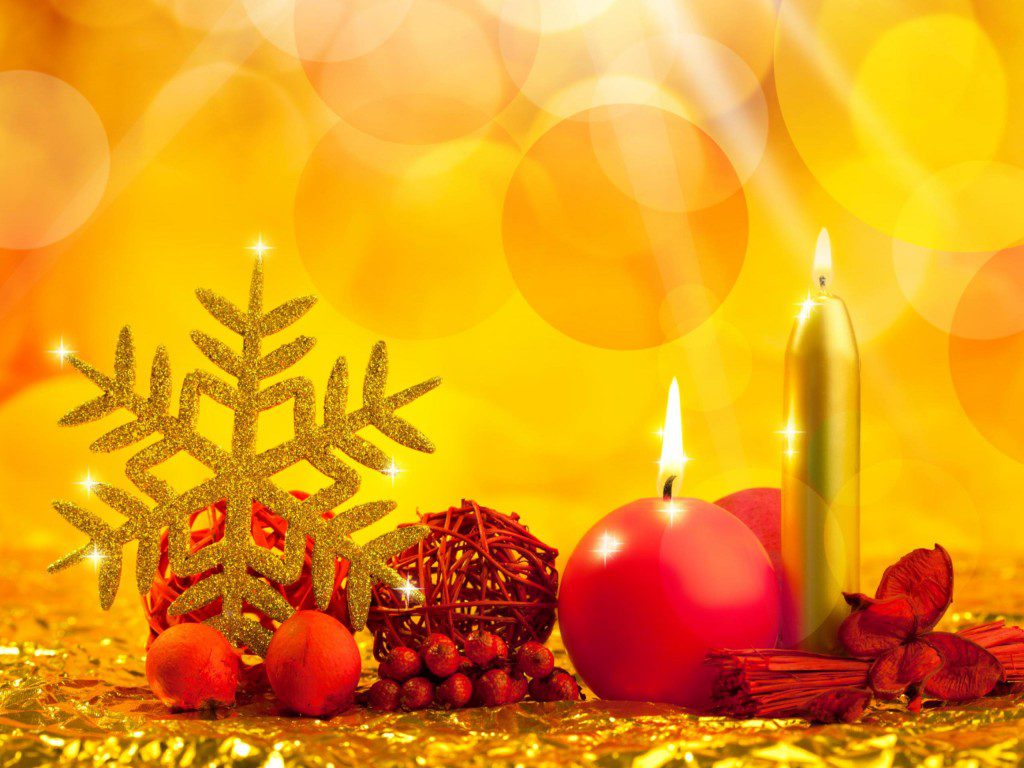 Holiday schedules
The Provincial Offices will be closed Dec. 24-26 for Christmas and Dec. 31 – Jan. 2 for New Year's. Regular office hours start up on Monday, Jan. 5.
This will be the last issue of the Fridge Notes for 2014; the next posting of the weekly news will be Jan. 5. The last Dehonian Spirituality of 2014 was posted on Friday, Dec. 19; it will resume publication on Jan. 9.
News items and photos will continue to be placed on the province Facebook page, and on Dehonians Worldwide, the Facebook page for the general administration.
Click here to send news items at any time. And, of course…
Merry Christmas and Happy New Year!