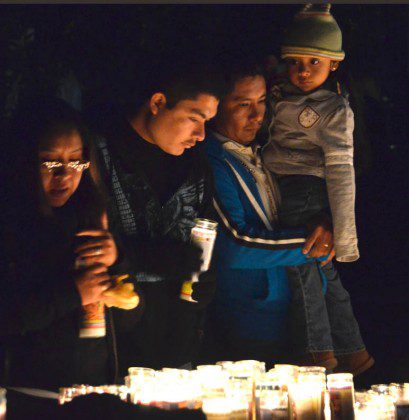 We remember those who have died
With the rest of the nation, and the world, we keep in prayer the people of Newtown, Conn., following the massacre at Sandy Hook Elementary School.
"Most of us as religious can only begin to grasp what has gone through the minds of parents around the country," wrote Fr. Tom Cassidy to fellow SCJs on Saturday. "I found that this quote, most recently stated by Marshall Newhouse, a member of the Green Bay Packers, helped me to appreciate what parents were feeling as the news hit home: 'Making the decision to have a child –– it's momentous. It is to decide forever to have your heart go walking around outside your body'.
"We SCJs are very much involved in the education of children, perhaps more than we often give ourselves credit for. A simple listing makes that abundantly clear:
St. Joseph Indian School — Chamberlain, South Dakota
Sacred Heart School — Southaven, Mississippi
Holy Family — Holly Springs, Mississippi
Our Lady of Guadalupe — Houston, Texas
St. Martin of Tours — Franklin Wisconsin
"I ask myself, how do we keep these hundreds of children safe? How do we help them make sense, if we can, of what happened in Newtown? How do we make sense of it ourselves? I can't give an answer to these questions, at least not at this time. But I do encourage each one of us to ponder them in our hearts as we draw ever closer to Christmas when we celebrate the rebirth of the Christ Child in our hearts and in our world."
Click here to read the full text of Fr. Tom's letter.
Click here to view or read President Barak Obama's address last night at a prayer vigil in Newtown
Keep in prayer
On Saturday Fr. Ed Kilianski's 12-year-old nephew, Kyle, was found unresponsive in his room. Rushed to the hospital, it was initially thought that he had suffered a seizure. "Miraculously, my nephew woke up this afternoon [Sunday] and the doctors can find nothing wrong with him," said Fr. Ed. "He remembers nothing about yesterday but knows everyone today."
Kyle will be kept briefly for observation.
"Please thank everyone for their prayers," said Fr. Ed, who let SCJs know of the situation on Saturday evening. "They worked!"
Also, please remember Louis Courneau, a Lenox alumnus (graduated in the mid-1970s) who died December 12. His brother, Leo, also attended the seminary. Click here to read the obituary for Mr. Courneau.
If you are unable to view the slideshow above, click here to go directly to the photo album from the feast of Our Lady of Guadalupe.
Thousands gather for OLG feast
The date 12-12-12 (December 12, 2012) got a lot of play in the media. People planned weddings, fund-raisers and even the birth of babies on the easy-to-remember date.
However, at Our Lady of Guadalupe parish in Houston, Texas, the date had significance long before anyone noticed the uniqueness of the threesome of 12. It was the feast of the parish's patron saint and the close of a year-long celebration of the faith community's 100th anniversary.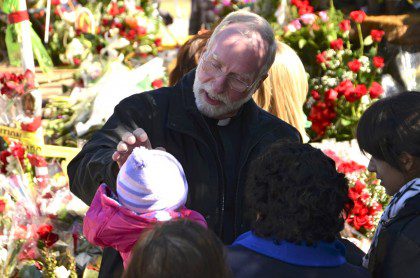 Generally associated with the Mexican culture, Our Lady of Guadalupe is actually the patron saint of all the Americas. However, the traditions of Mexico, begun hundreds of years ago, define the celebration of her feast, a celebration that is a mix of theater, religion and festival, grounded in a deep faith.
This year the celebration in Houston started quietly with a 5 p.m. Mass on the eve of the feast. Attendance was small; music was limited.
And then the calm ended. At 7:30 p.m. the church was filled beyond its limits for the second Mass. Two hours later even more people tried to find their way inside. Members of the Knights of Columbus stood by the doors, stopping people from entering when there literally wasn't room for another person. One person stepped out of church before the 9:30 Mass ended. In her place, one person –– no more –– was allowed to squeeze in.
Midnight Mass had the largest attendance with over 2,000 people standing before the makeshift altar in the outdoor plaza.
Click here to view a photo album from the two days of celebrations.
Click here to read the full story about Our Lady of Guadalupe posted on the province website.
One year anniversary
"Last night [December 16] was the one year anniversary of the devastating typhoon Sendong (Washi) which passed through the island of Mindanao causing the death of many and the loss of much property, especially in Cagayan de Oro and Iligan City," wrote Fr. Francis Pupkowski, regional superior of the Philippines.
"Hundreds were swallowed by the river or died in the flood in their own houses caught by surprise during the darkness of the night," continued Fr. Andrew Sudol, also a member of the Philippine Region. "Many houses, chapels, cars and electrical centers were completely destroyed and taken by the flood to the sea. Thousands of people became homeless; most of the families in the city lost at least one member in this tragedy. It was terrible."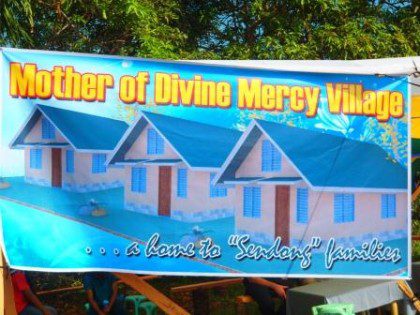 Approximately 1,200 people died in the flood and nearly 9,000 people were left homeless.
"This evening there was a rally in solidarity with those who have died and were affected by Sendong," wrote Fr. Andrew. "Many local officials were present, including the bishop and mayor."
Yet, Fr. Andrew and other SCJs fear that after the anniversary little more will be done by authorities and/or international organizations to assist the victims. "But many flood survivors continue to live in makeshift, temporary shelters," he said.
This is why the Priests of the Sacred Heart joined with five other religious communities to build 600 houses for the homeless. Groundbreaking for "Mother of Divine Mercy Village" was held in September and already families are living in completed houses.
The six religious communities are now working to raise funds to complete the project. If you'd like to help, contact Dn. David Nagel, provincial treasurer, at provtreas@usprovince.org.
Holiday hours
Please keep in mind that the Provincialate Offices will be closed for several days at the end of December and the beginning of the New Year. Often, members of the staff also take a few extra days for vacation at this time. If you need to contact the office before the end of the year, please do so as soon as possible.
The Provincial Offices will be closed December 24-26, reopening on December 27, and then closed again December 31 and January 1.
There will be no Fridge Notes next Monday, December 24. The last issue of the year will be on FRIDAY, December 28. There will be no issue the week of December 31. The regular Monday schedule will resume on January 7, 2013.
Provincial's time
Fr. Tom Cassidy is back in the office this week; he has meetings with the Provincial Council Tuesday and Wednesday.
Upcoming events

December 18-19, Provincial Council Meeting
December 24-26, Provincialate Offices closed for Christmas
December 31 – January 1, Provincialate Offices closed for New Year's
2013:
January 29-30: Provincial Council Meeting
March 13: Local Superiors Meeting
March 14: Provincial Council Meeting
April 8-9: Mission Education Conference, St. Joseph's Indian School
April 30 – May 1: Provincial Council Meeting (budgets)
Week of June 3: Province Election Assembly.
September: Fr. General's visitation to North America followed by a continental conference, dates to be determined
2014:
July 7-11, 2014: Provincial Chapter

A Christmas prayer
Emmanuel, God with us,
you were born of a woman
for our sake.
You came not to be served,
but to serve
and to give your life as a ransom for many.
You took on our frailty
And shared our condition
in order to bring us the joy of divine life.
Lord Jesus, make your home among us today.
Transform our hearts by your love;
open them to your Father's will
so that we may offer ourselves for others
and work for a just and peaceful world.
May your birth overcome human discord,
calm human violence,
and reconcile us all to one another.
Amen.
From This Day of God, Community Prayer Book of the Priests of the Sacred Heart