"You need to move with change or you disappear"
-Monsignor Dario Edoardo Viganò, former Prefect of the Vatican's Secretariat for Communication, speaking to Dehonian communicators in Rome (he is pictured above)
"In God's plan, human communication is essential for living in communion," said Fr. Carlos Enrique Caamaño Martin, SCJ, echoing the words of Pope Francis in his message for World Communications Day on January 24. The superior general was the opening speaker at the May 23-25 Media Experts Meeting in Rome, a gathering of Dehonian communicators.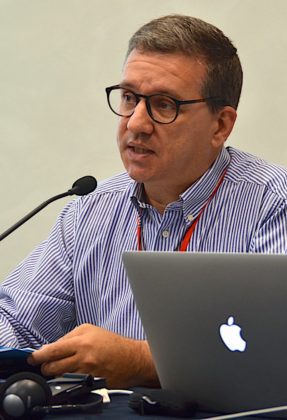 "We are here because we are called to be servants of the truth," he continued. "Information is formation; in chaotic times, communication allows us to experience each other and build true community."
This was the second Dehonian Media Experts Meeting; the first took place in January, 2017.
Presentations included an update on the General Communications Office and its projects, the new Mission Statement of the congregation, the concept of "visual identity" and research that has gone into first steps toward a visual identity for the congregation, a session on preparing communication packages for events, and a communications "fair" in which participants could talk about new projects in their entities in small group settings. The new website of the US Province was among the exhibits.
The keynote speaker of the conference was Monsignor Dario Edoardo Viganò, former Prefect of the Vatican's Secretariat for Communication. He reviewed recent changes in the Vatican's communication structure. The next day, participants were at the Vatican, learning more about those changes first-hand.
"How we access information has changed, and even how we read has changed," said Msgr. Viganò. "With a single device –– a smartphone –– we can watch Netflix, get the news, read a book… Even my Breviary is on the phone.
"Time waits for no one. You need to move with change or you disappear… a story doesn't exist if it isn't seen."
More information about the meeting can be found on the general website.
Click here to view an online photo album from the meeting.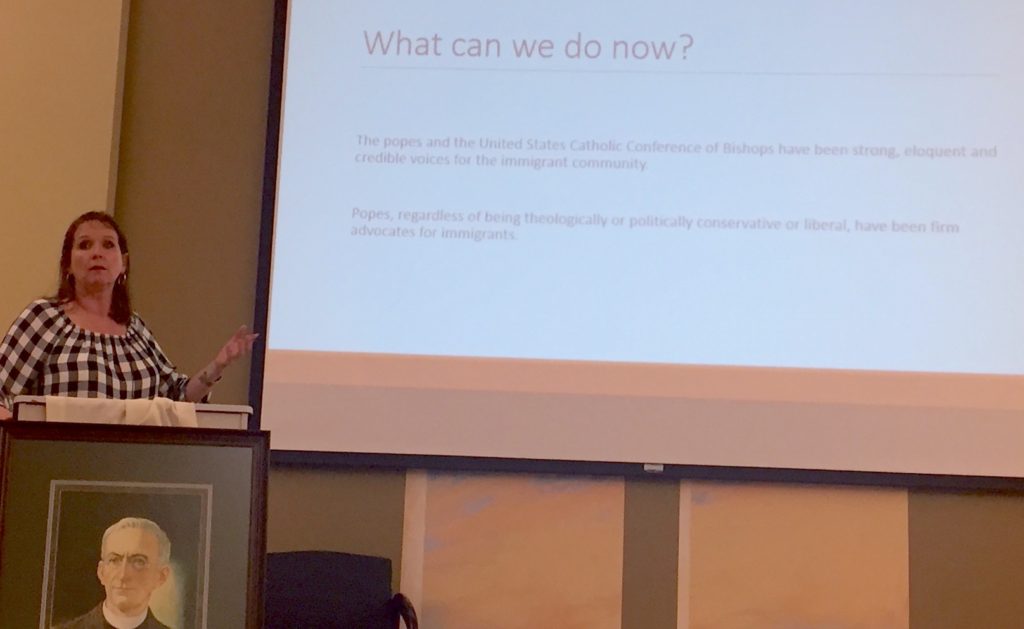 The challenges of immigration
Attorney Barbara Graham, director of Legal Services for Immigrants for Catholic Charities of the Archdiocese of Milwaukee, returned to the Provincial Conference Center on May 29, to give an update on the challenges migrants face as they pursue legal residency in the United States. She first addressed the issue with Dehonians at the 2017 US Provincial Assembly. Attending the May presentation was a mix of approximately 40 SCJs and lay people.
What can people do to counteract these challenges? Barbara said that the first step is to promote Catholic social teaching from the pulpit and through parish educational programs. It is important to find ways to foster respectful dialogue among people of differing views. Legal assistance is also key. The US Province will be partnering with the School Sisters of St. Francis in Milwaukee to raise funds to pay DACA renewal fees for eligible students.
Barbara also spoke about the rise of the New Sanctuary Movement, which echoes the efforts of churches and people of faith in the 1980s to harbor refugees and the undocumented, sometimes secretly, sometimes publicly.
The presentation was sponsored by the North American Migration Commission. We hope to soon have more about it on the province website.
Calls to the Treasurer's Office
As many of you may know, Kevin Stanke, a member of the Provincial Treasurer's Office, has a hearing impairment. He asks that people call him on his cell phone, not on his office landline. The cell phone is adapted so that he can more easily hear callers. His cell number is 414-333-8750.
Please remember
+Dolores Stabile, the aunt of Fr. Tim Gray, SCJ, died May 28. She lived in Fuquay-Varina, NC; services were on May 31.
+Fr. Petrus Egidius Driedonkx, SCJ, a member of the Dutch-Flemish Confederation, died June 3. He was born in 1928, professed in 1948 and ordained in 1954.
+Umberto Cardillo, SCJ, of the South Italian Province, died May 25. He was born in 1947, professed in 1972 and ordained in 1978.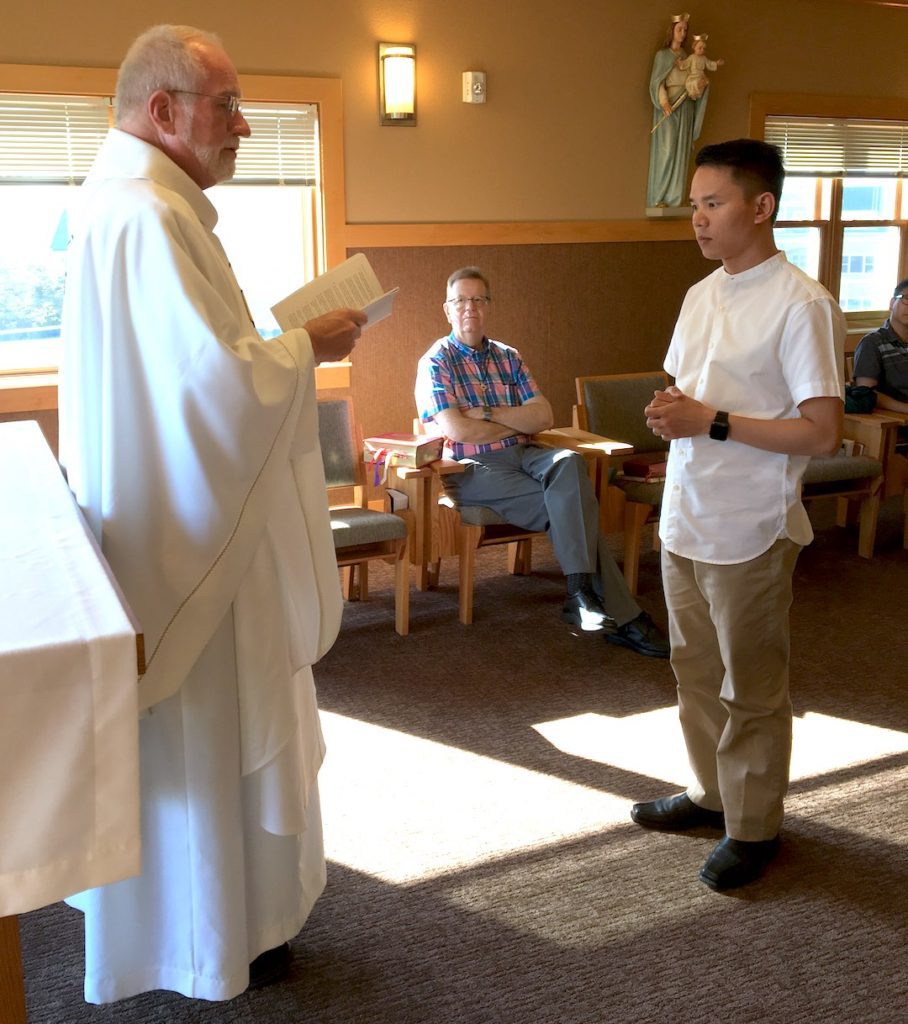 Welcome!
SHSST welcomed two new SCJ ESL students last week. Fr. Sugiarno is from Indonesia and Fr. Praveen Kumarn is from India.
We also welcome John Huan Quang Nguyen, who is pictured above while being received by Fr. Ed Kilianski, SCJ, as a postulant in preparation for the 2018-19 novitiate class. Huan entered formation in the Vietnam District three years ago where he studied philosophy. Originally from Hanoi, he is 31.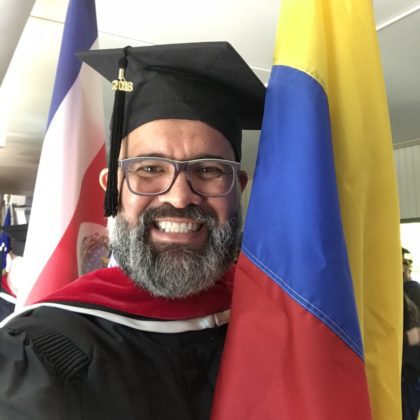 Congratulations Juancho!
"I finally I did it!" writes Frater Juan Carlos Castañeda Rojas, SCJ. "Today [May 24], I received my Master of Divinity from Catholic Theological Union!! This is another step in my journey and another accomplishment in my life. On top of it, I was proud to carry the Colombian flag during the ceremony. What a wonderful day! Thanks to all who made this possible, all the support from my community and from many others." On June 16, Frater Juancho will take another step on his journey: he will be ordained to the diaconate.
Happy Feast Day!
This Friday, June 8, is the feast of the Sacred Heart. Sacred Heart Monastery, in partnership with the Province Development Office, will host an annual celebration at Sacred Heart Seminary and School of Theology. David Schimmel, province director of Dehonian Associates, will give a presentation at 10:00 a.m. on "Preaching the Love of the Heart of Jesus with Commonplace Images." Mass will be at 11:00 a.m. and a picnic lunch will follow. Tours, raffles and auction items will be available in the lobby throughout the gathering.
Bishop Jeffrey Haines, auxiliary bishop of Milwaukee, will be the main celebrant. Lumen Christi Ministry will lead music at the liturgy.
Reflecting on devotion to the Sacred Heart
For the month of June, the Dehon Study Center is making available a seven-page presentation entitled, "Sacred Heart Devotion in Fr. Dehon's Context and in our Context."  Given in 1993 by then Dutch Provincial, Fr. Piet Schellens, SCJ, it reviews Fr. Dehon's image of the world, Church, and God, contrasts it with present-day images, and asks, "What has happened to the Sacred Heart?"
"Building a new world is the work of reparation," Fr. Schellens said, "for the honor of God must be restored by removing conditions that degrade human beings… When God wills a new heaven and a new earth, and when he wants to give us a new heart, then the Heart of Jesus remains our great example."
Click here to access a PDF of the presentation.
Provinical's time
Fr. Ed Kilianski has Provincial Council meetings June 5-6. Later this week he will fly to Houston, where he will celebrate feast of the Sacred Heart at Our Lady of Guadalupe parish and assist with weekend ministry. June 16 is the diaconate ordination of Frater Juan Carlos Castañeda Rojas, June 18 is the Provincial Chapter and June 19-22 is the Province Election Assembly.
Closing shot
Fr. Charles Brown, SCJ, has been at the scholasticate in Eluru, India, teaching an intensive full-term course on the letters of St. Paul. "It's been a marvelous experience.," he wrote. "There are 21 young Dehonians in various years of vowed formation in the class. Of these, seven will finish their MA programs at SHSST. There is a lovely fraternal openness to our discussions. They seem to be dedicated young religious and I am blessed to be working with them.
"Oh, and by the way, it's been 110 degrees every day since I've been here!" Thankfully, Fr. Charles noted that there was a cooling rain when he wrote.