Preparing for the Resurrection
Fr. Hendrik Ardianto and Fr. Frank Wittouck (pictured above) are the most recent SCJs to share reflections for the Lenten e-blast, "Preparing for the Resurrection."
"Our life is always full of signs," writes Fr. Ardi, writing about the readings for February 24. "Signs don't just stand by themselves, they always have a meaning. For example, the sign of the cross is not just an act, but an action that points to our faith. Signs are always useful to others and they can be a proper way for us to be a sign of God's love to others. We can also be a sign of God's love to those in need and a sign of love to the sick, to the hungry, to those who are alone. We can become a sign of God's love to others we meet every day. We are called to be a sign of God's care for others. A kind sign of compassion can reach a person's wound and heal them. If you can't do it for 100 people, 50 people or 10 people, then just do it for one. Never worry about numbers, help one person at a time and always start with the person nearest to you, perhaps a member of your family, a member of your community."
Click here to read Fr. Ardi's full text.
In his reflection for February 28, Fr. Frank Wittouck asks "Is your tuner turned on?" He continues, "This may sound like a stupid question, but you won't hear anything from God unless you turn your tuner on. But then, all you might get is a lot of static. Remember the old days of boom boxes, small portable radios and Walkmans? I know that I am dating myself, but that was high tech some time ago.
"You know what? God doesn't need a high tech device to communicate with us. All he needs is a listening heart, like Abraham had in our first reading from Genesis. See how quickly Abraham responds, not once but twice: 'Here I am Lord.' Wow."
Click here to read Fr. Frank's full reflection.
Click here to access all past issues. The next reflection will be mailed on Wednesday, March 3.
Welcome!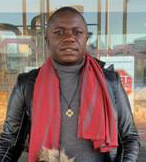 The Canadian Region welcomes Fr. Ushindi Kambale Sahani, SCJ. Originally from the Congolese Province, Fr. Ushinidi had been waiting almost a year for authorization to travel to Canada. Upon arrival, he was in mandated quarantine while waiting for his COVID-19 test results. Following a negative result, he was granted permission to do the remainder of his quarantine with the SCJ community in Montréal. Fr. Ushindi will join the pastoral team that serves the three parishes entrusted to the Montréal community. His contact information will be added to the online personnel directory later today.
Students participate in buffalo harvest
Late last fall, the 8th grade class at St. Joseph's Indian School participated in a Native American Buffalo Harvest. Historically, the buffalo provided for every need the Lakota people had. Like the students' ancestors would have done, St. Joseph's made use of nearly all the buffalo parts following the sacrifice.
Native Hope, an organization that uses storytelling to educate and heal, produced a brief video of the students' involvement with the buffalo harvest. Click here to view it. Note: some of the footage regarding the harvest may be challenging for some to view.
Spring issue of SCJ News posted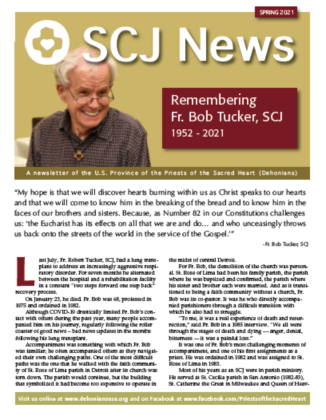 The Spring 2021 issue of the SCJ News is now available; click here to access a PDF of the quarterly publication. Hard copies to those on the subscription list will be mailed this week. The recent issue includes a remembrance of Fr. Bob Tucker, SCJ, with an emphasis on his lifelong commitment to "accompaniment;" a story about SCJ Fr. Bernie Rosinski's scripture classes with permanent deacons in South Dakota (an excerpt was in last week's Fridge Notes), and "20 Questions" with two of our international SCJs ministering in the US Province: Frs. Praveen Kumar Richard and Vincent Suparman.
Click here to access the PDF. Click here to add a person to the hard copy subscription list.
Please remember
+ José María Baños Caballero, a member of the Spanish Province, died on February 24. He was born in 1952, professed in 1972 and ordained in 1979.
Keep in prayer
Roberto Diaz, the father of Br. Diego Diaz, SCJ, was previously diagnosed with cancer. He recently learned that the cancer is isolated to the colon, which doctors said offers a good prognosis. He will have surgery in the next few weeks to remove a tumor; a date is not yet set. Br. Diego writes: "Thank you to the members of the province for their prayers and support."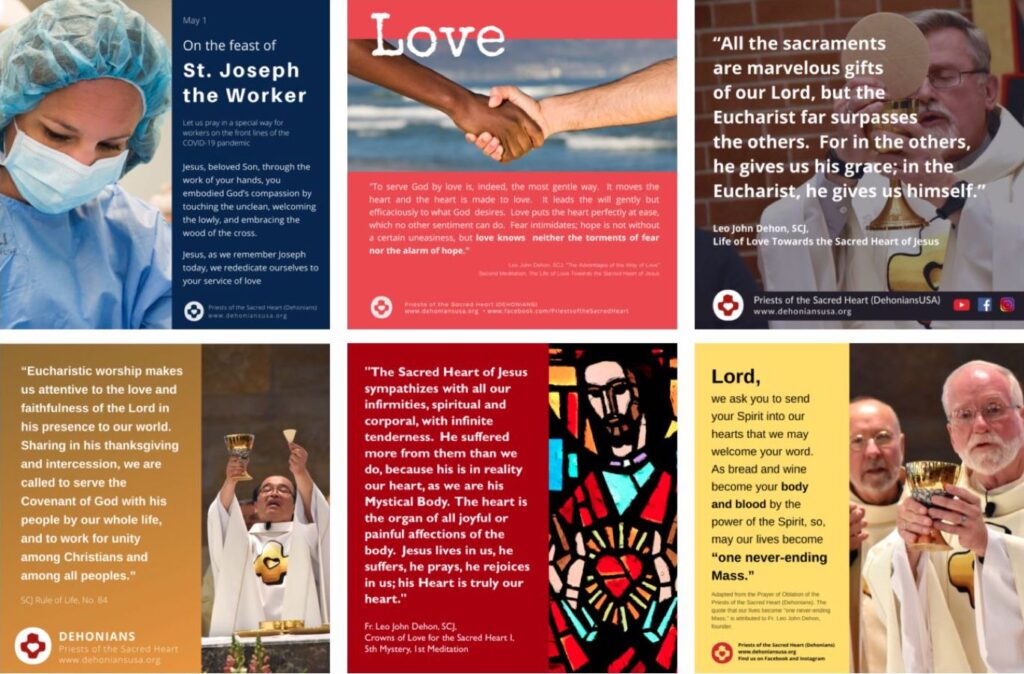 Dehonians online
The number of Dehonian resources available on the internet continues to grow. Besides its website, the US Province also has a Facebook page, an Instagram account and a YouTube channel. The Facebook page is the most frequently updated site and includes links to new posts on other sites. You do not need to be a member of Facebook to view the page.
Can't remember all those sites? Just remember one: www.dehoniansusa.org. The homepage of the US Province website has links to the Fridge Notes (weekly news of the US Province), feature stories, member profiles, and a variety of Dehonian Spirituality resources including an archive of the publication with the same name, bulletin inserts, quotes from the founder, and the ten-part Spiritual Path for Dehonian Associates.
In recent months we have added a collection of Dehonian social media graphics that you are welcome to download and use (www.dehoniansusa.info/graphics). Photo albums from various events are at www.scjusa.smugmug.com
Ministries within the province also have a strong online presence. You can find Sacred Heart Seminary and School of Theology at www.shsst.edu, and from there, access the seminary's social media sites and other resources. St. Joseph's Indian School is at www.stjo.org and Sacred Heart Southern Missions is at www.shsm.org. Want information about the six parishes that SCJs minister at in northern Mississippi? Click here to find them on Facebook. Each of our Dehonian schools has Facebook pages; search for them on Facebook by name and location.
Go to our general website to learn about the congregation throughout the world: www.dehoniani.org. Scroll near the bottom of the homepage to find a directory of where Dehonians are located on each continent. Keep scrolling and you will find an extensive on-line library of documents on four websites facilitated by the Centro Studi Dehoniani (Dehon Study Center) in Rome: DehonDocs Originals (www.dehondocsoriginals.org), DehonDocs International (www.dehondocsinternational.org), DehonianaDocs (www.dehonianadocs.org), and StudiaDocs Dehoniana (www.studiadehonianadocs.org). Note that StudiaDocs includes book-length documents published under the "Studia Dehonia" umbrella. The most recent posting is Studia Dehoniana No. 65, the English and Spanish translations of Dr. David Neuhold's critical biography of the founder, Mission and Church, Money and Nation.
Proofreaders needed
The Centro Studi Dehoniani in Rome is preparing more documents to post on DehonianaDocs. Proofreaders (in English) are needed to review the scanned original text. Note that the proofreaders are only being asked to identify scanning errors, not to edit the previously published articles.
If you are interested in volunteering you time with the project, click here.
40 Voices
As noted last week, the General Communications Office has been posting "40 Voices From Around the World for 40 Days," click here to access them all on the Generalate's website. Among those featured so far include Fr. Francis Vu Tran (Vietnam – video is pictured above), Fr. Gustave Lulendo (Canada), Fr. Joseph Butlig (Philippines), Fr. Emmaunel Nanduri (Italy), and Fr. Ed Kilianski (USA).
Feedback on homilies is vital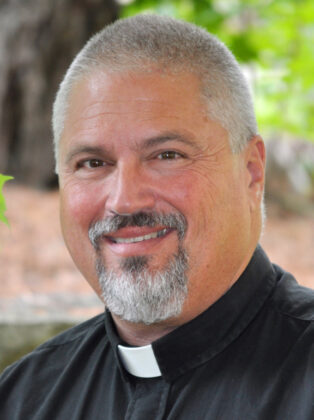 One of the many hats that Dn. Steve Kramer wears at Sacred Heart Seminary and School of Theology is that of Director of Homiletics. In an article published in the March/April edition of The Deacon, Dn. Steve considers the types of feedback that homilists receive for preaching homilies. "The ultimate goal of preaching the Gospel," Dn. Steve writes, "is to turn people to God! With good honest feedback, homilists are able to hone their preaching skills to change people's hearts."
The article is titled "The Necessity of Good Feedback." Click here to read it in full.
A permanent deacon himself, among the other hats that Dn. Steve wears at SHSST is that of Assistant to the Interim VP of Formation, Director of Recruitment, and Associate Professor of Pastoral Studies.
March birthdays
Those celebrating birthdays in March include Fr. Joe Dean and Fr. Ziggy Morawiec on March 3, Fr. Jim Brackin on March 4, Fr. Joseph Mukuna on March 5, Postulant Jonathan Nguyen-Vuong on March 7, Fr. Terry Langley on March 12, Postulant Michael Wodarczyk on March 13, Fr. Pat Lloyd on March 17, Fr. Richard MacDonald on March 18, Fr. Charles Brown on March 19, Fr. Frank Wittouck and Fr. Wojciech Adamczyk on March 23, and Fr. Jim Schroeder on March 30. Happy birthday!
Closing shot
Fr. Rafael Querobin, SCJ, associate pastor of Our Lady of Guadalupe in Houston, led staff at the parish school on a morning of retreat on February 24. "We cherish the (seemingly rare) opportunity to spend some quiet time with God!" wrote one of the educators.  "We are renewed."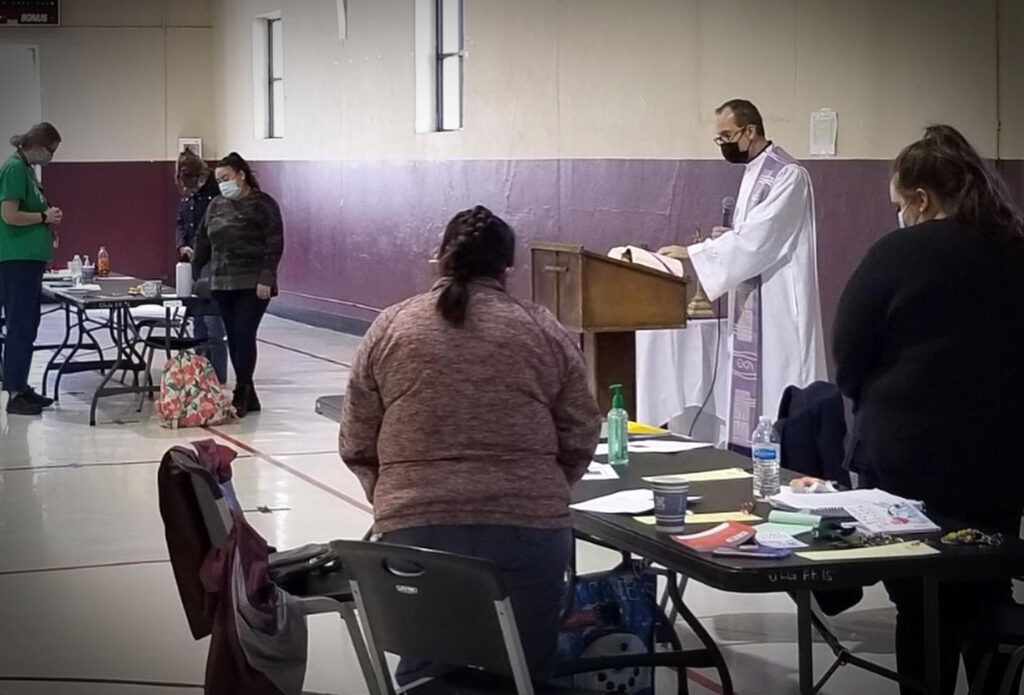 Click here to subscribe to the weekly news (Fridge Notes) via email