Founder's Day celebrations
Last week Wednesday was the 175th anniversary of the birth of Fr. Leo John Dehon, founder of the Priests of the Sacred Heart (Dehonians). Around the world the day was celebrated in a variety of ways, from ceremonies marking advancement in formation in South Africa, to presentations on the founder with school children in Indonesia, to birthday cake with the community at Sacred Heart at Monastery Lake in Franklin, WI.
Fr. John Czyzynski wrote the homily that was given at the Founder's Day Mass with the Sacred Heart Community. In it, he encouraged fellow Dehonians to give "thanks to God for Leo Dehon's life and all he did that shapes our lives. Let us thank God for His great love, which Dehon preached to all who would hear."
Click here to read the full homily. Note, the homily was written by Fr. John but delivered by Fr. Jim Schroeder because Fr. John was stuck in his room for Founder's Day, recovering from a virus that has been slowly making its way through the community.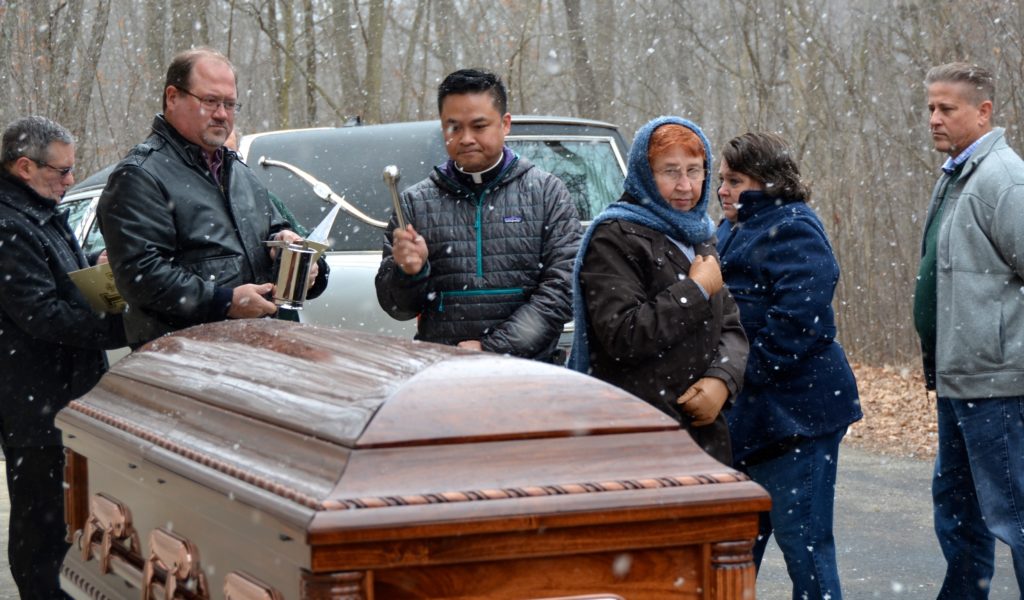 Remembering Fr. Leonard
As we noted last week, Fr. Leonard Elder died on March 6. Memorials were held for him in both Mississippi, where he lived and served for many years, and in Wisconsin.
Click here to view photos from the services at St. Joseph's Church in Holly Springs, MS, on March 12.
Click here to view photos from the Mass of Christian Burial at Sacred Heart at Monastery Lake and interment in the Sacred Heart Mausoleum.
Click here to read Fr. Ed Kilianski's homily from the funeral Mass.
Doing better!
Fr. Richard MacDonald, who had heart valve replacement surgery several weeks ago, writes with an update: "I am very grateful for the prayers, calls, and emails from my SCJ family. I had the best care at the Houston Medical Center and I am doing well.  I stayed in Houston for an extra week and enjoyed my two brothers, Norman and Jim, who gathered in Katy at my niece's.  I will be taking part in a cardiac rehab program at Valley Baptist Hospital, which will include physical therapy and nutritional review.  Thank you everyone; I am truly blessed!"
Keep in prayer
Early in March, Reina Rojas, the mother of Frater Juan Carlos Castañeda Rojas, was hospitalized due to a liver condition. Frater Juancho is in Colombia to be with her. This morning he sent an update, noting that his mother continues to be in ICU. She is on a ventilator, and today she will have an ultrasound to determine what is causing her difficulty with breathing.
This morning, shortly after Frater Juancho's father came to the hospital to spend time with his mother, he also had to be taken to ICU after experiencing chest pain. Frater Juancho asks for continued prayers as he awaits news of both of his parents' health situations.
Also, Fr. Yvon Sheehy is entering the hospital today (Columbia St. Mary's in Mequon) for tests in preparation for surgery tomorrow. His foot is being treated for complications due to diabetes.
Province JPR Director speaks at SHSST
The March 20th (tomorrow!) session of the Spirituality Series hosted by SHSST's Dehon Library will feature a presentation by Mark Peters, US Province director of Justice, Peace and Reconciliation. He will speak from 10:15 – 10:30 a.m. at the seminary library. Coffee and refreshments follow; anyone is welcome to attend.
Easter schedule
The Provincial Offices will be closed as of 2:00 p.m. on Holy Thursday, March 29, through Easter Monday, April 2. There will be no Fridge Notes Easter Week.
Sacred Heart Seminary and School of Theology will be on Easter break March 26 – April 2.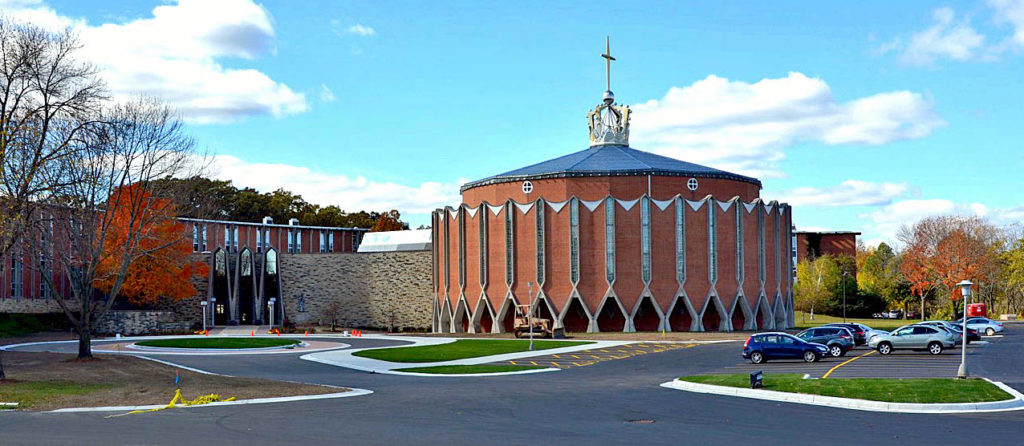 SHSST secures nearly $120,000 in grants
Since January, 2017, SHSST faculty and administrators have secured $119,550 in grant funding. It includes:
$48,000 from the Association of Theological Schools for an Innovation Grant to support start-up costs related to the launching of the Cor Unum Master of Arts initiative during the 2017-18 academic year.
$27,350 from the US Conference of Catholic Bishops Confraternity of Christian Doctrine and the Catholic Biblical Association for a grant to fund research into effectively preaching the Parables.
$15,000 from the US Province of the Priests of the Sacred Heart (Dehonians) as a matching grant to support the work of the Lux Center for Catholic-Jewish Studies.
$14,700 from the Association of Theological Schools for a faculty development grant to support enhancing faculty pedagogical skills in addressing the particular educational needs of students in diversity contexts.
$10,000 from the Templeton Foundation for a Faith and Science Grant for the development of a course entitled the "Science of Forgiveness," which was offered in the fall, 2017.
$10,000 from the Catholic Community Foundation to defray costs related to the January, 2017, delivery of the Pastor's Toolbox, a week-long workshop geared toward developing the parish administrative skills of seminarians.
$2,500 from the CT Charitable Fund of the Milwaukee Jewish Federation to defray costs related to the March 2017 Symposium for Interreligious Dialogue sponsored by the Lux Center for Catholic-Jewish Studies.
$1,500 from the Office of Ecumenism and Interfaith Concerns of the Archdiocese of Milwaukee also for support of the March 2017 Symposium for Interreligious Dialogue sponsored by the Lux Center for Catholic-Jewish Studies.
It is like being in paradise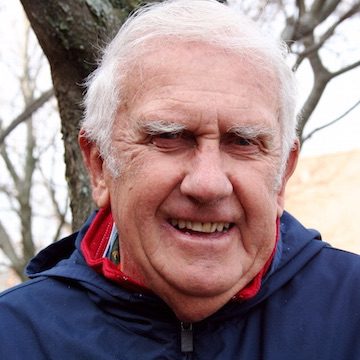 Bishop Joseph Potocnak wrote recently, noting that he had been given a new identification card to continue his ministry as a chaplain at the Bay Pines Veteran's Center.
"With me, being here [Sacred Heart Community in Pinellas Park, FL] is like being in paradise," he wrote. "Everything suits me: the regular daily Eucharist and prayer schedule, plus visiting the old boys at the VA and having enough guys locally to play golf with. And then there is the great weather. I almost feel guilty because it is all so good for me!"
Bishop Joe was bishop of De Aar, South Africa from 1992 until his retirement in 2009.
Nominations sought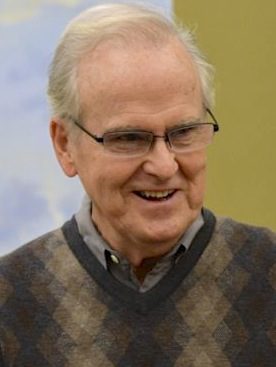 The US Province Justice, Peace and Reconciliation Commission is seeking nominations for the First Annual Johnny Klingler Social Action Award. The award is open to SCJs and others associated with the Dehonians "who exemplify the concern for action on behalf of mercy, justice, peace and creation shown by Fr. Johnny Klingler, SCJ, going back to his time as the first director of the U.S. Province's Justice and Peace Office," state members of the commission in their write-up about the award. They continue:
"In creating this award, the JPR Commission desired to honor the Dehonian charism of dedication to 'ministry to the lowly and the humble, the workers and the poor' (Rule of Life #31), and to the ideals of social justice as expressed in Catholic Social Teaching.  The JPR Commission wants to lift up efforts that 'touch people's hearts,' transform personal attitudes, and spur us to greater social action of all kinds – direct service, advocacy for the voiceless and support for systemic change at the governmental or institutional level, empowerment of the marginalized and formation and education for justice."
The winner will receive a $1,000 donation to the charity or organization of the recipient's choice.
The deadline for nominations is April 16, 2018. Click here to submit a nomination, or call Mark Peters at 414-427-4273 to learn more about the award and how to submit a name.
Sr. Norma to be honored by Notre Dame University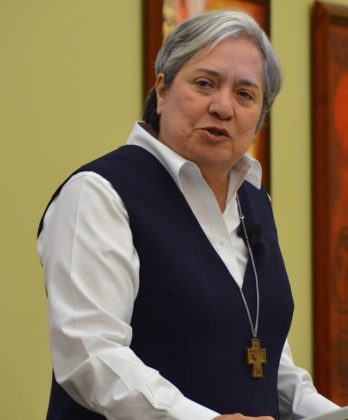 Sr. Norma Pimentel, MJ, executive director of Catholic Charities of the Rio Grande Valley and one of the nation's strongest champions of immigrants, will be awarded the Laetare Medal by the University of Notre Dame. It is considered the oldest and most prestigious Catholic award in the United States; she will receive it at the university's commencement ceremony on May 20.
During a 2015 virtual papal audience broadcast by ABC's "20/20," Pope Francis singled out Sr. Norma to praise her work of welcoming immigrants at the U.S.-Mexico border.
"I want to thank you," said Pope Francis, "And through you to thank all of the sisters of religious orders in the U.S. for the work that you have done and that you do in the United States… is it appropriate for the pope to say this? I love you all very much."
Sr. Norma spoke to members of the US Province during their 2017 assembly. Talking about her experience of immigration on the U.S. – Mexican border she said that "We are the most powerful nation in the world. We must do better."
Click here to read more about the award on the CRUX website.
Click here to read Alonso Barrantes' reflection about his experience last year working with Sr. Norma at the Humanitarian Respite Center in McAllen, Texas. Alonso is a postulant with the US Province.
Provincial's calendar
Fr. Ed Kilianski returns to Milwaukee today following a visitation with the Sacred Heart Community in Pinellas Park, FL. March 24 – April 2 he will be in Mississippi for a visitation and for Holy Week. April 9 is the meeting of North American administrations followed by US council meetings April 10-11.