Holy Week and Easter
The Provincial Offices will be closed as of 2:00 p.m. on Holy Thursday and re-open at 9:00 a.m. on Tuesday, April 3, following the celebration of Easter. There will be no publication of Dehonian Spirituality this week and no Fridge Notes next week. Dehonian Spirituality will resume on April 6 and Fridge Notes on April 9. May you have a blessed Triduum and Easter.
The following Oblation Prayer for the Easter Season was adapted from This Day of God, the community prayer book of the Priests of the Sacred Heart:
Jesus,
on the first day of the week
you rose from the dead.
You appeared to your disciples,
imparting a joy that no one can take from them
and a peace that the world cannot give.
As you breathed the Holy Spirit into them,
you sent them forth to bear fruit that would last.
With Thomas, the Apostle,
we contemplate your wounded side
and acknowledge you as our Lord and God.
Send us forth to bear witness to you,
the Lamb of God, who takes away the sin of the world.
By knowing you and the One who sent you,
may everyone experience the joy and peace
of eternal life.
Amen.
Argentine SCJ affirms his Dehonian vocation through service to others
Br. Diego
Br. Diego Diaz is an Argentine SCJ studying in the ESL program at Sacred Heart Seminary and School of Theology. Recently, he shared a reflection about his ministry with Open Door ("Puerta Abierta" in Spanish), an outreach program to women caught in human trafficking and prostitution. It is operated in in Buenos Aires by the Oblate Sisters of the Most Holy Redeemer. He writes:
"In my time with the center I acquired a transforming new language. Finding Jesus in these women was a strong foundational experience for me. One afternoon during team prayer my heart felt mobilized by the words of the Gospel: 'Truly I say to you, whatever you did for one of the least of these brothers and sisters of mine, you did it to Me.' (Mt. 25, 40)
"The message touched my heart.
"The experience of meeting with these women in moments of prayer became powerful. To hear them pray, to thank me – this opened my heart.  I was challenged to be a different man. The Word of God came to me.
"These women believed that God would take care of them, that God would be there for them. And here I was with my theology and psychology studies still questioning if God listened to me and was present in my day.
"My questioning was answered during a party. One of the staff women from the center saw my Dehonian cross and said to me 'That cross represents you; it is very Diego!'
"It was the first time that I had worn the Dehonian cross with the heart in the middle, my heart open.
"No doubt that Jesus came to meet me in the presence of that woman; Jesus spoke through her."
Click here to read Br. Diego's full reflection.
SCJ speaks about the Dehonian charism
Fr. Jim Schroeder gave the March 14th Founder's Day presentation at the Province Development Office. In it, he spoke about Fr. Dehon's charism and the spirituality of the Priests of the Sacred Heart, a spirituality based in love. "Where would we be without love?" he said. "We come from the love of God, the call of the heart of God, the love of the Jesus." Fr. Jim reminded the development office staff that they help to make the "Church and the world a place of love" through the work they do as an extension of the congregation.
Click here or on the image above to view a 20-minute video of the presentation.
One of the founders of the Indian District dies
Fr. Martin
Fr. Martin van Ooij, a member of the Indonesian Province, died March 24 in Jakarta. He was born in 1935, professed in 1956 and ordained in 1963. Originally from the Netherlands, Fr. Martin served in Indonesia for most of his priesthood. In 1994, Bishop Virginio Bressanelli, the superior general, asked Fr. Martin to take the lead in establishing a Dehonian presence in India. He and Fr. Tom Garvey (now deceased) of the US Province worked together for several years, establishing formation houses and ministry in the country. Visa restrictions forced Fr. Martin to leave India in 2011, but in recent years he has returned for month-long visits to be with the district he helped to develop.
Fr. Martin  spent much of the past few years in the country that had become his home: Indonesia. Approximately a month ago he was hospitalized with several life-threatening health complications, including pneumonia. He was removed from life-support several days ago and died peacefully in his sleep.

Happy birthday!
Those celebrating birthdays in April include: Fr. Francois Tsanga (50) on April 1, Fr. Jim Walters (68) on April 17, Fr. Jim Schifano (73) on April 19, Br. Duane Lemke (46) on April 26, Fr. Tom Lind (86) on April 27, and Fr. Paul Casper (88) on April 29. Happy birthday!!
Keep in prayer
Fr. Yvon Sheehy had surgery last week to treat Charcot, a collapsing of the bones in his foot. He is expected to be discharged from the hospital early this week and spend approximately 12 weeks in rehabilitation at St. Camillus in Milwaukee.
Also, Fr. Walter Van As of the Montréal community was briefly hospitalized with cystitis.
Vow renewals in India
Renewal and remembrance on Palm Sunday
In his latest blog post Fr. Tom Cassidy writes about Palm Sunday in India, where the district not only remembered the life of Fr. Martin van Ooij (see notice above), but also commemorated the vow renewals of 27 Dehonians. Click here to read the post.
Johnny Klingler Social Action Award
As noted last week, the JPR Commission is seeking nominations for the First Annual Johnny Klingler Social Action Award. Mark Peters, JPR director for the US Province, writes the following:
"Who will be the first recipient of the annual Johnny Klingler, SCJ, Social Action Award this spring?  It's up to you!  If you know a person or group (SCJ or laity) who exemplifies Fr. Dehon's dedication to social action, through their own efforts or leading/inspiring others, nominate them by April 16 for this $1,000 award to the charity or cause of their choice.  'Social action' includes serving or empowering those in need, educating others about needs or issues, or advocating for justice and peace."  Click here to submit a nomination or call Mark Peters at 414-427-4273.
Recently published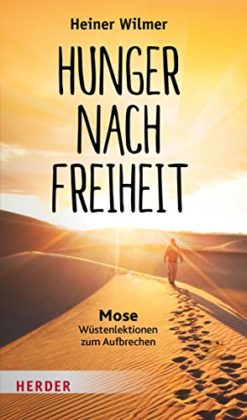 Fr. Tom Knoebel, president-rector of Sacred Heart Seminary and School of Theology, recently published his translation of Isidore of Seville's Sententiae. Isidore of Seville is one of the dominant contributors to the development of medieval Catholic theology. His work presents a holistic view of faith in action, developing the relationship between the intellectual and moral, the individual and social life of the Christian believer, all in the context of eternal life. Click here to access the book on Amazon.
Also, Fr. Heiner Wilmer, Dehonian superior general, published a new book. Hunger Nach Freiheit (in English: "Hunger for Freedom") focuses on the life of Moses juxtaposed with Fr. Heiner's own life experiences, especially his recent travels through Africa in his role as superior general. The book is currently available in German; click here to access it on Amazon.
North American Dehonian Retreat
On March 21 an email was sent to registered participants of the May 6-12 North American Dehonian Retreat that is to take place at the Siena Center in Racine, WI. If you registered for the retreat and did not receive this mailing, please click here. If you have questions about the retreat itself, please contact one of the organizers: Fr. John van den Hengel, Fr. Jim Schroeder, or David Schimmel.
Provincial's calendar
Fr. Ed Kilianski is in Mississippi for Holy Week, where he is doing a visitation and then sharing Triduum and Easter with the community. He returns to Milwaukee on Easter Monday (April 2). April 9 is the meeting of North American administrations, followed by US Provincial Council meetings April 10-11. April 15-19 he will be in South Dakota for a visitation and a meeting with the CPOSH board of directors.
Closing shot
Fr. Pedro Iglesias (left), secretary general in Rome, along with Fr. Stephen Huffstetter (middle), general councilor, visited with Fr. Ed Kilianski at the Provincial Offices last Thursday. Frs. Pedro and Steve toured ministries in South Dakota prior to their visit, including St. Joseph's Indian School. After stops at various ministries in the Milwaukee area, and lunch with the novitiate community on Friday, they returned to Rome. It was Fr. Pedro's first visit to the United States.