Congratulations!
Congratulations to Frater Phong (Paul) Hoang, SCJ, who received the Ministry of Acolyte on March 4 during Mass with the Sacred Heart Monastery community. Frater Phong, 28, is a seminarian at Sacred Heart Seminary and School of Theology. He professed his first vows with the Priests of the Sacred Heart in 2018. Frater Phong is pictured above, receiving a blessing from Fr. Ed Kilianski, SCJ, and the rest of the SHM community.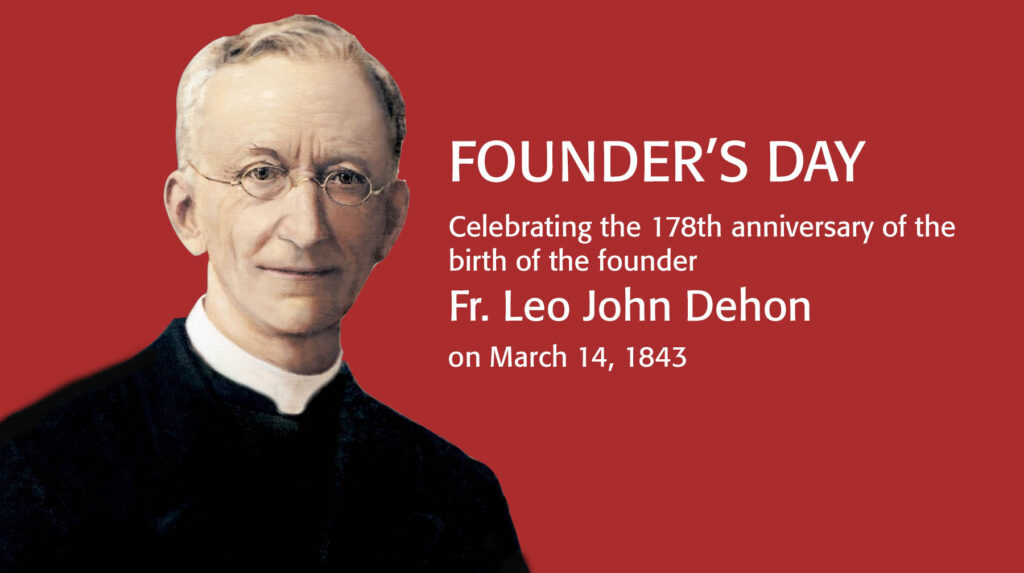 Commemorating the birth of the founder
This Sunday, March 14, is celebrated throughout the world as "Founder's Day," commemorating the birth (in 1843) of Fr. Leo John Dehon, founder of the Priests of the Sacred Heart.
"Truth and charity have been the two great passions of my life, and I have only one desire, that they may be the only two attractions of the Congregation that I leave behind, if this be pleasing to God," wrote Fr. Dehon in his Daily Notes on, March 29, 1887.
Click here to read more about the founder on the US Province website.
In 2011, Fr. Stefan Tertünte, SCJ, director of the Centro Studi Dehoniani in Rome, did an "imagined interview" with Fr. Dehon. In it, he reflects on some of the challenges the founder faced personally, and with the congregation. Click here to access it. The interview follows an introduction by Bishop José Ornelas Carvalho, SCJ, who was superior general at the time.
Dehon Lecture
Bishop Joseph Perry, auxiliary bishop of Chicago, is the presenter at next week's Dehon Lecture at Sacred Heart Seminary and School of Theology. His topic: "The Canonization of Fr. Augustus Tolton – Significance for Race Relations and Interculturality."
The lecture will take place at 11:00 a.m. on Wednesday, March 17, followed in the afternoon by a response by two panelists and a Q&A with Bishop Perry.
Due to pandemic guidelines, only SHSST staff and students may attend the Dehon Lecture events in person. HOWEVER, anyone may attend via Zoom. To learn more about the lecture, the topic and how to register via Zoom, click here.
Students reach out to Milwaukee's homeless
"We think it is important to show people that they are cared for," said Postulant Jacob Smith. He, along with the rest of the student community at Sacred Heart Monastery teamed up with Sacred Heart Seminary and School of Theology to raise money for Guest House, an organization that provides shelter, housing, education and other services to Milwaukee's homeless. During their spring break, the Dehonian students prepared 100 meal bags for Guest House clients and had enough money leftover to make a financial contribution to the organization. Click here to or on the image above to view a video about their efforts, and to hear the students talk about their involvement with Guest House.
Budget reminder
The Provincial Treasurer's Office reminds all budget preparers that budgets are due by April 9. If you have questions, please contact Dn. David Nagel, SCJ, Kevin Stanke, or John Kuxhause.
Oh Mercy: Searching for Hope in the Promised Land
Members of the North American Migration Committee encourage those who missed the initial showing of "Oh Mercy: Searching for Hope in the Promised Land" to view it now. "Oh Mercy" is a documentary short about the plight and challenges of the forced migrants, refugees, and asylum-seekers trapped on the Mexican side of the US border, denied entry into the United States. It includes input from Sr. Norma Pimentel, director of Catholic Charities of the Rio Grande Valley (and a previous Dehon Lecture Series speaker).
Click here or on the image above to view the 12-minute video.
Click here to access a discussion guide to go with the movie. It is designed to be used with others, but its questions can also be helpful for personal reflection.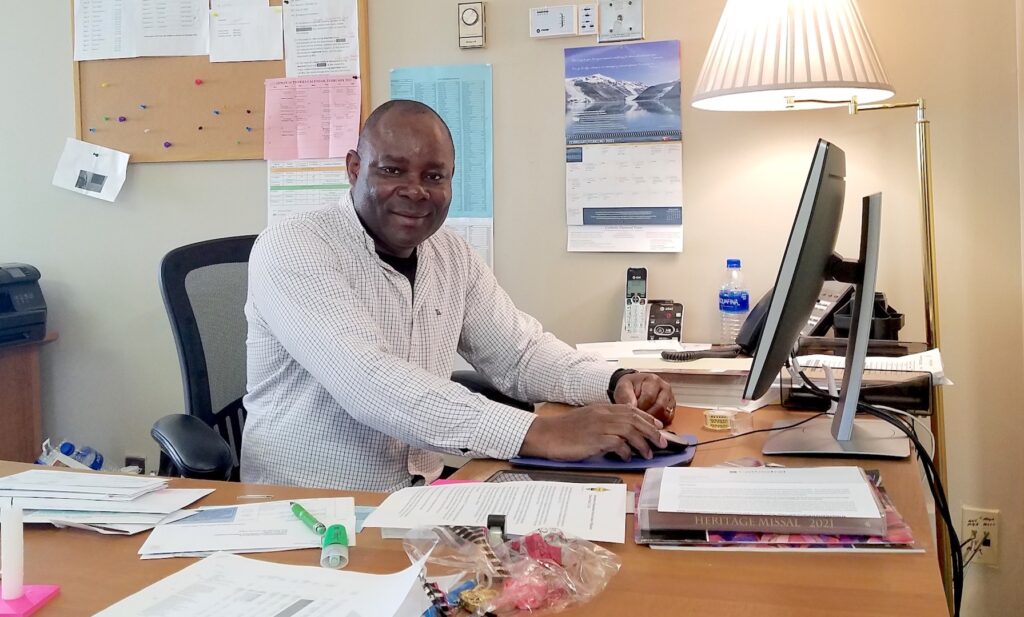 Welcome to South Dakota!
Last week Fr. Jean-Claude Mbassi, SCJ, joined the Lower Brule Pastoral Team in South Dakota. The team is another example of what it means to have an international religious congregation serving a community. Fr. Jean-Claude is from Cameroon. He joins Fr. Christanus Hendrik, SCJ, on the team, who is from Indonesia. Along with others, they serve parishes spread across two Native American reservations: Crow Creek and Lower Brule.
Fr. Jean Claude is 46 and originally from Yaoundé, Cameroon. Active in social concerns, he served as the chaplain of the Justice, Peace and Integrity of Creation Commission for the diocese of Bafoussam in West Cameroon (2009-2017); as a prison chaplain (2009-2017); as director of the Jeunesse en Difficulté, a training center for at-risk youth (2009-2017); and as the Catholic representative to the Commission for Interreligious Cooperation in Bafoussam (2011-2017). From 2011-2018 he was also a member of the Provincial Council in Cameroon.
In September, 2019, Fr. Jean Claude came to the United States to study in the English and Cultural Studies program at Sacred Heart Seminary and School of Theology. The initial purpose was to refine his English language skills for future ministry in Cameroon; however, those skills will now be put to use in the United States.
"I am pleased that working in the Lord's vineyard is a service of reciprocal exchange," said Fr. Jean-Claude about his new assignment. "I am pleased to share with people of other cultures my world vision, my heritage, and my lived experience. At the same time, I am pleased that they will add their pieces of cloth to the quilt that is my life, my commitment, and my ministry."
Studies, community life and ministry in Ecuador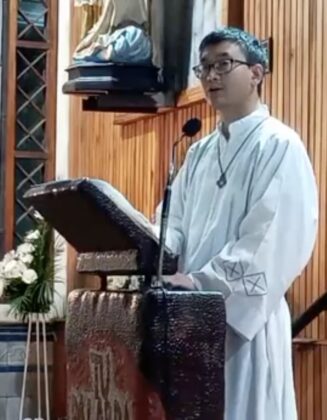 Frater Henry Bui Nguyen, SCJ, recently wrote a reflection on his first months in Ecuador, where he is completing his pastoral year:
People here in Ecuador and back home in the US have asked what I have been doing since I gotten to Ecuador, and I share, "Estoy aprendiendo Español, poco a poco, trying new food, and having new experiences."
Most of my time here involves accompanying others. I have been accompanying two groups, one called "Caritas" and the other being "Los Jovenes." I also visit the local prison. The people here in Ecuador have been so welcoming and nice. I have been able to visit the sick, the dying, the youth, and the imprisoned. I have been to baptisms, weddings, the anointing of the sick, and funerals. I am a part of the full circle of life of the Ecuadorians…
The conditions that I am living in are new for me, but it is the life of all those whom I have encountered. From those who barely have enough to get by for the day, to the poorest of the poor, those who barely have access to clean water, energy, and living in the aftermath of the 2016 earthquake that devastates this area still today. I learn to appreciate even the small things in life more. I miss the United States and my confreres there. Thank you for always keeping me in prayers. Un gran abrazo.
Click here to read Frater Henry's full reflection on the province website.
Lenten reflections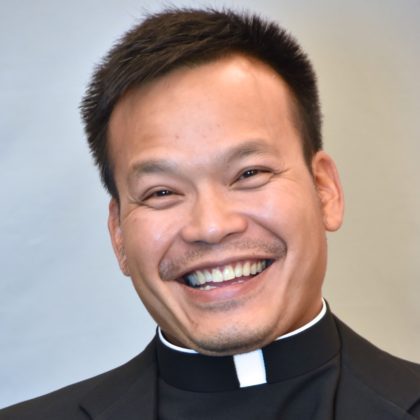 Fr. Joe Dean, SCJ, and Fr. Duy Nguyen, SCJ, are the most recent SCJs to share reflections for the Lenten e-blast, "Preparing for the Resurrection."
"Jesus is zealous, but not a Zealot; zealous for souls within the house of God," wrote Fr. Duy, reflecting on yesterday's readings. "Instead of the temple being a place of worship and connection to the Divine, it became a noisy place of exchange. Is Jesus' zeal misplaced? After all, the faithful who made the annual pilgrimage from all over the region to celebrate Passover needed the correct currency for the purchase of animals to sacrifice and offer to God. Not at all, since money changers were charging the poor and foreign visitors an exorbitant amount to convert their local money to Jewish shekel. At the same time, vendors were overcharging for their animals. This irreverent and corrupt atmosphere was not contributive to a genuine spiritual life. Jesus' fire was needed to purify this holy house of God and restore its sacredness.
"Jesus is zealous for you and me, zealous for souls, and Lent is a time to question what dwells in my temple that prohibits me from having zeal for God. So, during this Lent, what do I need to cleanse from my temple so that I may love Him with all my heart, with all my soul, and with all my mind?"
Click here to read his full reflection.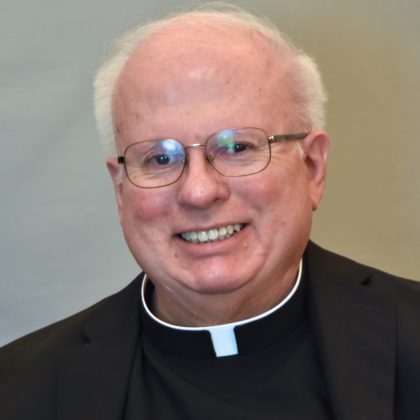 "Winning in politics or in the marketplace takes clout," wrote Fr. Joe  in his reflection on March 3. "And since anyone who hesitates is lost, it helps to be brash and aggressive. So everything looks familiar in the Bible today…
"We are far too eager to mix it up in political catfights. Which brings us back to the mother of James and John. In Matthew's Gospel, after all, she stands at the foot of the cross. But her sons have long since run away. So maybe the woman has seen and heard 'the thoughts of… [Jesus'] heart.'"
Click here to read Fr. Joe's full reflection.
Click here to access all of the reflections posted. The next will be sent by e-blast on Wednesday, March 10.
Click here to subscribe to the weekly news (Fridge Notes) via email