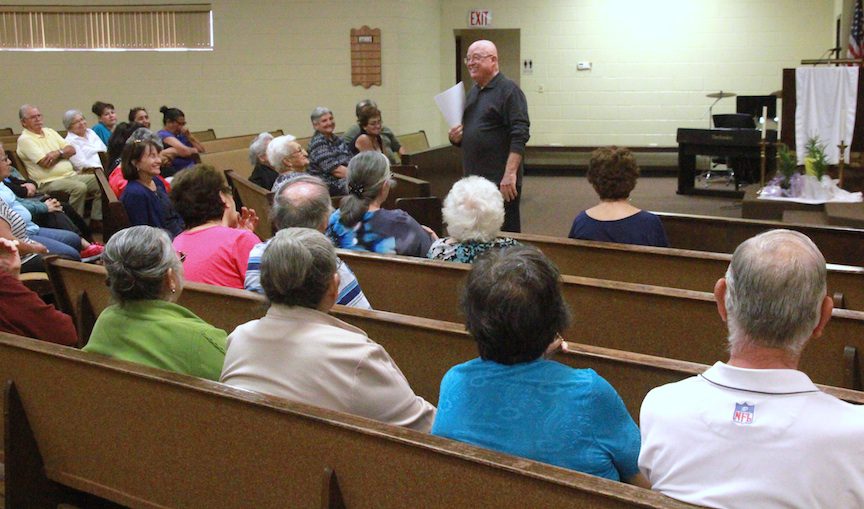 "They came back!"
In April, Fr. Richard MacDonald invited people in Raymondville and Lyford, Texas, to come for an informal introduction to Dehonian spirituality. Although the SCJs had been a strong presence in the Diocese of Brownsville for many years, he had no idea as to whether there would be an interest in learning about SCJ spirituality.
Fr. Mac was pleasantly surprised. Over 100 people came to those first meetings in Raymondville and Lyford (about 50 at each location).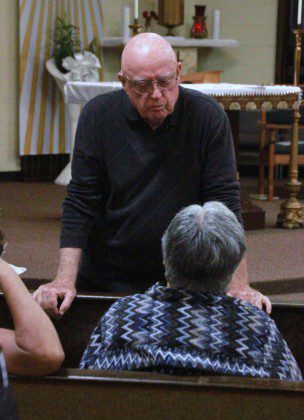 A few days ago, Fr. Mac held a second introductory meeting. "And they came back!" he said. "I gave the second presentation to the people of Raymondville and Lyford using resources provided by David Schimmel [Director of Dehonian Associates for the US Province]. The talk this time focused on what Fr. Dehon wrote about oblation.  That was challenging for me because some of the ideas are difficult to make practical.  So, I spoke of the life of Jesus fulfilling the will of His Father and constantly reaching out to those who are ignored or rejected in society.
"It was not so hard to present the idea of 'Ecce Venio' [Behold, I come to do your will]:  to see Jesus spending so much of his life with Mary and Joseph and so identifying with the sinner and sick.  Fr. Dehon's words to the SCJs to get out of the sacristy and be with the people rang well with the those who came who said that they found the founder's invitation to be available to others and to look for opportunities to reach out to the person in need as a practical way to say 'Behold I come to do your will.'"
Fr. Mac said that he once again had about 100 people between the two talks. "Adults of all ages," he added. He'll do a third introductory presentation in June with a focus on baptism. In fall, Fr. Mac hopes to begin a more formal Dehonian Associates formation program.
Please remember
+Msgr. Paul Procella, an alumnus of Sacred Heart Seminary and School of Theology, died May 5. Many SCJs knew him from his time at SHSST, and during his years of ministry in Houston. Click here to read his obituary.
Updates
Bishop Joseph Potocnak: his direct phone is: 727-350-0034
Fr. Jim Casper: he has moved from St. Thomas More parish back to the SCJ residence on High Park. The address: 58 High Park Blvd., Toronto, ON M6R 1M8, Canada
Fr. Tom Burns: he was released from the rehabilitation center last week and returned to the Sacred Heart Community in Pinellas Park
SHSM staffer receives lifetime achievement award
Sr. Adelia Milligan, OSF, a Sacred Heart Southern Missions social service minister in Hernando, Miss., was honored with a lifetime achievement award during the recent "President's Volunteer Service Awards Banquet" hosted by Volunteer Mississippi.
Though it was Sr. Adelia's work with the Interfaith Council on Poverty that prompted her nomination for the President's Volunteer Award, it was her 55-year commitment to the needs of others that resulted in the Lifetime Achievement award.
Since entering the School Sisters of St. Francis Sr. Adelia has worked in a wide variety of ministries, including elementary school teacher, missionary and novice director in Brazil, as a psychologist in a maximum-security prison, and most recently with SHSM as a social worker in Mississippi for the past 11 years.
After 11 years with SHSM, Sr. Adelia retired this year.
Schedule changes
Starting May 29 the Provincial Offices will go on a summer schedule, closing on Fridays at noon (staff work longer days Monday through Thursday during the summer to allow an early start to the summer weekends).
The office will be closed on Monday, May 25, for Memorial Day. There will be no Fridge Notes published that week.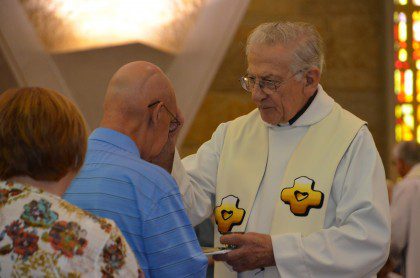 Mass for Healing 
On Tuesday, May 19, the Priests of the Sacred Heart will offer a Votive Mass for Healing and Anointing of the Sick at 1:00 p.m. in the Sacred Heart Chapel at SHSST. Light refreshments following the Mass in the main dining room.
Call 800-448-7674 for more information.
SCJ News online
The latest SCJ News, with a focus on the upcoming General Chapter, is available online as a PDF. Click here to access it.
Printed copies of the newsletter went in the mail early last week.

Translations of the works of Fr. Dehon online
As a part of the Dehondocs International Project, the Centro Studi Dehoniani (Dehon Study Center) is pleased to offer several online translations of the works of Fr. Dehon. This is available under the umbrella of dehondocs at the homepage of www.dehondocs.it/international.
The last general chapter (2009) urged the CSD to "coordinate the translation of the major works of Fr. Dehon." In this spirit, a collaboration began a year ago between the Centro Studi Dehoniani, the Data Service Center in Bologna, Fr. Fernando Fonseca, Fr. Marcello Matté and Fr. Jozef Golonka (general archivist).
"Gradually we will publish existing translations of the works of Fr Dehon on www.dehondocs.it/international in Italian, English, Portuguese, Spanish and Polish," said Fr. Stefan Tertünte, director of the Dehon Study Center. "Translations are processed at different times by many authors; note that the editorial standards of the dehondocs project have not been applied to many of the translations.
"The texts are available online through a slideshow, though download times may be slow. If you prefer, you can also download the documents as PDFs.
"Other translations will be added as they are available. We count on the enthusiasm of the confreres to develop new translations and to edit existing translations into formats more in conformity with the standards of dehondocs.
Click here if you are able to assist with translation work, or have suggestions regarding translations.
"The online publication of the texts of the founder in different languages will be another step toward bringing the life, actions and thoughts of Fr. Dehon to people today so they may more deeply know such a person of inspiration," said Fr. Stefan.
General Chapter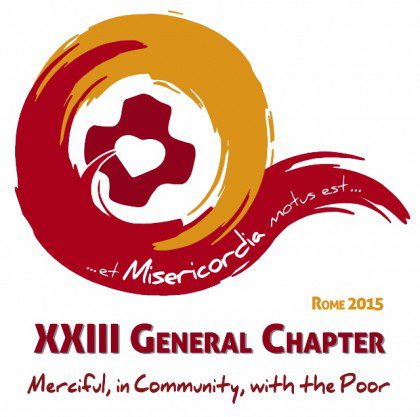 Fr. Stephen Huffstetter heads to Rome later this week to take part in the General Chapter. He will be joined by Fr. Ed Kilianski and Fr. Duy Nguyen, the delegates from the US Province. Fr. Bill Marrevee and Fr. Claude Bédard will represent the Canadian Region. Dn. David Nagel will be at the chapter during the first week as a part of his work with the General Finance Commission. Among those assisting at the chapter are Fr. Jack Kurps (liturgy) and Fr. Bernie Rosinski (translations).
Reports and photos from the chapter will be posted on the General website and linked to the general Facebook page (Dehonians Worldwide). SCJs in North America will receive a link when new items are available.
Several historical pieces about previous general chapters have been posted on the General website in recent weeks, including:
"Then and Now: looking back at the first General Chapter" 
"The VIII General Chapter: delayed five years by war"
"The first General Chapter without Fr. Dehon"
Click here to access the prayer for the XXIII General Chapter in English.
The chapter begins Sunday evening, May 17 and is scheduled to conclude on June 6.