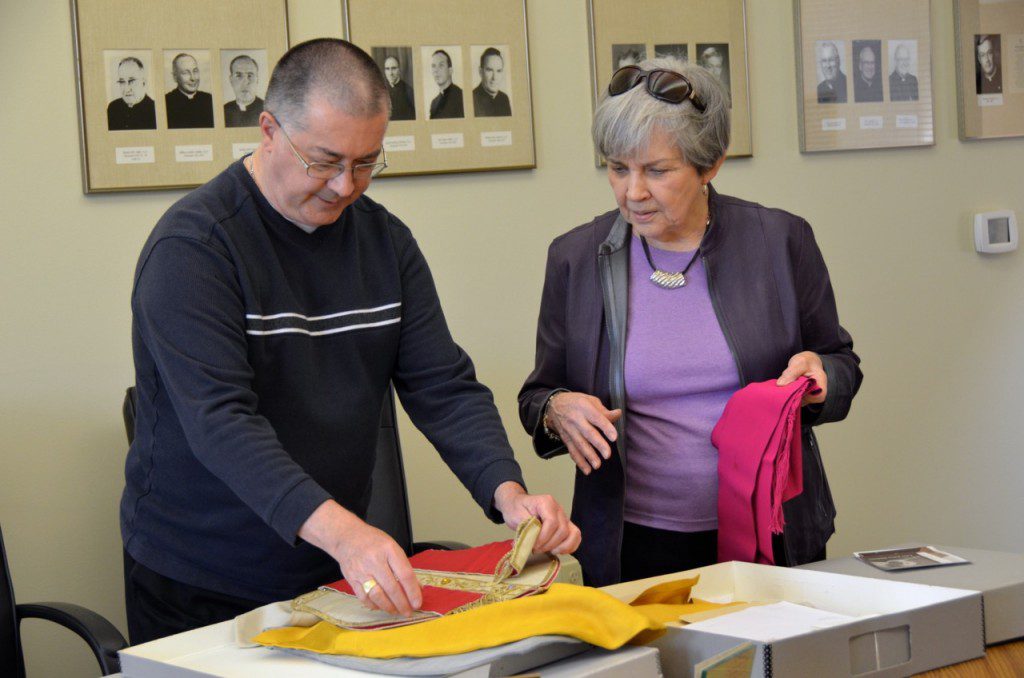 Collecting history
Patricia Reis of the Sainte Marie Foundation made a visit to the Province Archives last Friday to do a little excavating with the help of Fr. Wayne Jenkins, archivist.
The Ste. Marie Foundation is dedicated to preserving the history of Ste. Marie, Ill., as well as enhancing the life of the community through festivals, exhibits and other events.
Starting in July, the foundation's museum will feature an exhibit titled "Amazing Grace: 1837 to Now."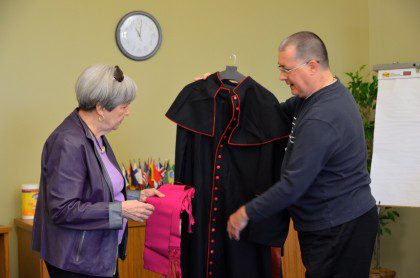 "The exhibit will look at the role that religion has played in the history of the Ste. Marie community," said Patricia.
The Priests of the Sacred Heart have been an extensive part of that history. In 1926 the first American student for the SCJs, Joseph Frichtl, began his studies in a renovated infirmary in Ste. Marie dubbed the "Mission House."
In 1934 the Mission House became home to the SCJ novitiate; it remained in Ste. Marie until 1972 and served both the US and Canada.
The SCJs also did parish ministry at St. Mary's and its mission of St. Valentine's near Set. Marie.
The Ste. Marie Foundation is borrowing a number of items from the Province Archives to include in the upcoming exhibit, as well as from the archives of the Ursuline and Dominican Sisters.
The exhibit will have an opening event in conjunction with the July 25 "Cork & Pork Festival." The festival will feature local wines, as well as a variety of pork treats served up by the Jasper County Pork Producers. A beer garden and live music will also be a part of the day.
SCJs are invited to come back and visit Ste. Marie during the festival and take a look at the "Amazing Grace" exhibit.
For more information click here to visit the foundation website or click here to email an event organizer.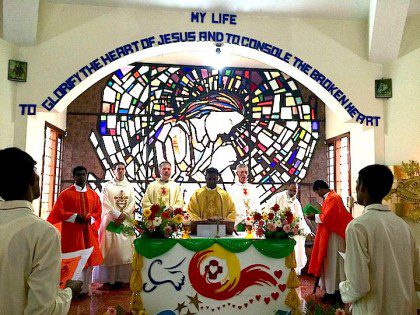 An early-morning profession
Fr. Tom Cassidy's latest blog post from India was about the district's first profession ceremony on Saturday. The start time? Because of the intense summer heat the ceremony began at 6:30 a.m.! Needless to say, the reception had a breakfast theme.
Click here to read Fr. Tom's post, as well as others on the province blog.
Fr. Tom returns to the United States this week.
Teaching by example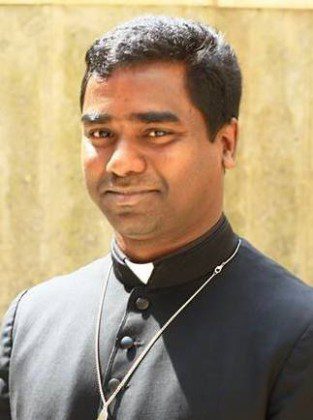 In the latest "Dehonian Spirituality" post Fr. Christi Peter of the Indian District wrote about those who have influenced his life and how he tries to pass on what he has learned to others in formation:
[As a formator] "I try my best to live and make use of these fine pearls that I gathered and treasured from my family, culture, tradition, and Dehonian communities," wrote Fr. Christi. "I try to give them to my companions with whom I live and my younger brothers. I try to teach them through the example of my life to love one another without expecting anything in return, to be available for others, to be one with the other in both his sufferings and good times, to be one among the people where we are placed, and to become signs and servants of reconciliation, which means to become a prophetic sign for our time, for our community, and for the world."
Click here to view last week's Dehonian Spirituality mailing.
Thanks again!
In April it was the lay residents of Sacred Heart at Monastery Lake who held a thank-you and farewell gathering for Barbara Haag, departing food services director of SHML. Over the weekend, it was the SCJs' turn. The Sacred Heart community at SHML invited her for a thanksgiving and farewell meal, and for once, Barb was the one who chose the menu!
Fr. Jim Brackin, who worked with Barb at Sacred Heart Seminary and School of Theology, as well as at SHML, thanked her and assured her that she is always a welcome visitor with the community.
"You do not find people like Barb, who is so big hearted, hard working, and good spirited, while providing excellent food day after day," said Fr. Jim Schroeder, a member of the Sacred Heart Community at SHML.
Keep in prayer
Fr. Mark Fortner is recovering from heart surgery and Fr. Jim Schroeder is recovering from shoulder surgery.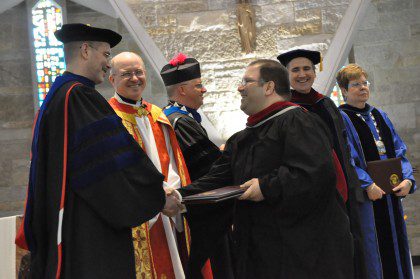 Provincial's time
Last Friday Fr. Stephen Huffstetter took part in the Sacred Heart Seminary and School of Theology graduation ceremony; he is pictured above with other seminary administrators congratulating one of the graduates. Eleven seminarians representing 10 dioceses and archdioceses received their Master of Divinity degrees. Another seven students received their Master of Arts in Theology.
May 6-8 Fr. Steve will be doing a visitation with the Sacred Heart Monastery community; on Thursday, he will attend a board meeting at Province Development Office.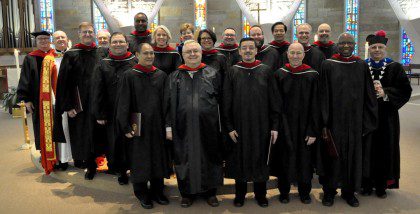 Congrats!
Speaking of SHSST seminarians, congratulations to Carlos Gomez on the recent publication of his book Paideia: Un proceso educativo para las virtudes dianoéticas en el hombre según Aristóteles desde la Ética Nicomáquea, it was published by Palibrio Press in Bloomington, IN.