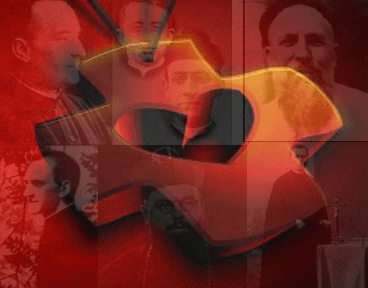 SCJ Memorial Day
November 26 is commemorated throughout the congregation as "SCJ Memorial Day," a time to remember in a special way those SCJs who have given their lives in ministry. Among them were Bishop Joseph Wittebols and 27 other SCJs who died during the 1964 Simba rebellion in the Congo. Today, November 26, is the 48th anniversary of the bishop's death.
Other SCJ martyrs include Blessed Juan Maria de la Cruz, the first SCJ to be named blessed. On July 23, 1936, in the midst of an anticlerical movement in Spain, Fr. Juan traveled incognito to Valencia seeking refuge with one of the congregation's benefactors. Leaving the train station he saw men desecrating and burning a church. Fr. Juan shouted in protest. When the men heard his shouting, they said to each other: "He is a reactionary." He responded: "NO, I am a priest." He was arrested and taken to the Modelo jail in Valencia where he was killed.
The last SCJ to be martyred was Fr. Paul Punt in 1975. Originally from the Dutch Province, Fr. Paul went to Brazil in 1936 to complete his seminary studies. After his ordination in 1941, he remained in the country to serve in parish ministry. In 1968 he was assigned to Tamandaré, where, besides parish ministry, he also became involved in the coastal town's fishing industry. Concerned that fishermen were being taken advantage of, he organized them into a cooperative, initially serving as its president.
Besides fishing, Tamandaré was also a hub for smuggling. Worried about the effects of the crime industry on his parishioners, Fr. Paul often spoke out against the smugglers. In the wake of threats against him, his provincial superior encouraged Fr. Paul to leave the area but he would not. On December 15, 1975, he was assassinated. Although official reports list the shooting as a simple act of violence, the people of Tamandaré are steadfast in their claim that he was silenced by those involved in organized crime.
Click here to learn more about the congregation's martyrs. And in a special way, please remember these, and the many others who have quietly given their lives in service to others, in your prayers.
New SCJ district
On December 8 the territorial community of Angola will become a district of the congregation. It will comprise the entire territory of the country.
Approximately a dozen SCJs minister in three locations in Angola. Earlier this year, the territory reported that it had one temporarily professed Angolan and another in the novitiate. There are 11 students at the pre-university level and in philosophy.
Toronto community grows
The SCJ community in Toronto has made a commitment to internationality both in its composition and in its ministry. Among its members is Fr. Willyans Prado Rapozo, a Brazilian SCJ who ministers to Toronto's Portuguese-speaking community, and Fr. Aegi Warsito, an Indonesian SCJ who ministers to immigrants from Indonesia. Also, Fr. Peter McKenna's ministry focuses on the concerns of immigrants.
New to the Toronto community is another Indonesian SCJ, Fr. Anthony Purwono. Ordained in 2004 and professed in 1996, Fr. Anthony is brushing up on his English skills while assisting Fr. Aegi with ministry to Umat Katolik Indonesia. He hopes to later enroll in post-graduate studies at a Toronto university.
Please remember
Br. Fortunato Tomás Cabezón Contreras, a member of the Spanish Province, died November 20. He was born in 1924 and professed in 1949.
Also, Gladys Zemlik, the sister-in-law of Fr. Ed Zemlik, died November 18 of cancer. She was 64 and married to Fr. Ed's brother, Casey Zemlik. Click here to read the obituary.
Posada Navideña
On Saturday, December 8, Sacred Heart School of Theology will celebrate "Posada Navideña" beginning with the praying of the rosary in the Sacred Heart Chapel at 6:30 p.m. followed by a procession through the building.
Posada is a Mexican celebration that focuses on Mary and Joseph and their search for lodging prior to the birth of Jesus.
SCJs are welcome to join the SHST community at the celebration. A reception in the SHST dining room will follow the procession.
Bus accident
Fr. Maurice Légaré reports that a bus with students from Séminaire du Sacré-Coeur in Quebec was involved in a collision with a truck last Thursday. Thankfully, none of the students was hurt. However, two teachers did suffer injury, as did the bus driver and the drivers of two cars. None of the injuries were said to be serious.
Happy birthday!
Among those celebrating birthdays in December: Fr. Chuck Wonch (66) on Dec. 5, Fr. John Strittmatter (77) on Dec. 6, Fr. Gary Lantz (77) on Dec. 8, Br. Mike Fette (61) on Dec. 12, and Br. Clay Diaz (48) on Dec. 19.
Speaking of birthdays…
This Wednesday, November 28, Kevin Stanke, province accountant, will be a HALF CENTURY OLD. Click here to send him greetings for his 50th birthday.
Your input needed
Br. Lenny Zaworski is studying Braille for possible ministry to the blind. During his studies he learned about a service that can transcribe print materials to Braille. He wondered if there is an interest in having articles about the Priests of the Sacred Heart transcribed for use by the blind.
Please contact Mary Gorski at the Provincialate if you are aware of people who might appreciate some of our news in Braille, or, if you are aware of a need for prayer cards or other devotional materials for the sight-impaired.
Thank you!
Retreat Reminder
Br. Ben Humpfer, superior of the Pinellas Park retirement community, reminds SCJs that they are invited to take part in a three-day retreat led by Fr. Paul Kelly. It will be at Sacred Heart House in Pinellas Park, Fl., December 17-19.
For more information contact Br. Ben at 414-530-1003 or email him at broben3@juno.com.
State of the Province
A reminder to those who have been asked to write a report on their department or ministry for the State of the Province: reports are due at the Provincialate Offices by December 1. Please submit them in electronic form (preferably in Word) to Mary Gorski at marygorski@sbcglobal.net.
These reports will be attached to Fr. Tom Cassidy's provincial report and sent to the province in preparation for next year's election process.
Provincial's time
Fr. Tom Cassidy is in the office most of the next two weeks. December 6-14 he will be in Houston for a visitation and to take part in the celebration of the feast of Our Lady of Guadalupe. The feast will mark the closing of the 100th anniversary year celebration of Our Lady of Guadalupe parish.
Upcoming meetings and events:
December 18-19, Provincial Council Meeting
December 24-26, Provincialate Offices closed for Christmas
December 31 – January 1, Provincialate Offices closed for New Year's
2013:
January 29-30: Provincial Council Meeting
March 13: Local Superiors Meeting
March 14: Provincial Council Meeting
April 8-9: Mission Education Conference, St. Joseph's Indian School
April 30 – May 1: Provincial Council Meeting (budgets)
Week of June 3: Province Election Assembly.
September: Fr. General's visitation to North America followed by a continental conference, dates to be determined
2014:
July 7-11, 2014: Provincial Chapter