Advent begins
God of kindness,
you so loved the world that you sent Jesus, your Son,
to become one of us.
In response to your love,
we offer you our lives:
our energies, our needs, our intentions.
Receive our offering;
enable us to unite it with your Word made flesh.
During these days full of grace,
inspire us with an active hope:
a hope that finds flesh in our daily lives,
a hope that heals and unites,
a hope that welcomes your Word in everyone we meet.
So, when creation reaches its destiny,
at the coming of Jesus,
may we go out to join our hearts with his
into one great prayer of thanksgiving and praise
to you, our loving God.
Amen.
Prayer from This Day of God, community prayer book of the Priests of the Sacred Heart (Dehonians)
---
News of the week:
SHSST in the news
In recent weeks the Milwaukee Catholic Herald has run several features on Sacred Heart Seminary and School of Theology. Vevette Hill Nwagbaraocha, a student in SHSST's Cor Unum program, was featured in the November 19 issue of the paper.
"I have for a long time wanted to pursue studies in theology as a way of enriching my faith journey and discerning God's plan for my life," she said in the Herald article by Karen Mahoney. "Sacred Heart's Cor Unum program spoke to my heart when I read, as part of their mission '… to heal a fractured world.' That seemed to describe what I feel I've been put on this earth to do."
Social justice is a significant component for Vevette in her ministry. "And as a Black Catholic, I know that God is calling me to serve in a way that addresses the fractures in my own faith," she said.
Click here to read the full article.
On October 17, the focus was on one of the seminary's "second career" students.
"Dcn. Dan Kostelc, a permanent deacon from the Diocese of Cheyenne, Wyoming, recalled the many years he donated to the Priests of the Sacred Heart in Hales Corners," wrote Karen Mahoney. "At least 10 men from his diocese received their education at the seminary known for late or second vocations to the priesthood. Little did the 67-year-old widower know that one day he would also be studying for the priesthood at Sacred Heart Seminary and School of Theology.
Click here to read the full story.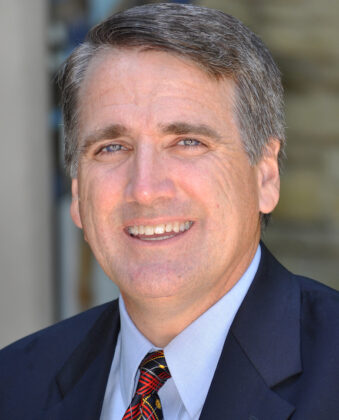 Also featured in the Herald were Dr. Patrick Russell and his wife, Stephanie Russell, as this year's winners of the Milwaukee Archdiocese's Vatican II Award for Service to the Church. Dr. Russell is Chief Academic Officer, Vice President for Intellectual Formation and Academic Dean at SHSST.
High school sweethearts, the Russells "spent several years teaching high school theology and doing pastoral work on the Pine Ridge Indian Reservation in South Dakota before returning to Milwaukee in 1986," wrote Colleen Jurkiewicz for the Herald. Stephanie went to work for campus ministry at Marquette University. Since 2016, she has served as the vice president for mission integration for the Association of Jesuit Colleges and Universities.
"The Church has the capacity to not only help folks grow in faith, but to move us forward in ways that can help the world," said Patrick in the article.
Click here to read the full feature.
The Russells follow a long line of Vatican II award winners with SHSST ties. Click here to view the full list on the SHSST Facebook page.
Happy birthday!
Those celebrating birthdays in December include Fr. Chuck Wonch on Dec. 5, Fr. John Strittmatter on Dec. 6, Fr. Gary Lantz on Dec. 8, Frater Thien Nguyen on Dec. 15, and Br. Clay Diaz on Dec. 19.
We continue to give thanks
Last week we shared a video featuring several SCJs from Sacred Heart at Monastery Lake reflecting on what they are thankful for as they prepared for Thanksgiving. On Thanksgiving Day itself, we published two more videos, one from the formation community and one from other members of Sacred Heart Monastery. Click on either of the images above or below to view the videos.
Update
Fr. Bob Tucker, SCJ, continues to be treated at Loyola University Medical Center for complications that have developed from his body's reaction to the donor lung. Mary Balistreri, province director of healthcare, writes this morning that "The medical team is working on adjustments of his ventilator settings with the end goal of weaning.  The good news is that Fr. Bob has been tolerating some pressure support for several hours during the day."
Please remember
+ Fr. Vincenzo Pinto, a member of the South Italian Province, died on November 25. He was born in 1941, professed in 1958 and ordained in 1966
+ Sr. Roseann Wagner, SSSF, died on November 24. She had been a member of the staff at SHSST for many years, and often served as liturgist and/or music minister at province events. Her funeral takes place today but is closed to the public due to the pandemic.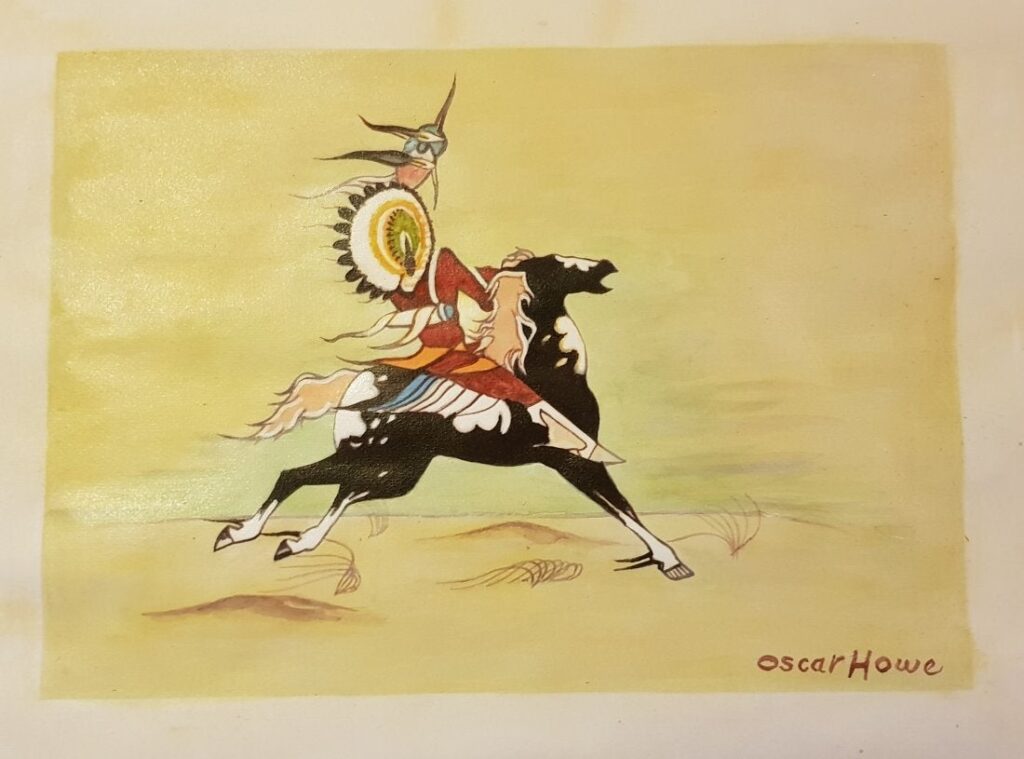 Howe painting finds a home at St. Joseph's
The Aktá Lakota Museum at St. Joseph's Indian School in Chamberlain, SD, will soon welcome back to South Dakota a piece by well-known Native American artist Oscar Howe. The museum's Acquisitions Committee purchased the work from the collection of Dr. Frederick Dockstader. Now deceased, he was an anthropologist, art professor, museum director and a renowned authority on American Indian Art.
The untitled Howe piece, dated circa 1940, is gouache on paper. Howe stands out as an artist who bridged his experience in both Euro-American and Native American culture. His image "Indian Christ," rendered in tapestry by master weaver Grete Bodegaard Heike, hangs behind the altar of Our Lady of the Sioux Chapel on St. Joseph's campus.
SCJ Memorial Day
As noted last week, November 26 is commemorated as throughout the congregation as SCJ Memorial Day, a time to remember in a special way those SCJs who have given their lives in ministry.
The General Communications Office posted videos from several entities sharing their commemorative services. Click here to access them. Included among the videos published are ones from SCJ communities in Montréal, the Philippines, India and Indonesia.
Pictured below are Dehonians in Ecuador following their commemoration of SCJ Memorial Day. Note a familiar face standing on the left? Fr. Juan Carlos Castañeda Rojas, SCJ, of the US Province is currently serving in Ecuador.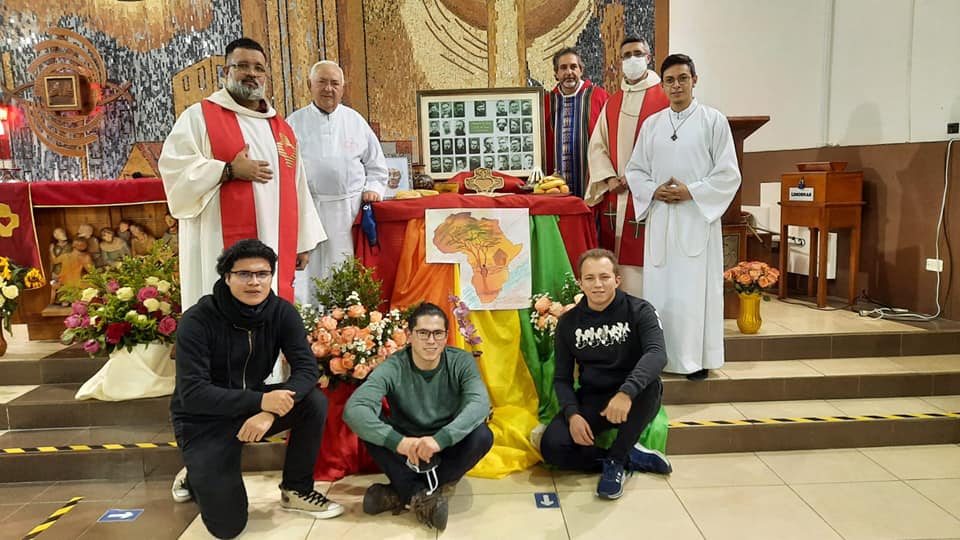 Click here to subscribe to the weekly news (Fridge Notes) via email