Our students, in their own words
Each year we ask our students in formation to introduce themselves in their own words. Reflecting the diversity of the Priests of the Sacred Heart (Dehonians), as well as the Church itself, they represent a wide variety of cultural, educational and professional backgrounds. Yet they all have the same call to follow in the footsteps of our founder, Fr. Leo John Dehon.
"I am thrilled to see where this life as an SCJ will lead me. I know it will continue to allow me to help and serve those who are most in need," wrote Frater Henry Nguyen, SCJ, who is currently doing his pastoral year of ministry in Mississippi. Originally, he was to have a cross-cultural year in South America as a part of his formation experience, but as with many things in 2020, the pandemic got in the way. He is now getting to know our home missions.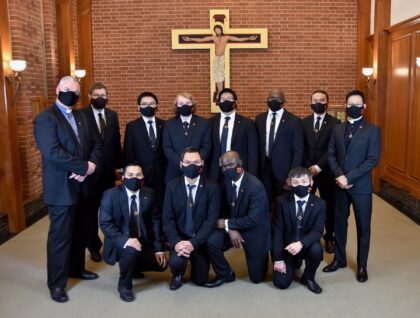 Frater Long Nguyen, SCJ, is also a member of the formation community currently serving in Mississippi. "Some of my favorite ministry experiences have been here in Mississippi," he wrote. "Meditation has become a hobby. I always take time for deep breathing, reflecting on the internal dialogue, my feelings, imagination and intentions. This has an effect on the body and spirit.  I have incorporated meditation in my work at the parishes and received a certificate in teaching meditation (and mindfulness) over the summer. Currently, I am taking a class on using art with meditation.  My goal is to help people strengthen their minds by tuning their internal dialogue, feelings, imagination and intentions toward God. This is where religious practices and devotion come in."
A convert to Catholicism, Jacob Smith writes that he "became fascinated with priestly ministry and approached my local parish, wanting to know what Catholicism was about. Lo and behold, I decided to become Catholic myself… Taking a bold move, I reached out to the SCJs and learned about their spirituality and founder's charism, especially their ministry to those who feel rejected by society, before I ultimately decided, after much deliberation, that they were the order God was calling me to. I applied."
Click here to read the rest of Jacob's, as well as Fraters Long and Henry's stories, and those of the rest of our formation community. There are currently 12 men in formation; Fr. Joseph-Thien Dinh, SCJ and Fr. Zbigniew (Ziggy) Morawiec, SCJ are the formation directors.
Click here to view photos of the community at Sacred Heart Monastery.
Blind taste-tests at the SHM kitchen
It has been said that internationality is both a blessing and a challenge. In this video, several members of the Sacred Heart Monastery Community do blind taste-tests of popular Vietnamese snacks. For many, freeze-dried durian easily fell into the "challenge" of internationality.
"It tastes like a smell!" said one tester, giving a face that indicated that it was not a smell he favored. "Socks? Dirty socks?" said another.
Produced by our students in formation, this is one of several videos in which they share a few lighthearted moments from the monastery. Next up will be a taste-test of several Polish foods.
Click here or on the image above to view the video.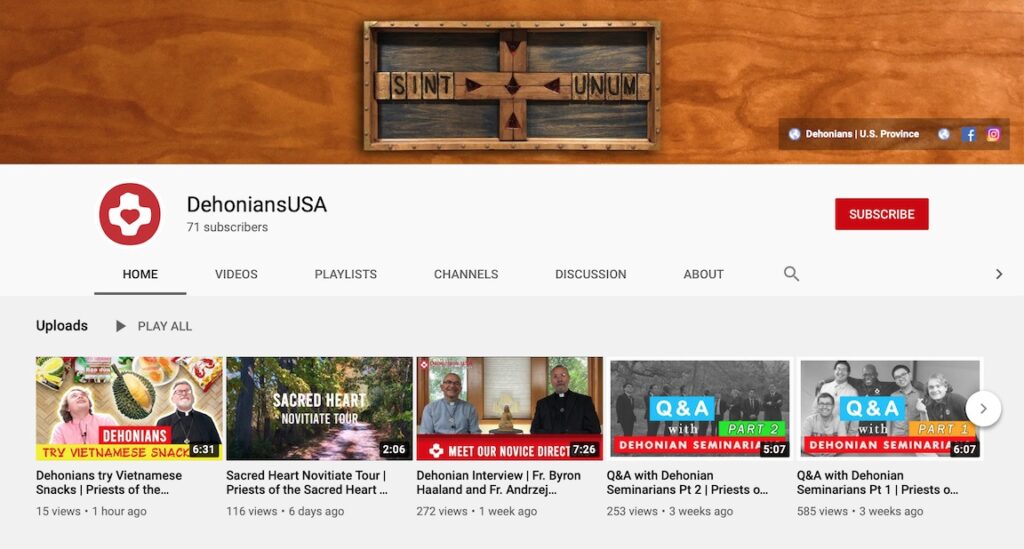 SUBSCRIBE!
With much help from our formation community, we have begun to add videos to the US Province YouTube channel, DehoniansUSA. Please consider subscribing to the channel.
Click here or on the image above to go to the channel, and then click on the red "SUBSCRIBE" button on the right.
Not only do we want you to have regular access to the videos, but we need at least 100 subscribers so that we can change the channel's URL (web address) from:
https://www.youtube.com/channel/UCbCuldBhkBhKVW0sxZab6_w  to simply "DehoniansUSA." It's a bit easier to remember.
Keep in prayer
Fr. Richard Johnston, SCJ, was taken to the hospital this morning. His hands and face were very swollen.
Fr. Robert Tucker, SCJ, continues to make progress in his rehabilitation following his lung transplant. In text messages he reports that he was able to stand with the help of a walker (and a physical therapist at his side) and that he is working toward a goal of getting off of the ventilator sometime this week. Due to Wisconsin's current COVID status, the RML rehabilitation facility is not allowing visitors from the state. However, though members of the community at Sacred Heart at Monastery Lake are unable to see Fr. Bob, there are several close friends in the Chicago area who will be able to visit with him.
Please keep Frs. Richard and Bob in your prayers.
Also, please keep Fr. Juan Carlos ("Juancho") Castañeda Rojas, SCJ, in your prayers. He writes that he is scheduled to travel to Ecuador today to join the SCJ community there.
Please remember
Fr. Franciszek Leżański, SCJ, a member of the Polish Province, died on October 15. He was born in 1940, professed first vows in 1958, and was ordained priest on June 18, 1967.
Marty Ryszka, an alumnus of Divine Heart Seminary and a novice in 1969, died on October 9. Click here to view his obituary.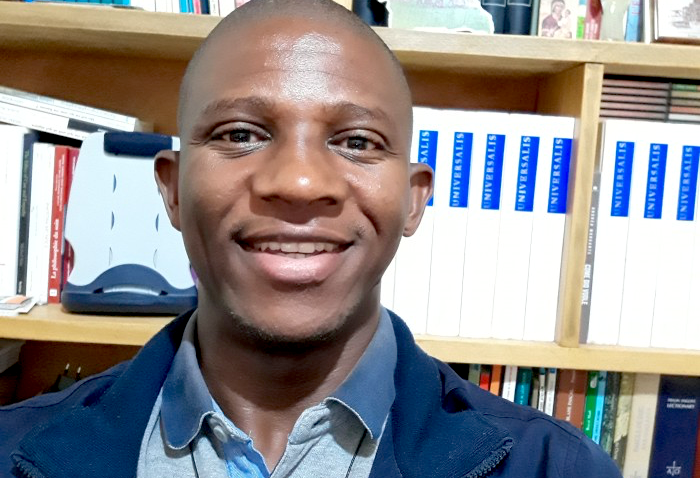 A new General Councilor
After a long period of consultation and discernment, Fr. Carlos Luis Suarez Codorniú, SCJ, superior general, appointed Fr. Charles Aimé Koudjou, SCJ, of Cameroon, as a member of the General Council. The appointment took effect October 14.
"I welcomed my appointment with surprise and astonishment," said Fr. Charles in an interview on the general website. "Surprise because I was far from imagining such a thing, and astonishment that it relates to me personally. For a long time, I remained 'speechless' as the English say, without words. Not being able to fully express the feelings that I was feeling at the moment, I found myself gradually invaded by a kind of fear, of awe. Even today, I have to admit that it is frightening, although Fr. General reassured me that it is not a job that is entrusted to me, but instead a call to participate in the work of a team, to share with others, in humility and availability, to be a close to others, to be there for them as they are there for me, for us."
Born on May 5, 1975 in Bamendjou, Fr. Charles made his first profession on August 12, 2000; he was ordained a priest on March 29, 2008.
After his ordination, he worked in the Saint Therese of the Child Jesus parish in Omnisport (Yaounde). In 2010, he began a course for priestly formators in the Faculty of Spirituality at the Pontifical Gregorian University (Rome). From 2010 to 2012 he was Postulant Master at Bafoussam. From 2012 to 2015 he studied Philosophy at the Catholic University of Leuven, Louvain-la-Neuve, in Belgium.
Since September 2015, he has been superior of the Dehon House of Formation in Bamenda, rector of the Scholasticate, and a member of the Provincial Formation Commission.
Click here to read the rest of the interview with him on the general website.
Calendar reminder!
There will be a Zoom gathering for all SCJs in the US Province in active ministry on Tuesday, November 17, from 1:00 – 3:00 p.m. (central). This will be an informal visit, allowing SCJs to check-in with each other and share a bit about how things are going in their communities and ministries. It will also be a moment for province membership to let Fr. Ed Kilianski, SCJ, and councilors know if there are ways that they can assist them during this time of pandemic.
Call-in information will be sent the week prior to the meeting. Fr. Ed is looking at the possibility similar gatherings with other groups in the province, such as senior SCJs.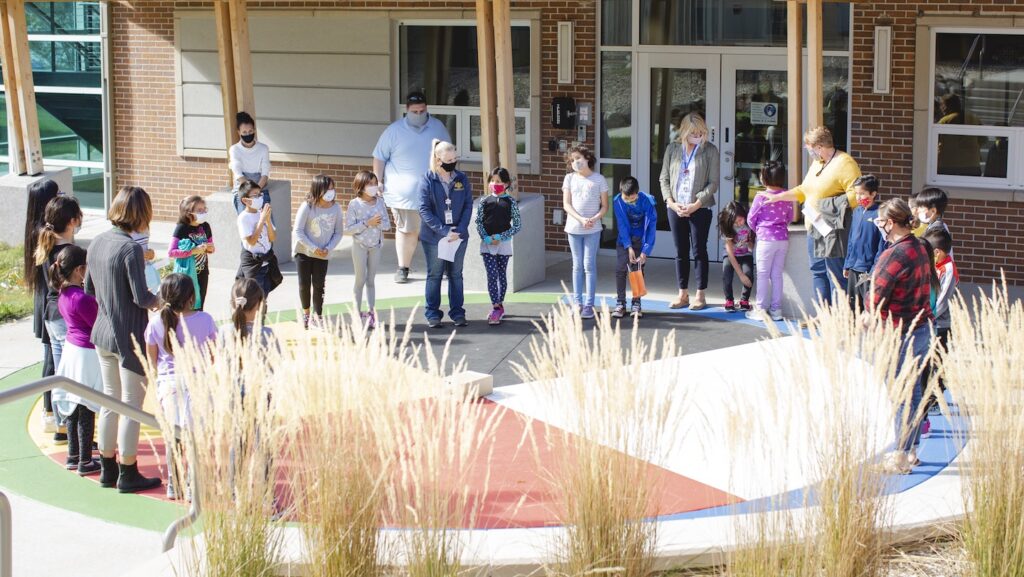 St. Joseph's Indian School Celebrates Native American Day
On October 12, St. Joseph's Indian School students celebrated Native American Day. The day opened with a Four Directions prayer service video created by the Mission Integration team and students. In the afternoon, children took part in a Native American-themed scavenger hunt. They sought out different plants important to their culture, including sage, cedar, chokecherries and sweet grass. One clue led them to a visit with the seven horses in the school's horse therapy program. Another to the powwow grounds where they were to dance before moving on. Still, more clues touched on spiritual places around campus including the prayer tie tree, Our Lady of the Sioux Chapel, the mural of Black Elk and the Medicine Wheel patio.
"Each year, we celebrate this day differently," explained Director of Mission Integration Joe Tyrell. "Our team looks forward to enjoying Native American tradition, culture and spirituality in all of its power and uniqueness. This year was one of my favorites."
In 1989, the South Dakota legislature unanimously passed legislation to change Columbus Day to Native American Day. Since 1990, the second Monday in October is Native American Day in South Dakota.

He voted!
Our closing shot is of Fr. Greg Speck, SCJ, sporting both his face mask and an "I Voted" sticker. Beating the election-day rush, he opted for early voting for the November 3 election. Questions about voting? Go to vote.gov for information related to your state. Fr. Greg is a member of the Sacred Heart Community in Pinellas Park, FL.
Click here to subscribe to the weekly news (Fridge Notes) via email