Fr. Stephen Huffstetter, SCJ, vicar general, writes the following from the Generalate in Rome:
Dear SCJ family,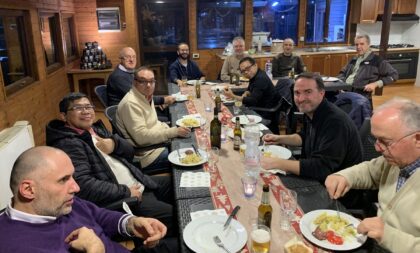 I send my prayers and greetings for a joyful Christmas! Last month during the US Province's Zoom assembly I was quite touched, and felt sentimental just seeing confreres I haven't been able to see for so long. Like most people, what I would like most for Christmas is quality time with people who matter to me. Fortunately, we have a good community here in Rome, and about two-thirds of us will remain here and celebrate Christmas together.
The Generalate usually empties out as people take vacation or help in parishes during the break from school. But travel between most regions in Italy is restricted at least through Epiphany. Some of the Europeans can go home but will need to quarantine upon their return. Fr. Carlos [superior general] has traveled to spend the time with his elderly father in the Canary Islands. We still do not know when we will be able to restart visitations to the provinces and entities.
Since I have been in Rome, the Italian tradition of nativity display scenes (presepi) has become one of my favorite parts of the Advent and Christmas seasons. This year's main display in Saint Peter's square consists of abstract ceramic figurines created in 1968 by high school youth in Abruzzo. Some say it is creative and prophetic, others go so far as to label it blasphemy. Love it or hate it, people are talking about it and making a point to see and judge it for themselves. A display of smaller, more traditional presepi are sheltered under the columns of the loggia. Seeing the joy of children exploring the figurines helps bring some holiday cheer to a very difficult time.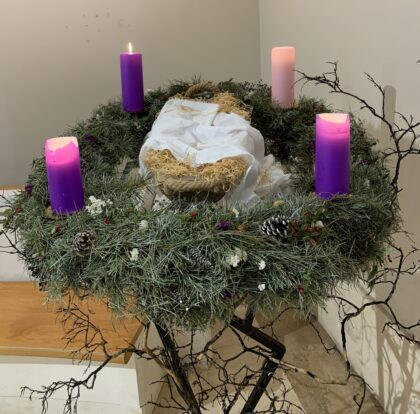 We have four different manger scenes spread throughout the Generalate. Community members have taken great care and pride in decorating for the season. However, decorations in our chapel are still very simple: an empty crib in the midst of the advent wreath as we prepare our hearts and await the celebration of the incarnation.
Parishes set out their own intricate nativity displays. Artisans have been working behind the scenes at Cristo Re basilica for the past month to build a presipio modeled on the Aurelian walls and gates of the city. In a local Roman parish I attended, at the conclusion of the fourth Sunday of Advent mass a parishioner dressed in a toga unwound a scroll and read the traditional decree of the birth of Jesus. By his side stood a Roman Soldier decked in his finest. People across the world give the Christmas season their own cultural twists, since Christ came for all peoples in all times.
Spiritually speaking, Advent is often advertised as a time of expectant waiting. That has taken on new meaning as we wait for an end to the pandemic. We wait for a vaccine. We wait for a time when we can gather and hug and interact more freely. Fear is a natural reaction in the face of so much sickness and death. The inequalities and problems of our world have been heightened and exposed. How much we need God's light to find hope and a reason to keep going.
As the Christmas scriptures remind us, the people who walked in darkness have seen a great light and the darkness cannot overcome it. And so, we wait with hope. I pray your Christmas is filled with surprising and lovely expressions of God's love.
Merry and Blessed Christmas
Fr. Steve