Happy Solstice, Merry Christmas, Happy New Year!
Today is the Winter Solstice, which means that brighter days – ever so incrementally – are ahead. Of course, on Friday, December 25, is the celebration of Christmas. The Provincial Offices will be closed December 24-28 for the holiday, and again on December 31 and January 1 for New Year's. There will be no Fridge Notes next week; the next issue will be on Monday, January 4.
News and photos will continue to be posted on Facebook during the holidays. Click here to share information.
Merry Christmas and many blessings in the New Year!!
Feliz Navidad!
Fr. Ed Kilianski's video Christmas card begins with a bit of fun before moving to the heart of his message:
"As we enter the Christmas season, we remember that have much to CELEBRATE," he says. "We have the blessing of friends and family – for me also, the blessing of my brothers in religious community. The Priests of the Sacred Heart are especially blessed by our many benefactors who partner with us in our mission. We are also blessed by those we serve.
"May we keep each other in prayer as we anticipate the joy of Christmas and blessings of new beginnings in a new year."
Click here or on the image above to view the video.
Congratulations!
At their meeting last week the Provincial Council voted to approve Jonathan Nguyen-Vuong, Jacob Smith and Michael Wodarczyk for postulancy. The council also voted to approve Frater (Paul) Phong Hoang, SCJ, for the Ministry of Acolyte.
Safe travels!
Frater Henry Nguyen, SCJ, was originally to have spent his pastoral year in South America in an intercultural setting. But as most with many things in the midst of the pandemic, his plans were adjusted and he went to Mississippi and ministered with Sacred Heart Southern Missions.
However, Ecuador has now opened its border so on December 28 Frater Henry will go there for the second half of his pastoral year. "I am excited to be going to Ecuador as it was the Congregation's first mission in 1888," he wrote. [The Priests of the Sacred Heart had to leave that first mission shortly after it began, but returned in 1997.]
"As time continued with the pandemic, I continually made adjustments to my pastoral year and found an opening in Ecuador," continued Frater Henry. "I am excited to meet SCJ confreres abroad. I requested to go to Ecuador because I hoped to have a Spanish immersion experience during my pastoral year. I will be living in Bahia de Caraquez where the community is growing. There will be many opportunities to do pastoral and social work. The Dehonianos do great work for the people in Ecuador."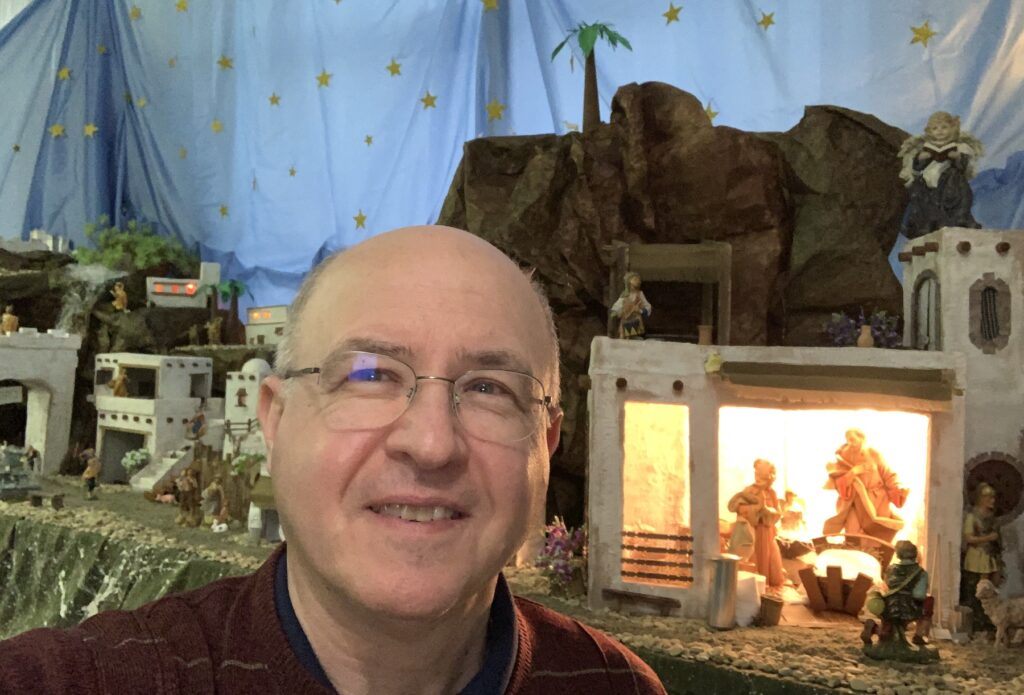 Christmas greetings from Rome
"I send my prayers and greetings for a joyful Christmas!" wrote Fr. Stephen Huffstetter, SCJ, vicar general. "Last month during the US Province's Zoom assembly I was quite touched, and felt sentimental just seeing confreres I haven't been able to see for so long. Like most people, what I would like most for Christmas is quality time with people who matter to me. Fortunately, we have a good community here in Rome, and about two-thirds of us will remain here and celebrate Christmas together…
"Spiritually speaking, Advent is often advertised as a time of expectant waiting. That has taken on new meaning as we wait for an end to the pandemic. We wait for a vaccine. We wait for a time when we can gather and hug and interact more freely. Fear is a natural reaction in the face of so much sickness and death. The inequalities and problems of our world have been heightened and exposed. How much we need God's light to find hope and a reason to keep going…
"I pray your Christmas is filled with surprising and lovely expressions of God's love."
Click here to read Fr. Steve's full message.
Please remember
+Ron Wright, long-time parishioner and maintenance man at St. Mary's parish in Lower Brule, SD, died on December 18. He was 74 and died in home hospice with intestinal cancer. The funeral will be tomorrow, December 22, at St. Mary's. Viewing is at 10:00 a.m. The burial will take place at 11:30 am at the Black Hills National Cemetery in Sturgis, SD.  Ron will be buried with military honors.
+ Fr. Fransiskus Xaverius Heru Atmaja, a member of the Indonesian Province, died on December 14. He was born in 1953, professed in 1977 and ordained in 1980.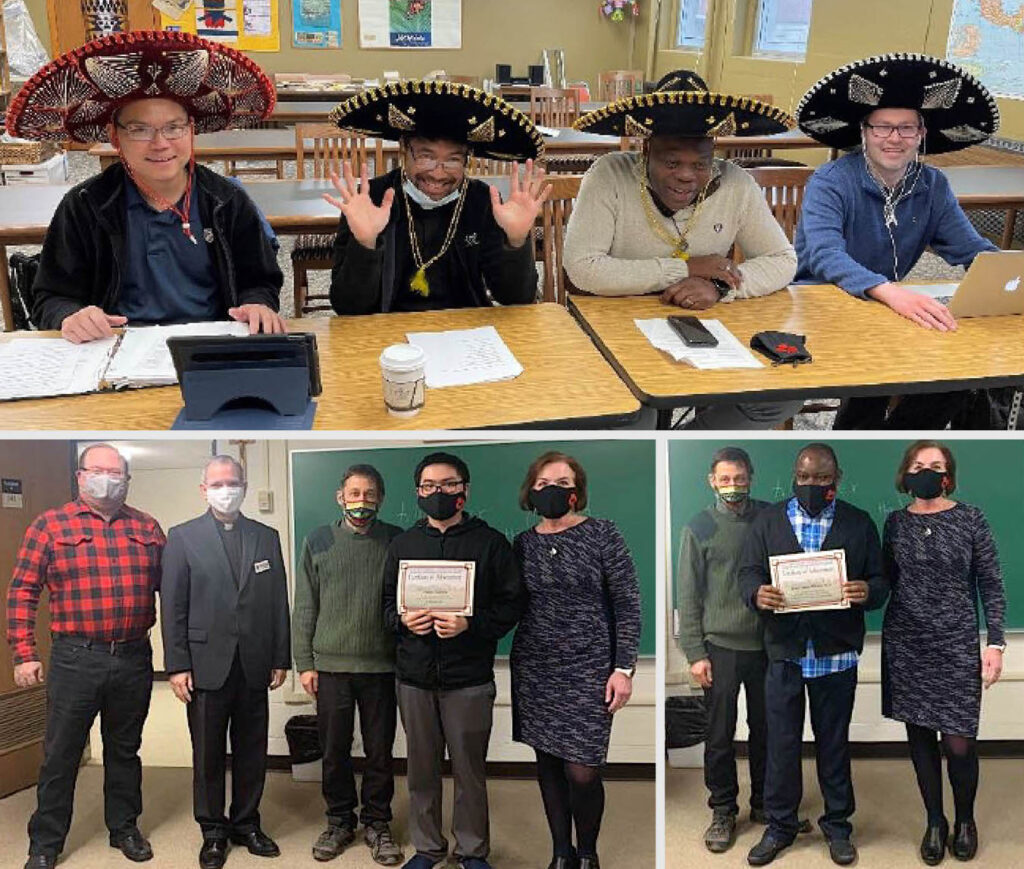 End of the semester at SHSST
Four in-house Spanish language students at Sacred Heart Seminary and School of Theology are pictured above singing the Posadas song, taking turns via Zoom with fellow students at St. Francis de Sales Seminary. In the hats are Frater Hung Pham, SCJ, Oliver Omega, Celsus Robert and Michael Wodarczyk. Also pictured are graduates from the ECS program (English and Cultural Studies). Frater Thuan Nguyen, SCJ, transitioned from ECS to the Master of Divinity program, and Fr. Jean-Claude Mbassi, SCJ, completes his ECS studies in preparation for ministry in South Dakota. Congratulations!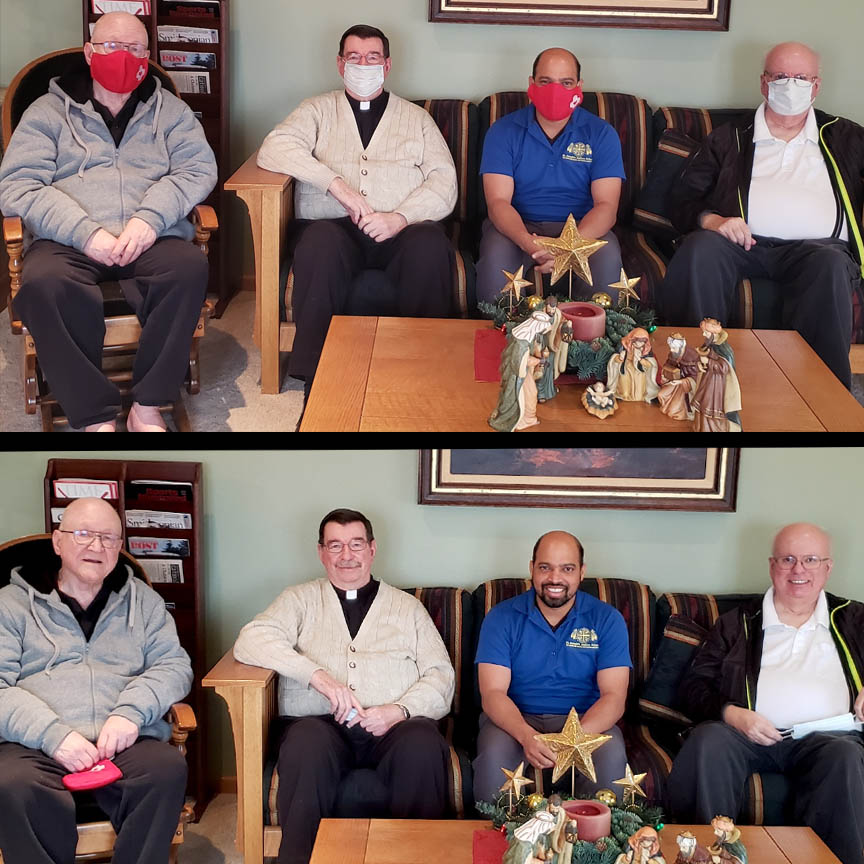 Hello from Chamberlain!
Christmas greetings from our SCJs in the community house at St. Joseph's Indian School in Chamberlain, SD. They remind everyone to be safe during the holiday season and most importantly, to have a very Merry and Blessed Christmas and New Year's. Pictured L-R: Fr. Bernie Rosinski, SCJ, Fr. Anthony Kluckman, SCJ, Fr. Praveen Kumar Richard, SCJ, and Fr. Joe Dean, SCJ.
SCJs invited to audit SHSST courses
Sacred Heart Seminary and School of Theology recently sent a mailing to seminary alumni welcoming them to audit online courses at a discounted rate during the spring semester.
NOTE: SCJs are welcome to audit the same courses AT NO COST. However, space for audit students is limited. The registration deadline is January 11, 2021.
Questions? Contact Julie O'Connor or Megan Nelson at registrar@shsst.edu.
Click here to view the course offerings.
#StandUp4Migrants
On December 18, UN International Migrants Day, the UN Office of Human Rights launched #StandUp4Migrants – a campaign and online toolbox on how to change the way we speak about migrants and migration.
"The campaign will illustrate ways in which everyone can contribute to narrative changes and elevate the voices of migrants, the communities that welcome them and those who defend their rights," state organizers on their website. "The toolbox offers a step-by-step guide with information, practical activities and inspirational examples on how to shift harmful narratives on migration. UN Human Rights hopes that together, we will be able to encourage and empower more people to stand up for migrants' human rights with greater impact."
Thanks to the Justice, Peace and Reconciliation Commission for sharing the information about the campaign.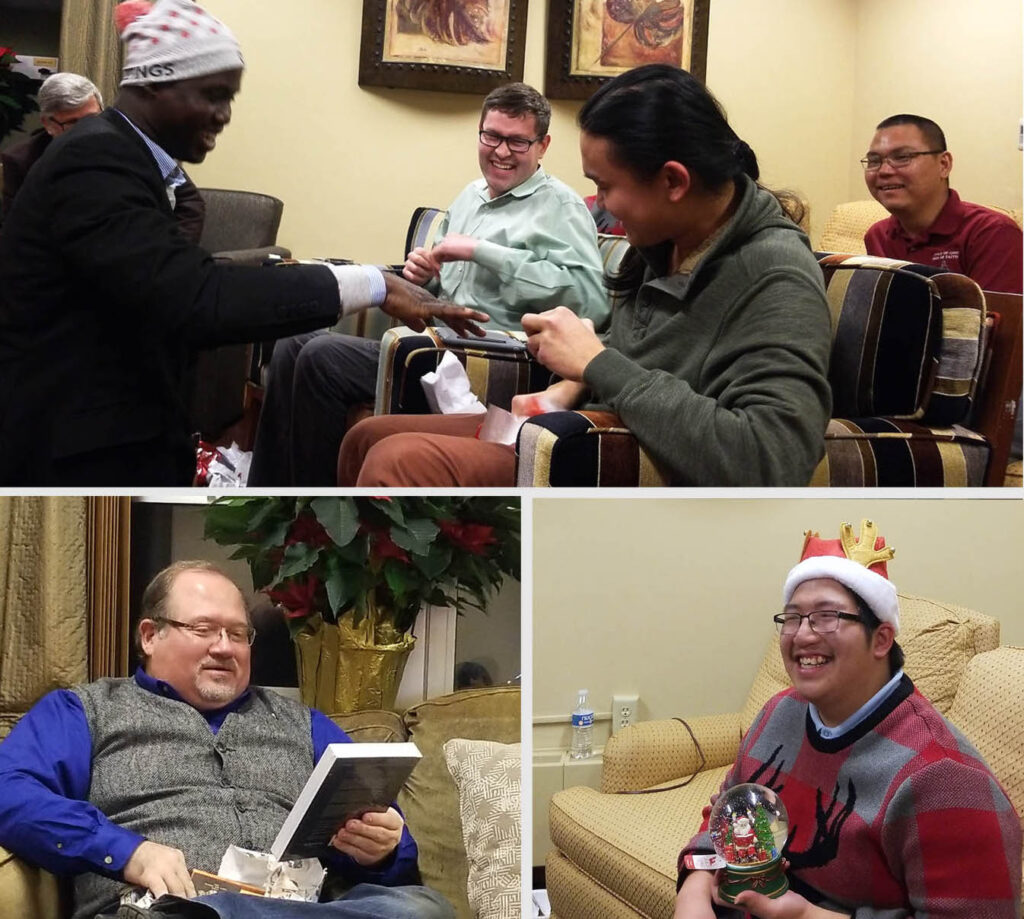 White Elephant at SHM
On Friday, members of the Sacred Heart Monastery community, including our students, held their annual White Elephant gift exchange, complete with a video fireplace to give the rec room a little holiday ambiance. However, no elephants, white or otherwise, were found under the tree this year.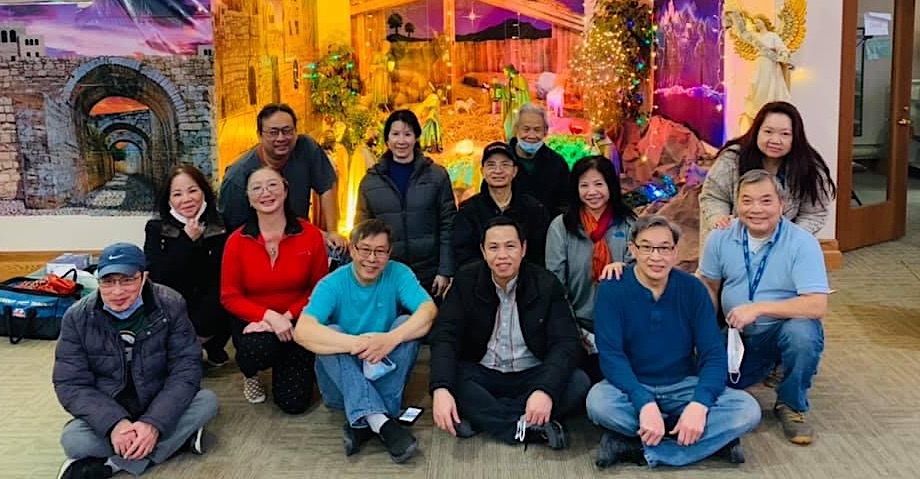 Merry Christmas from St. Martin of Tours!
Face masks were quickly pulled down for a group photo after Fr. Joseph Quang Tran, SCJ, and members of the Vietnamese community that is a part of St. Martin of Tours parish in Franklin, WI, finished putting up the manger scene. Merry Christmas from Wisconsin!
A concert in a card
The pandemic prevents people from gathering at Sacred Heart Seminary and School of Theology for the annual Advent concert this year. Although it doesn't replace being together, Dr. Benjamin A. Stone, Director of Liturgy and Music, created this virtual musical Christmas card from the seminary that includes messages from Fr. Raúl Gómez-Ruiz, SDS, President-Rector of SHSST, Fr. Ed Kilianski, SCJ, a reading and reflection by seminarians (including Frater Paul Phong Hoang, SCJ), as well as Christmas music played Dr. Stone on the Berghouse organ. Click here or on the image below to view it.
May you have a blessed Christmas!
Click here to subscribe to the weekly news (Fridge Notes) via email