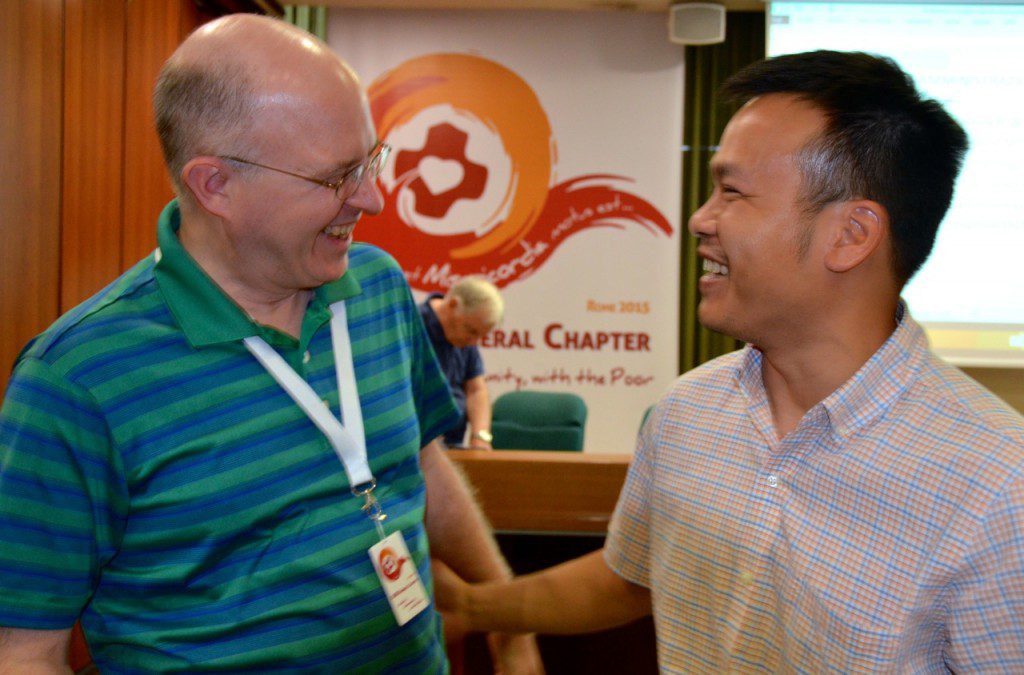 US Provincial named to General Council
On Tuesday. May 26, Fr. Stephen Huffstetter, provincial superior of the US Province, was elected to the General Council of the Priests of the Sacred Heart.
Fr. Steve, 55, professed his first vows in 1982 and was ordained in 1989. Prior to his election as provincial superior in 2013 Fr. Steve was executive director of St. Joseph's Indian School in Chamberlain, SD.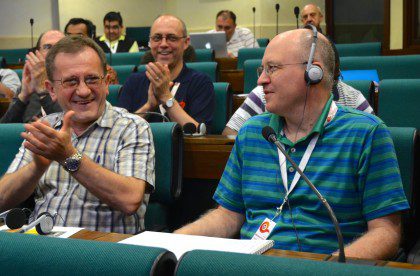 Originally from South Bend, Ind., Fr. Steve studied at and earned degrees from Loyola University and Catholic Theological Union in Chicago.  At CTU, he received a D.Min. in theology and a D.Min. in cross cultural ministry.
He has had a long commitment to ministry among Native Americans and the people of South Dakota since his initial years with the community.  Before completing his seminary studies Fr. Steve worked for two years with the Cheyenne River Pastoral Team in Eagle Butte, SD.
Following his ordination in 1989, Fr. Steve returned to Eagle Butte, where he had also served as a deacon.  In 1997, he moved from pastoral work to formation and became the director of the undergraduate program in San Antonio from 1997 to 2001.
He went back to South Dakota in 2001 and served with the Lower Brule Pastoral Team until 2004, when he was named president of St. Joseph's Indian School.
The rest of the team
Fr. Steve joins four other SCJs from around the world on the General Council. They are: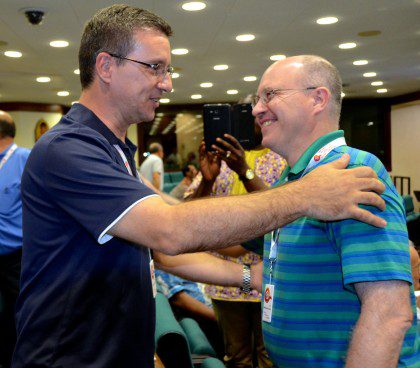 Fr. Carlos Enrique Caamaño Martín, 48. Currently regional superior of Venezuela, he was professed in 1994 and ordained in 1999. Much of his ministry in Venezuela has been in education and formation, including service as the director-rector of Escuela Tecnica Industrial Padre Dehon. Fr. Carlos Enrique was a member of the Preparatory Commission for the General Chapter.
Fr. Artur Sanecki, 49, provincial superior of the Polish Province. He professed his first vows in 1985 and was ordained in 1991. He holds a doctorate in Biblical Theology from the Gregorian Pontifical University in Rome and speaks six languages.
Fr. Paulus Sugino –– this will be his second term on the General Council; he was first elected at the 2009 General Chapter. Originally from the Indonesian Province, Fr. Sugio, 60, professed his first vows in 1979 and was ordained in 1982. Prior to his election he served in formation and was provincial superior of the Indonesian Province from 1998–2004.
Fr. Léopold Mfouakouet, 47, provincial superior of Cameroon. Professed in 1988 and ordained in 1995, Fr. Leopold has served in parish ministry, in formation, and as a professor at the Catholic University in Yaundé. He has been provincial superior since 2011.
Of course, prior to the election of the General Council was the election of Fr. Heiner Wilmer as the 10th Superior General of the Priests of the Sacred Heart. He is only the ninth man to lead the congregation since its founder, Fr. Leo John Dehon, served as its first superior general. Click here to read more about Fr. Heiner.
The new administration will take office on the last day of the General Chapter, Saturday, June 6.
For links to news, photos and videos of the General Chapter go to the congregation's Facebook page at:
https://www.facebook.com/dehoniansworldwide