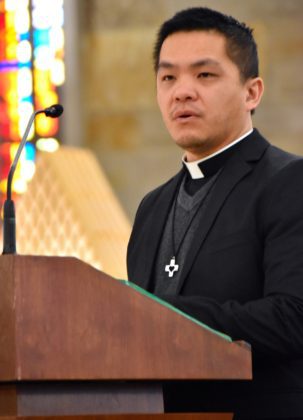 Frater Long Nguyen, SCJ –– an American of Vietnamese background –– is the most recent addition to the multicultural community that serves the Lower Brule and Crow Creek reservations in South Dakota. He joins Fr. Jean-Claude Mbassi, SCJ, from Cameroon, and Fr. Christianus Hendrik, SCJ, originally from Indonesia.
The culture that he left –– northern Mississippi –– was one that was familiar to Frater Long, who grew up in Thibodaux, Louisiana. "I had a commonality with some of the people who moved up to Mississippi from Louisiana after Hurricane Katrina," he said. "The rapport that I shared with parishioners was deep and life-giving."
Although Frater Long admits that it is never easy to leave a culture that feels like home ("the distance from family and friends is challenging," he said about Lower Brule), Frater Long looks forward to the possibilities his new assignment offers him.
"All of my assignments have afforded me opportunities to get to know people through the Church and the general community," he said. "Wherever a person is, there can be moments for leisure, personal and spiritual development, accessibility to diverse resources.
"My previous ministry experiences taught me to have great patience. I always try to remember what a friend reminded me, that 'it is all God's work.  We are just along for the ride.' You cannot reproduce what worked in one ministry and expect that it will automatically work in another."
There is a commonality that Frater Long emphasizes in ministry wherever he is located. "It is presence; what is most significant to me is to always offer the ministry of presence.
"Ministry in the Great Plains is an opportunity to examine and try to understand what it means to be 'present.' Being present to people does not necessarily equate to grand results that we can see on paper, but it is one of the most important things that we can offer."
This is Frater Long's first assignment in South Dakota; he is primarily working in pastoral ministry. He is pictured at the top of the page in Our Lady of the Sioux Chapel at St. Joseph's Indian School.