Pandemic adaptations at OLG
Due to COVID-19 restrictions, RCIA students at Our Lady of Guadalupe in Houston were unable to receive their sacraments at Easter. The delayed celebrations took place instead at the end of November. Fr. Wojciech Adamczyk, SCJ, OLG pastor, is pictured above during one of the baptisms.
This coming Saturday, December 12, is the feast of Our Lady of Guadalupe. Most years, it is an event that brings thousands to the OLG parish grounds for prayer and celebration. The parish team has said that it will be one of the more challenging moments during the pandemic, allowing people to express their devotion as a parish, but to do so in a way that is respectful of each other's health. Seven Masses (Spanish and English) will be offered over two days with a limit of 125 participants each. Three of the Masses will be livestreamed. People will be allowed to pass by the altar to pay reverence between the Masses, but the pews will be closed outside of the liturgies.
"My thoughts and prayers for your protection are with you and your families," wrote Fr.  Wojciech. "May the Lord continue to bless you and your family and may our patroness, Our Lady of Guadalupe, Queen of the Americas, intercede on your behalf to assist you and your family. Que Viva Nuestra Señora de Guadalupe!"
If you would like to view a livestream of one of the Masses, click here to access the schedule.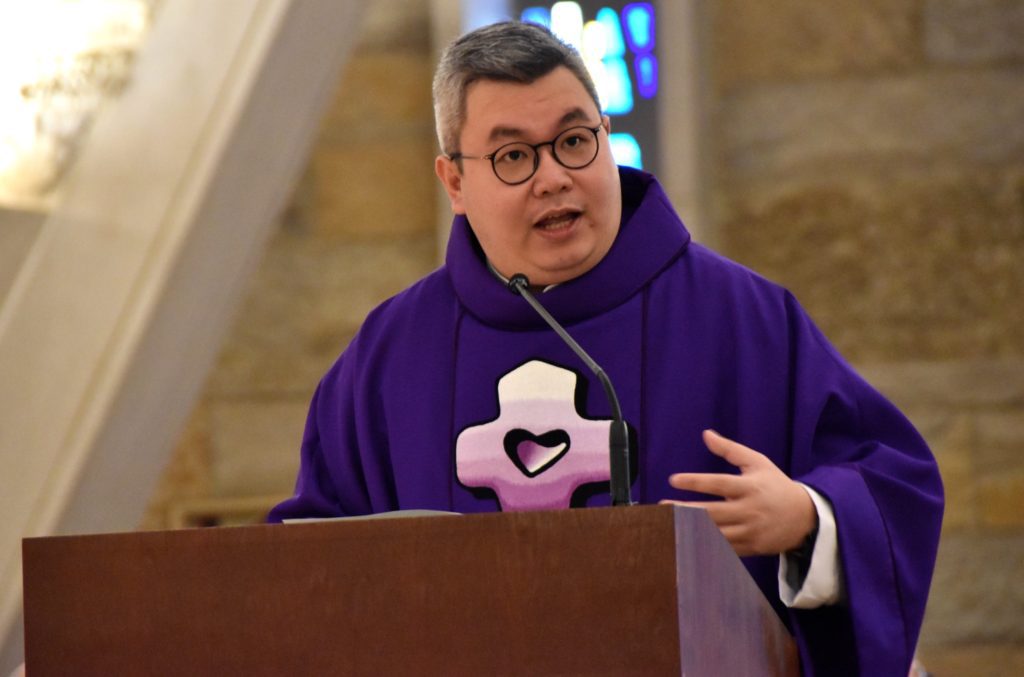 Safe travels!
After several years in the United States, first as an ECS student at Sacred Heart Seminary and School of Theology, and then as a graduate student at Marquette University, Fr. Albertus Joni, SCJ, began his journey home to Indonesia yesterday. Before leaving, he shared this message with Dehonians in the US Province (professed SCJs and others associated with the community):
"As many of you are aware, I will return to Indonesia this week. As I write this letter to all of you, many memories come into my mind. I can clearly see how the Merciful Heart of Jesus has been blessing me abundantly through all of you, my Dehonian brothers and sisters of the US Province. I came here three years ago from Indonesia, a faraway Southeast Asian country. My Indonesian Provincial Superior asked me to get a degree in the United States. Fr. Ed Killianski, SCJ, and his council approved sponsorship of my studies here, and I am very thankful for that.
"It took me three different flights and 29 hours to reach Milwaukee. That was my longest flight ever. I spoke only a little English with a heavy accent when I arrived. The ECS (previously, ESL) Program prepared me well for my graduate studies. I am so grateful to have had my wonderful English teachers, as well as Fr. Yvon Sheehy, SCJ, and Bro. Duane Lemke, SCJ, as my tutors, directors and friends. As my brothers, they have helped me to better understand American culture and the way in which you live our religious vocation here. I truly learned a lot of things in this community.
"Time flies. After so much help and support from the Sacred Heart Monastery community members, I graduated with my MA in Philosophy at Marquette University in January, 2020. I then applied for the Ph.D. program at the same school, and in the fall, 2020 semester, started as a doctoral student. However, the more deeply that I go into this program, the more that I realize that it is heavily designed to prepare a person to be a philosophy professor. I feel that this program does not fit my vision right now. Therefore, after consulting with my superiors and my advisors, I asked to return to Indonesia and experience parish and campus ministries in Palembang. I will take this opportunity not only as a break from my studies but also as a chance to share my knowledge among real people and their concrete struggles.
"During these last three years, I experienced your warm hospitality and communal love. The spirit of Sint Unum flows from the same Dehonian charism we live out. I am so proud of this province, and I am so grateful for all of you who have been supporting me. I'd like also to thank all the benefactors who have been very supportive to our foreign missions. Their contribution to the US Province enables foreign priests like me to study here and to build the Church in so many corners of the world. When Pope Francis wrote about 'neighbors without border' in his Fratelli Tutti, I can easily connect his reflection with my own reality here as an adopted member of the US Province. Your caring love and generosity have transformed me to be more confident in sharing my knowledge, to be more open to cultural differences, and to be more attentive to the social injustice around us.
"Dear Dehonian brothers and sisters, I will miss you all. I will surely welcome any of you who'd like to visit Indonesia. Just let me know via e-mail [albertusjoni.scj@gmail.com], and I will try my best to arrange your trip. I do not like the idea of saying "goodbye." I prefer to use the French au revoir – "seeing again" since there is a strong element of hope in it. I hope to meet you all again in a future time. In the meantime, please remember me in your prayers. Thank you and au revoir."
If you didn't see it, be sure to watch Fr. Joni's vocation story on YouTube. Click here to access it.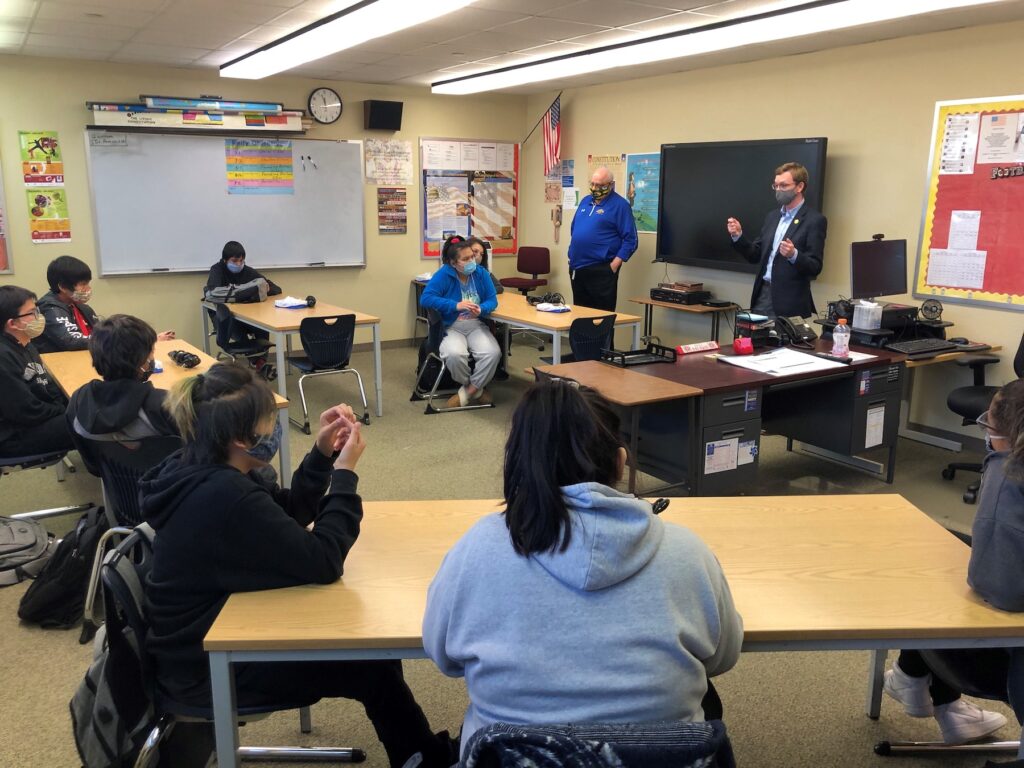 US congressman visits St. Joseph's
On November 23, U.S. Representative Dusty Johnson stopped by St. Joseph's Indian School to tour the campus and to visit with Dave Baldwin's 8th grade class.
"Reaching the community and hearing directly from South Dakotans is a priority of mine. St. Joseph's Indian School is an exceptional example of a privately funded institution with dedicated staff focused on bettering the lives of tribal students. Their efforts shouldn't go unnoticed, and I was glad to get one-on-one time to learn from its students," said Rep. Johnson.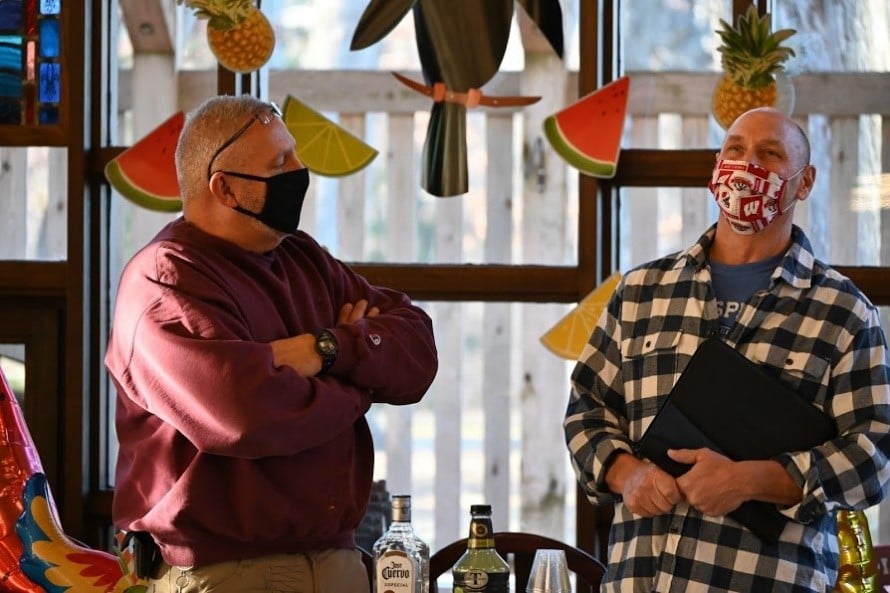 Preparing for retirement
Sacred Heart Seminary and School of Theology celebrated Bob Granitz on December 1 as he transitions into retirement. Bob has been the lead custodian at SHSST since 2001. He is pictured here with Mike Erato, director of plant operations.
Update
Fr. Bob Tucker, SCJ, remains hospitalized at Loyola University Medical Center, but he has been texting positive reports  back to the community. Yesterday, Fr. Bob wrote that he was able to be off of the ventilator for 12 hours on Saturday, and that he wanted a missalette so that he could feel a part of the community by doing the readings each day. He has also been able to stand with assistance. Please continue to keep Fr. Bob in your prayers.
Dehonian cross
When a person professes his first vows with the Priests of the Sacred Heart (Dehonians), he receives a Profession Cross, a symbol of his commitment to the religious community. There have been many versions of the cross, not just in the United States, but around the world. Fr. Ed Zemlik, SCJ, associate archivist, talks about a few of them in this recent video produced by the formation community. Among the crosses he shares is one that belonged for Fr. Joseph Haselbauer, SCJ, who died in 2004.
Click here or on the image above to view the video.
Click here to access all of the videos produced by the formation community.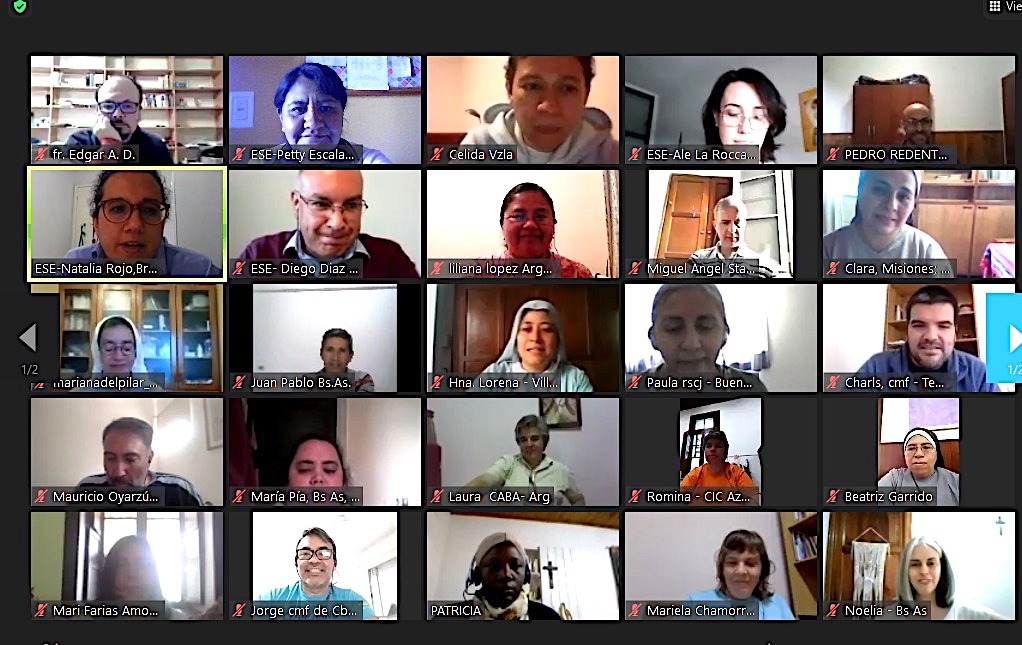 Gen X religious gather on Zoom
On November 29, 42 male and female religious Gen-Xers (the term for people born between 1970 – 1983) met via Zoom. The theme of the workshop was "Culture of Encounter," following the theme of Pope Francis' recent encyclical, "Fratelli Tutti". Participants were from Europe, North and South America, and Africa.
The encounter included time for personal reflection, small group sharing and prayer. Br. Diego Diaz, SCJ, himself a Gen-X religious, was a member of the organizational team.
The virtual gathering was a way for participants to revitalize the network of contacts and friendships that were established during various stages of formation. Many men and women now take part in intercongregational formation experiences.
The questions the Gen Xers discussed would be beneficial for anyone. They included: 1) What do I sense is changing during this time of pandemic? 2) What has taken on new meaning? 3) What have I discovered during the pandemic? 4)What situations or places more easily allow me to share the Kingdom?
"The group reflected on the importance of making space for silence, for prayer, to encounter oneself and to encounter God," said Br. Diego. "This is the starting point which allows our heart to become a place of hospitality, to have a heart open to the needs of those who suffer. It is from a Culture of Encounter that our relationship with God becomes a space of infinite gratitude.
"Religious life –  life as a sister, brother or priest in community – continues to call many young people. We, as members of Generation X, want to share with them the profound encounter with the Risen Jesus."
You are invited!
The Vatican Dicastery for Integral Human Development is planning a May roll out of a seven-year plan to help Catholic communities around the world become more sustainable in the spirit of Laudato Si'. The US Province JPR Commission invites SCJs and those with whom they minister to attend a webinar put on by CMSM, LCWR and the Catholic Climate Covenant that will share information about the initiative.
The webinar will take place a week from today on December 14, 11:00-12:30 ET. Sr. Sheila Kinsey, OSF, executive co-secretary for the Justice, Peace and Integrity of Creation Commission of UISG/USG, will lead the webinar.
No registration is needed; the sign-in information:
https://us02web.zoom.us/j/83965964940?pwd=WFNxU2FzMFdVUkwza283R2dEaFNBZz09
Meeting ID: 839 6596 4940
Passcode: 105283
Organizers state that the seven-year effort includes mobilizing seven sectors within the global Catholic community: families; dioceses; schools; universities; healthcare centers; business and agriculture; and religious orders to journey toward seven goals: responding to the cry of Earth; responding to the cry of the poor; building ecological economies; adopting simple lifestyles; creating ecological education; recovering ecological spirituality; and promoting community action and advocacy.
Questions about the webinar? Contact Bethany J. Welch, Ph.D., CMSM Justice and Peace Fellow, bwelch@cmsm.org  (301) 588-4030 ext. 236