Celebrating Catholic Schools
As noted last week, Dehonian schools in the US Province planned a variety of ways to commemorate National Catholic Schools Week. At Sacred Heart School in Southaven, MS, the theme was "Celebrating Our Community." Students visited via Zoom with people from the local community, learning about their work and responsibilities during the pandemic. Among the community representatives: a postal worker, a social worker, a fireman, an NFL player, a physical therapist, and a librarian. Holy Family School in Holly Springs, MS, followed a similar theme, with students writing notes of thanks to local community leaders such as the mayor, fire chief and police chief, local firefighters, police officers and benefactors.
"A central aspect of Catholic education is learning the importance of service to others," said a member of the Holly Family staff.
Celebrating the local community was also a theme found at St. Joseph's Indian School in South Dakota where students sent Lakota-themed Valentines to residents of area nursing homes and assisted living centers. "The Valentine cards are a way to promote acts of service for the elderly in the community. Generosity is a value in both Christian and Lakota spirituality," said Joe Tyrell, director of  Mission Integration at St. Joe's.
Students at Our Lady of Guadalupe in Houston started the week with a donation drive to benefit Magnificat House, Inc. On Thursday, Fr. Rafael, Sr. Aida and Sr. Mirta spoke to the students about their vocations to religious life; this was followed by a "Religion Bowl" with students answering questions about the Catholic faith.
There was also interaction between the schools with students and staff visiting via Zoom.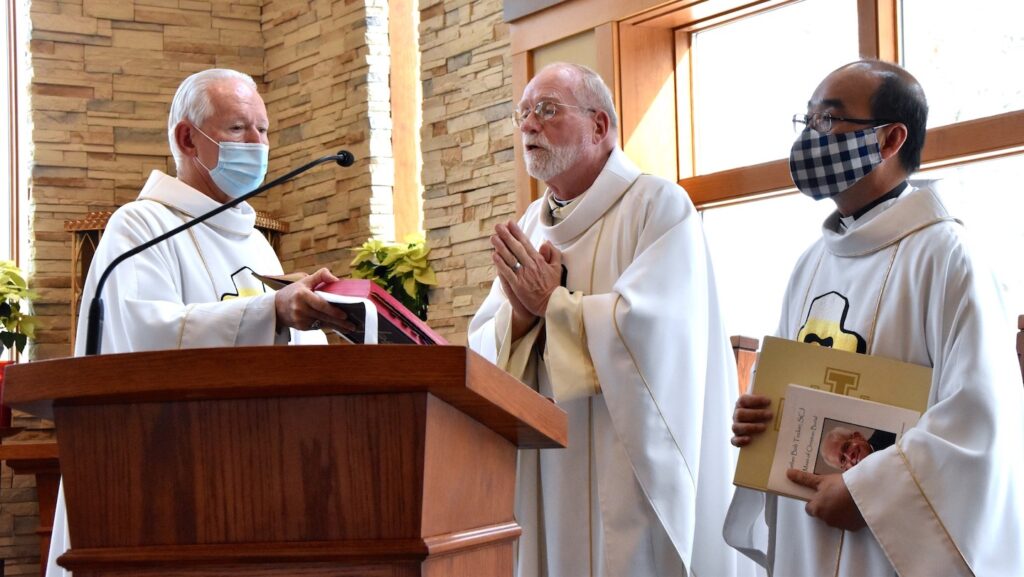 Well remembered
On Saturday, February 6, a wake and funeral mass were held for Fr. Bob Tucker, SCJ, at Sacred Heart at Monastery Lake. Due to the pandemic, the funeral was closed to the public. However, it was recorded by our video team from the formation community and is available for viewing on the province YouTube site (DehoniansUSA). Click here or on the image below. Note: the YouTube video, as opposed to the Facebook livestream, is at a higher resolution and includes testimonials and stories shared during the wake.
Click here to view photos from the services.
Click here to read Fr. Ed Kilianski's homily. As he noted during the funeral, the Mass was planned by Fr. Bob, who loved liturgy and loved to share his passion for the liturgy with others, included students in formation. He chose his novitiate classmate, Fr. Ed, as the main celebrant and homilist.
"Wherever Fr. Bob was assigned, as quiet as he often was, he was known as 'the little man with the BIG voice,' said Fr. Ed. "Wherever he was assigned he left an impact on the people he was called to serve and SERVE he did! He was one of the best listeners I've ever known, and his insights and counsel were profound. 'Be gentle with yourself' was a phrase he used often with many people… He was profoundly aware of his mission and committed his whole life to it: to lead others intimately to the Heart of Christ and by helping to restore Christ's Reign in individuals and in society."
Click here to access Fr. Bob's obituary on the province website, which includes the links noted above, as well as a remembrance video put together by Fr. Bob's brother, Mike.
Click here to access the family tribute (put together by Mike Tucker).
Click here for a memorial card.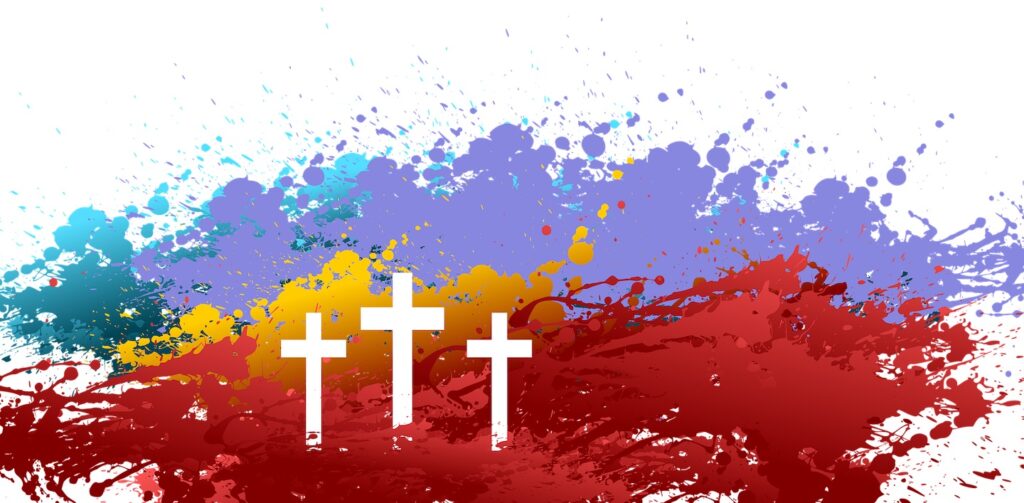 Lenten reflections
Starting with Ash Wednesday on February 17, and continuing through Easter Sunday on April 4, the province is offering a twice-weekly e-blast titled "Preparing for the Resurrection." Sent by email, each includes a reflection on the readings of the day by an SCJ or student. Fr. Byron Haaland, SCJ, begins the series with a reminder that "Lent is a time when we are challenged to recognize our own superficialities, our fears of taking the journey deeper into our own deserts to reach nearer our hearts."
Everyone who receives the Fridge Notes will automatically be included on the mailing list of the Lenten mailing. If you prefer not to receive it, there is an "unsubscribe" option on the email. You can also click here to unsubscribe before the mailing begins.
Click here to add someone to the mailing list for Lent.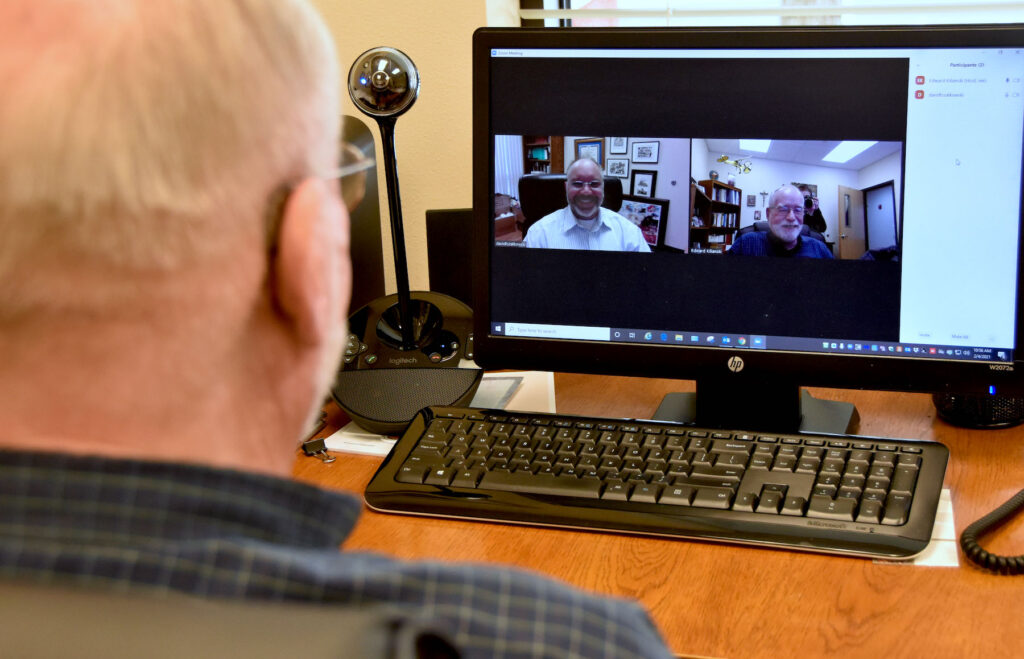 Virtual visitations
Adaptation has been the operational word for many as we continue to navigate through the pandemic. Yearly, the provincial superior makes a canonical visit to each community within the US Province. It is a way to ensure the flow of communication between the local and provincial levels, as well as a moment for the provincial superior to check in and see how SCJs are doing individually and as a community, and to learn about the challenges they may be facing.
Last week, Fr. Ed Kilianski did the visitation of the Mississippi community, a community of SCJ priests and brothers in northern Mississippi who serve primarily in parochial ministry, social services and education. Usually, this would mean that Fr. Ed would spend a week with the community, sharing in meals and prayer, as well as meeting with the SCJs. But, ADAPT, ADAPT, ADAPT. This year's visitation was done virtually. All meetings are via Zoom, including group gatherings.
The theme for the 2020/2021 Provincial Visitations is "Our Ministry Together." Fr. Ed is pictured above visiting with Fr. David. The rest of the visitation schedule:
South Dakota from February 8-10
Sacred Heart Community, Pinellas Park, from February 22-25
Texas from March 1-4
From March 15-17 Fr. Ed will have meetings with individuals who were not covered in the community visitations.
Remembering a saint; remembering those often forgotten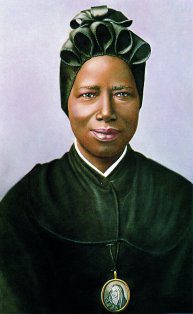 Today, February 8, has been designated by the Pontifical Council for Justice and Peace as the International Day of Prayer and Awareness Against Human Trafficking. It is also the feast day of St. Josephine Bakhita, who was kidnapped as a child and sold into slavery in Sudan and Italy. Once Josephine was freed, she became a Canossian nun and dedicated her life to sharing her testament of deliverance from slavery and comforting the poor and suffering. She was declared a saint in 2000.
The theme chosen for 2021 is "An Economy without Human Trafficking." It brings into the spotlight "one of the main causes of human trafficking: the dominant economic model of our time, whose limits and contradictions are exacerbated by the Covid-19 pandemic," reads a statement on the organizing website.
Click here to learn more about the day, and to participate in an online Marathon of Prayer. Click here to download a flyer for the day put together by Becoming Neighbours.
Closing shot
According to legend, St. Blaise (d. 316) miraculously cured a boy who was choking to death on a fish bone. He has long been associated with cures for the sick, especially afflictions of the throat. Fr. Mark Mastin, SCJ (pictured below) was the main celebrant at the annual Mass for St. Blaise at Sacred Heart Seminary and School of Theology on February 3. Usually, a blessing of the throats takes place during the Mass, but due to the pandemic, a general blessing was given to those in attendance.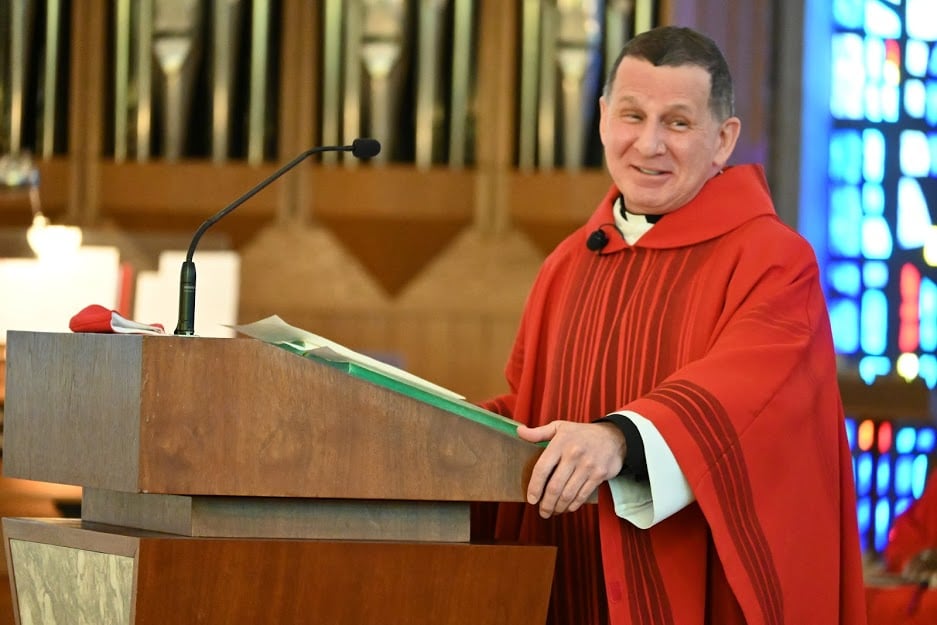 Click here to subscribe to the weekly news (Fridge Notes) via email