Dehon Lecture addresses the challenges of race and interculturality
"We must shape our parishes and institutions to be oases of hospitality where all are welcome," said Bishop Joseph Perry.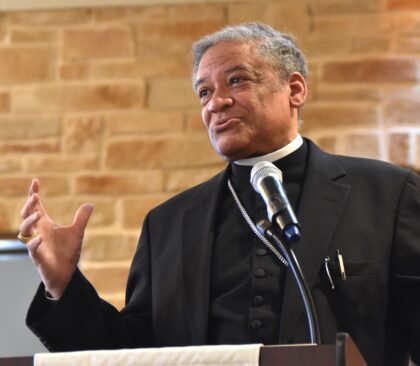 Bishop Perry, auxiliary bishop of Chicago, was the presenter at the March 17th Dehon Lecture at Sacred Heart Seminary and School of Theology. His topic: "The Canonization of Fr. Augustus Tolton: Significance for Race Relations and Interculturality." It was an opportunity to speak about a man who embraced a church that did not always embrace him, a black man born into slavery.
It was also an opportunity to note the challenges of racism and separation that American society continues to grapple with today, including the Catholic church.
Fr. Tolton, also known as "Fr. Gus," is thought to be the first publicly known African American to be ordained as a Roman Catholic priest. Fr. Tolton studied in Rome (because African Americans were not allowed in US seminaries), where he was ordained on Easter Sunday in 1886 at the Basilica of St. John Lateran. He ministered in Illinois, serving at his home parish in Quincy, and later in Chicago. He was declared venerable by Pope Francis in 2019.
In reflecting on Fr. Tolton's life during his presentation, Bishop Perry said that the Church must also reflect on itself. He noted the disconnect of "singing songs and saying prayers about being brothers and sisters in Christ but then living separately and worshiping separately; our words ring hollow."
He urged those present – especially the seminarians, religious and priests – to create parish cultures that are "welcoming to all, that never treat anyone as a stranger or as someone who does not belong."
Click here to read more about the lecture.
Click here to view photos.
Continuing the conversation
Following the Dehon Lecture, Bishop Joseph Perry sat down with Fr. Vien Nguyen, SCJ, for a "Heart to Heart" conversation about diversity in the Church and in society. He reflected on what it means to put what he called the "adjective" of "Black" or "Mexican" or "Vietnamese" in front of the word "Catholic." For example, he and many other other Black Catholics identify strongly with the "God of liberation" and the story of Exodus.
However, while noting the nuances of the Catholic experience found among various cultural groups, Bishop Perry emphasized that the Church is a "catholic" church with a small "c", meaning that it is a universal church for all.
Click here or on the image above to view the interview. It runs approximately 13 minutes.
Looking for a few prayer "godparents"
On Thursday, March 25, the fifth through eighth-grade students at Sacred Heart School in Southaven, MS and Holy Family School in Holly Springs, MS, will be on retreat in preparation for Easter. Organizers, which include the staff from each school, as well as Br. Diego Diaz, SCJ, and Fr. Hendrik Ardianto, SCJ, are looking for a few "godparents" to walk with the children in prayer.
"We ask that they offer a half hour of Adoration or a moment of prayer for the students during a specific time during the retreat," said Br. Diego.
If you are able to be a "prayer godparent" on Thursday, you are asked to send an email to Principal Bridget Martin of Sacred Heart School, (bmartin@shsm.org) and Principal Tunia Sanster of Holy Family (tsangster@shsm.org) and let them know at what time, between 7:00 a.m. and 1:00 p.m., that you will be praying for the students. The information about the godparents  will be shared during the retreat.
Prayer request
Fr. Mark Mastin, SCJ, is undergoing back surgery today. Please keep him in prayer.
Please remember
+ Fr. Jean Nicasius Thijs, a member of the Dutch Province, died on March 21, He was born in 1931, professed in 1955 and ordained in 1960.
SCJ reflects on vocational call
"Wow, I realized that I could give my life to serve people," said Fr. Rafael Querobin, SCJ, when asked what motivated him to pursue his vocation. "I realized how good it is to serve others."
Originally from Brazil, Fr. Rafael is now a member of the pastoral team at Our Lady of Guadalupe parish in Houston. Click here or on the image above to learn about his call to service, to religious life as a Priest of the Sacred Heart.
Click here to access the DehoniansUSA YouTube channel to view all of the posted videos. Many thanks to our formation video team for their work in making these videos possible.
Transition
Celsus Robert leaves the formation program as of tomorrow, March 23. Please keep him in prayer as he continues his discernment journey.
Stop the hate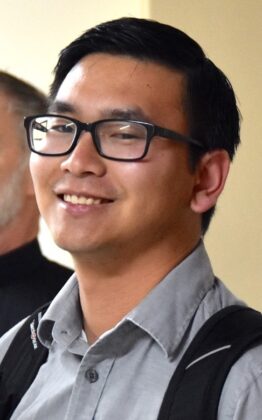 "Stop the hate," writes Frater Henry Nguyen, SCJ, reflecting on recent crimes against people of Asian descent. Currently in Ecuador for his pastoral year, Frater Henry has kept up with news of the attacks in the United States against those of Asian background. Although Frater Henry was born in the US and grew up in California, his family is from Vietnam. Today he shares a reflection that begins with his experience of the Way of the Cross, then relates it to present day events.
"Solidarity! I love that I have seen so many people get together (virtually) in support of this, to end violence. We need to be heard! We need more love in our world, we need to end the violence! As Dehonians, we are called to be prophets of love and servants of reconciliation. What can I do for my brothers and sisters during this time of need?
"As I walk with Jesus' disciples, I wonder what they were feeling. Were they scared as their friend was just killed? Were they afraid of speaking out, of being heard? As I walk with the disciples this Via Crucis, I try to find comfort and peace. I hope this Lenten season brings healing for all. I hope the world finds love."
Click here to read Frater Henry's full reflection.
Budget reminder
The Provincial Treasurer's Office reminds all budget preparers that budgets are due by April 9. If you have questions, please contact Dn. David Nagel, SCJ, Kevin Stanke, or John Kuxhause.
Reflection on Lent via Zoom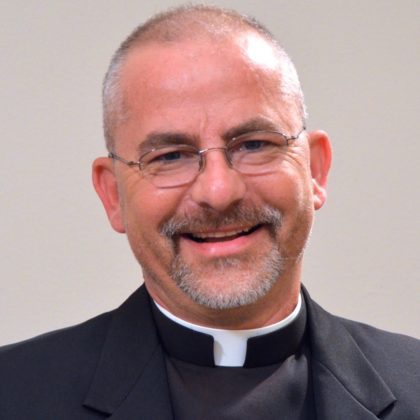 On May 15, members of the Dehonian community in Toronto organized a Lenten Day of Reflection via Zoom with the theme: "Fr. Dehon, Interculturality and Lent: Conversion and Interculturality." Among those taking part were the parish staff of St. Thomas More and our Lady of Rosary parishes in suburban Toronto, members of the Toronto Lay Dehonian group,  members of the Indonesian Catholic Community (UKI) and Mary Collins (former staff member and honorary Lay Dehonian). Approximately 60 people participated via Zoom.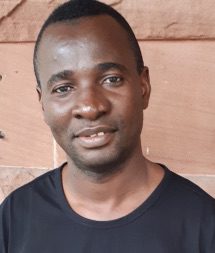 Fr. Andrzej Sudol, SCJ, (US Province) and Fr. Paulin Makiala, SCJ, (a Congolese member of the Ottawa Community) led day. Fr. Andrzej began with a reflection on How much land does a man need? from the book Twenty Three Tales by Leo Tolstoy. Fr. Paulin spoke about what it means "to be a prophet of love and servant of reconciliation" in today's world. He recently completed a master's degree in Conflict Resolution at St. Paul University and is presently working on a degree in Public Ethics.
Originally from Poland, Fr. Andrzej, who has served in India and the Philippines, is postulancy director for the US Province and a part of the formation program at Sacred Heart Seminary and School of Theology.
Lenten reflections
Postulant Michael Wodarczyk, and Fr. Yvon Sheehy, SCJ, were the most recent SCJs to share reflections for the Lenten e-blast, "Preparing for the Resurrection." The mailings are sent twice a week during Lent and Holy Week. The next mailing will be on Thursday, March 25, the Annunciation. Click here to access all of the reflections.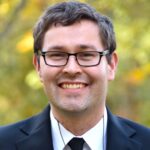 "Lent is a time for us to grow our relationship with God," writes Michael Wodarczyk, reflecting on the March 17th readings. "God does great things for those whom he loves, for those who are faithful.
"As a religious community we have the benefit of being around others who want us to succeed in growing our relationship with God. This means checking in on our brothers to see how their Lenten promises are going. It means being supportive of them when they succeed and helping them get back on the horse when they fall off. Being in a religious community helps us in Lent to succeed in growing as better human beings because of the support we get from the members of our community, in the good and bad times in our Lenten journey. We see how two heads are better than one when growing in faith.
"We are getting closer to Easter and God is with each of us through our journey to Easter. Let us continue to keep growing in our faith through this Lent and remember that God loves us and loves the growth that we are going through in this Lenten season."
Click here to read Michael's full reflection.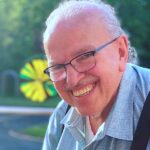 "Lent calls us to a new beginning and understanding of our relationship with God," writes Fr. Yvon, reflecting on yesterday's readings. "Where have we been, where are we going, where do we wish to go? This year's Lenten Cycle is filled with covenants from Noah, Abraham and others to the last covenant written in our hearts. We need to allow God to write in our hearts, thereby giving each of us a new covenant…
"At different points in our life we are drawn or attracted to either the suffering of Jesus or to the authoritative Jesus. Suffering leads to spiritual growth. Letting go is the freedom to surrender ourselves to the Glory of God. In letting go, we enter into complete union with the Lord. We find life, peace and joy in the midst of physical, enduring and spiritual suffering. Only in learning this do we become instruments in the hands of the Lord for the sake of others. We love others only if we help them in suffering…
"With time, we will notice God writing in our hearts a new covenant with challenges for a new life. Are we ready for this task and are we ready to accept the new challenge and covenant? In letting go, we enter into a new covenant with the Lord and truly discover our true selves."
Click here to read Fr. Yvon's full reflection.
New Dehonian presence
On March 19, the feast of St. Joseph (a patron saint of the congregation), the District of Mato Grosso (BMT) was erected. Dependent on the Brazil – São Paulo Province, it was previously a sector of the entity. It was initially begun as a joint effort of the BSP and BRM (South Brazil) provinces.
The Death and Resurrection of Jesus in Art and History
Former SCJ, Dr. John Madden, will give a presentation via Zoom on Friday, March 26 at 9:00 p.m. (central) on the history, physiology, archaeology and the theology of the death and resurrection of Jesus with a focus on the Church of the Holy Sepulcher in Jerusalem. Dr. Madden is a retired University of Montana professor of Classical Languages and Early Christian and Byzantine Art and Archaeology.
Click here for more information.
Closing shot
The SCJs at the Sacred Heart Community in Pinellas Park, FL, share a few photos from their St. Patrick's Day celebration last week. Of course, the community includes its own [St.] Patrick: Fr. Pat Lloyd was born on March 17, so the celebration included a birthday cake alongside other holiday treats. Fr. Pat was the main celebrant at the day's community Mass where he preached on the life of St. Patrick.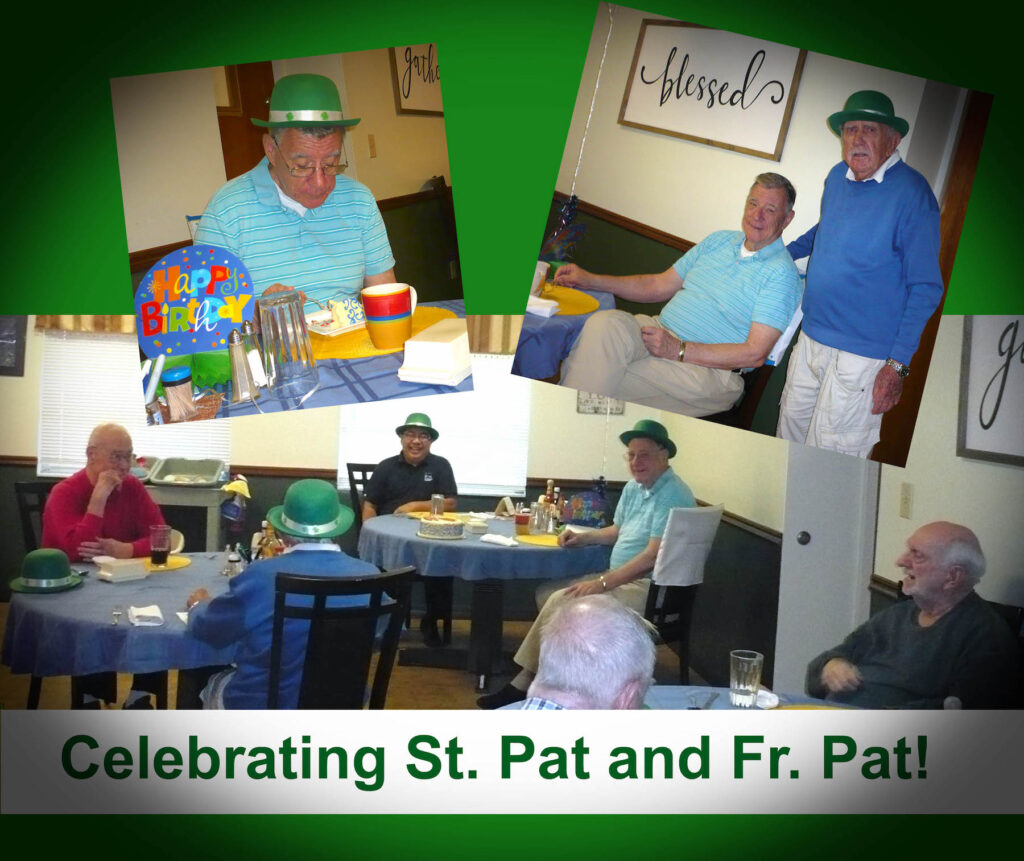 Click here to subscribe to the weekly news (Fridge Notes) via email