The Resurrection
Father, in your plan of love, You raised your Son, Jesus,
And established Him as Lord, the heart of humanity
And the hope of salvation to all who listen to his voice.
Like Mary Magdalene, searching the garden of the empty tomb,
We wish to recognize the voice of the Risen One
Who calls our names and sends us forth as gospel witnesses.
By offering ourselves with Christ for our brothers and sisters,
We seek to be an effective sign
Of the coming of your reign of justice. Amen.
"Prayer of Oblation for Easter" from This Day of God, Prayer Book of the Priests of the Sacred Heart (Dehonians)
---
Holy Week and Easter Schedule
The Provincial Offices will close at 2:00 pm on Holy Thursday, April 1, and remain closed until Tuesday, April 6. There will be no Fridge Notes published on Easter Monday, April 5. The next edition will be on April 12. Have a blessed Triduum and Easter!
A chaplain's ministry of presence
Fr. Frank Wittouck, SCJ, has many stories from his 20-plus years as a military chaplain, including being on the ground with troops during Desert Storm, and in the air, hanging from a helicopter during training. But his most important story is that of "presence," being present to soldiers during his service as a chaplain, and continuing that sense of presence as a parish pastor, educator, volunteer with the homeless, and now to students as a retired member of the Sacred Heart Monastery Community.
What inspired Fr. Frank to pursue a call as a military chaplain? "There was a shortage," he said. "As a priest I always wanted to go where there was a need, not just fill slots."
Click here or on the image above to hear Fr. Frank's story in this 13-minute "Heart to Heart" interview with Fr. Vien Nguyen, SCJ. At the end of the interview (13:53​) Fr. Frank takes a few minutes to go through and explain the various items found in a typical military chaplain kit.
This is the third in a series of "Heart to Heart" conversations posted on the US Province YouTube Channel. Click here to view them all.
40 Voices for Lent
Throughout Lent, the General Communications Office has been posting video reflections from SCJs from around the world. Yesterday, Fr. Yohanes Yuliwan Maslim, an Indonesian SCJ with the Toronto community, gave the reflection. Click here or on the image above to view it.
Click here to access all of the Lenten videos, including Fr. Rafael Querobin, SCJ, of Our Lady of Guadalupe, Houston, who gives the March 26 reflection.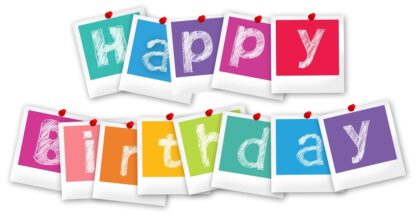 April birthdays
Those celebrating birthdays in April include Fr. Jim Walters on April 17, Fr. Jim Schifano on April 19, Fr. Hendrik Ardianto on April 24, Br. Duane Lemke on April 26, Fr. Tom Lind on April 27, and Frater Thuan Nguyen on April 29.
Happy birthday to all, and a special birthday shout-out to Fr. Jim Schroeder, whose birthday is tomorrow, March 30.
Budget reminder
The Provincial Treasurer's Office reminds all budget preparers that budgets are due by April 9 (next week Friday). If you have questions, please contact Dn. David Nagel, SCJ, Kevin Stanke, or John Kuxhause.
Please remember
+ Fr. Francisco Belarmino Gomes, SCJ, a member of the Brazil – Recife Province, died on March 26. He was born in 1962, professed in 1992, and was ordained in 1996.
+ Fr. Gérard Lapauw, SCJ, a member of the Franco-European Province, died on March 26, the day after his 90th birthday. Fr. Gérard was born in 1931, professed his first vows in 1950 and was ordained in 1957.,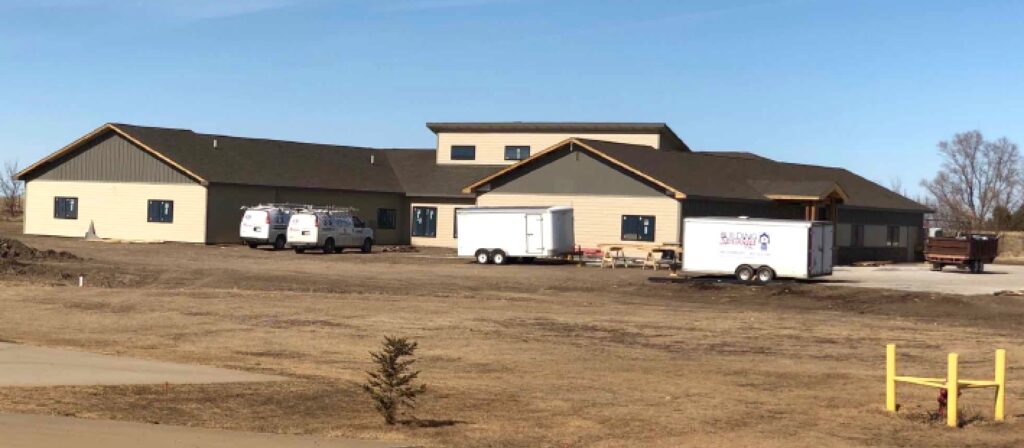 One more month!
Greg Fischer, executive director of the Sacred Heart Center in Eagle Butte, SD, is happy to report that the Family Violence Women's Safe Shelter is on schedule to be completed by the end of April. Ground was broken for the building in October, 2019. A few months later, the pandemic brought work to a halt. The challenges of South Dakota weather, and the remote location of the project in rural Eagle Butte, added to project delays. But during a meeting in early March with the architect and representatives of the construction firm, Greg learned that many of the items on the building task list could finally be checked off, and other tasks were soon scheduled for completion including fire abatement, HVAC installation, painting, security installation, and landscaping preparation. The kitchen, laundry and break room appliances have been ordered, as well as office furniture.
The shelter is a ministry of the Sacred Heart Center, in Eagle Butte, which was begun by the Priests of the Sacred Heart (Dehonians) and continues to be sponsored by St. Joseph's Indian School. One of the unique aspects of the shelter is that it will have designated space for teenage males, and mothers with teenage sons. Often it is difficult for a shelter to accommodate these young men.
Lenten reflections
Fr. Rafael Querobin, SCJ, and Fr. Andrzej Sudol, SCJ, were the most recent SCJs to share reflections for the Lenten e-blast, "Preparing for the Resurrection." The mailings are being sent twice a week during Lent and Holy Week. The next mailing will be on Thursday, April 1, Holy Thursday. Click here to access all of the reflections.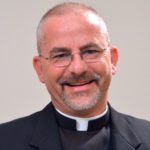 "Today we celebrate Passion Sunday," wrote Fr. Andrzej, reflecting on the readings for Palm Sunday. "On this day we commemorate the triumphal entry of Jesus into Jerusalem. Although he knew that the Pharisees and Priests were plotting death against him, Jesus did not hesitate to continue his mission. He knew that he would be killed but he was not afraid. We experience his majesty, fearlessness, and greatness as he enters into Jerusalem to face and conquer death.
"He entered Jerusalem as a king, the promised Messiah, and peacemaker. Today's Gospel proclaims it in Jesus's words and action, which he often explained in the temples and places where he preached. The passion, which we read, gives meaning and a fulfillment of it."
Click here to read Fr. Andrzej's full reflection.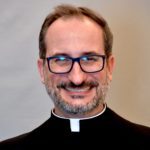 "Today the Church invites us to focus our eyes on the mystery of the Lord's Incarnation," wrote Fr. Rafael Querobin, SCJ. "The Feast of the Annunciation is directly related to the celebration of the birth of Jesus. On March 25th, Christians are invited to experience what Mary had experienced when she received the angel Gabriel's visit. Although Mary has a fundamental presence in this celebration, this mystery has its centrality in Jesus Christ.
"The Liturgy of the Word invites us to meditate on the meaning of living God's will. When we pray the Lord's Prayer, we tell the Father that his will, will be done. Mary is an example to us of doing God's will. She said to the angel Gabriel, 'Behold, I am the handmaid of the Lord. May it be done to me according to your word.'"
Click here to read Fr. Rafael's full text.
The last mailing in the series will be on Easter Sunday, April 4.
Celebrating the feast of St. Joseph, at St. Joseph's
From March 15-19, staff and students at St. Joseph's Indian School in Chamberlain, SD, celebrated the feast day of St. Joseph, the school's patron saint. The feast took on added significance this year since Pope Francis proclaimed this to be the "Year of St. Joseph."
St. Joseph's students worked on special art projects, did alumni visits (via video conference), heard inspirational presentations from outside speakers (again, via video), and took part in a "St. Joe's College, Military and Career Day." There was also a service project with students from Mount Marty University.
Students helping students
As reported previously, Our Lady of Guadalupe's "Escuelita," the Houston parish's school for pre-K 3 and 4, suffered significant damage during the February cold snap that led to power outages and frozen pipes. Students at fellow Dehonian schools, Holy Family in Holly Springs, MS, and Sacred Heart in Southaven, raised $1,506 to help with repair efforts at OLG. Pictured below are Bridget Martin (left), principal of Sacred Heart, and Tunia Sangster, principal of Holy Family, with the students' donation.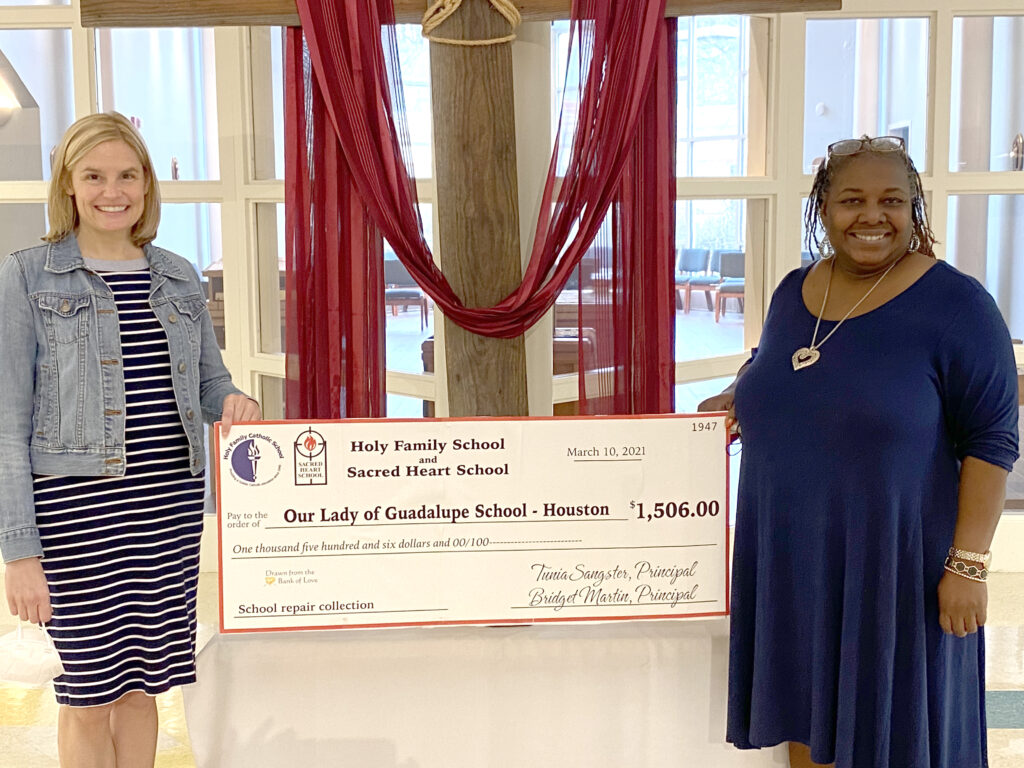 Click here to subscribe to the weekly news (Fridge Notes) via email