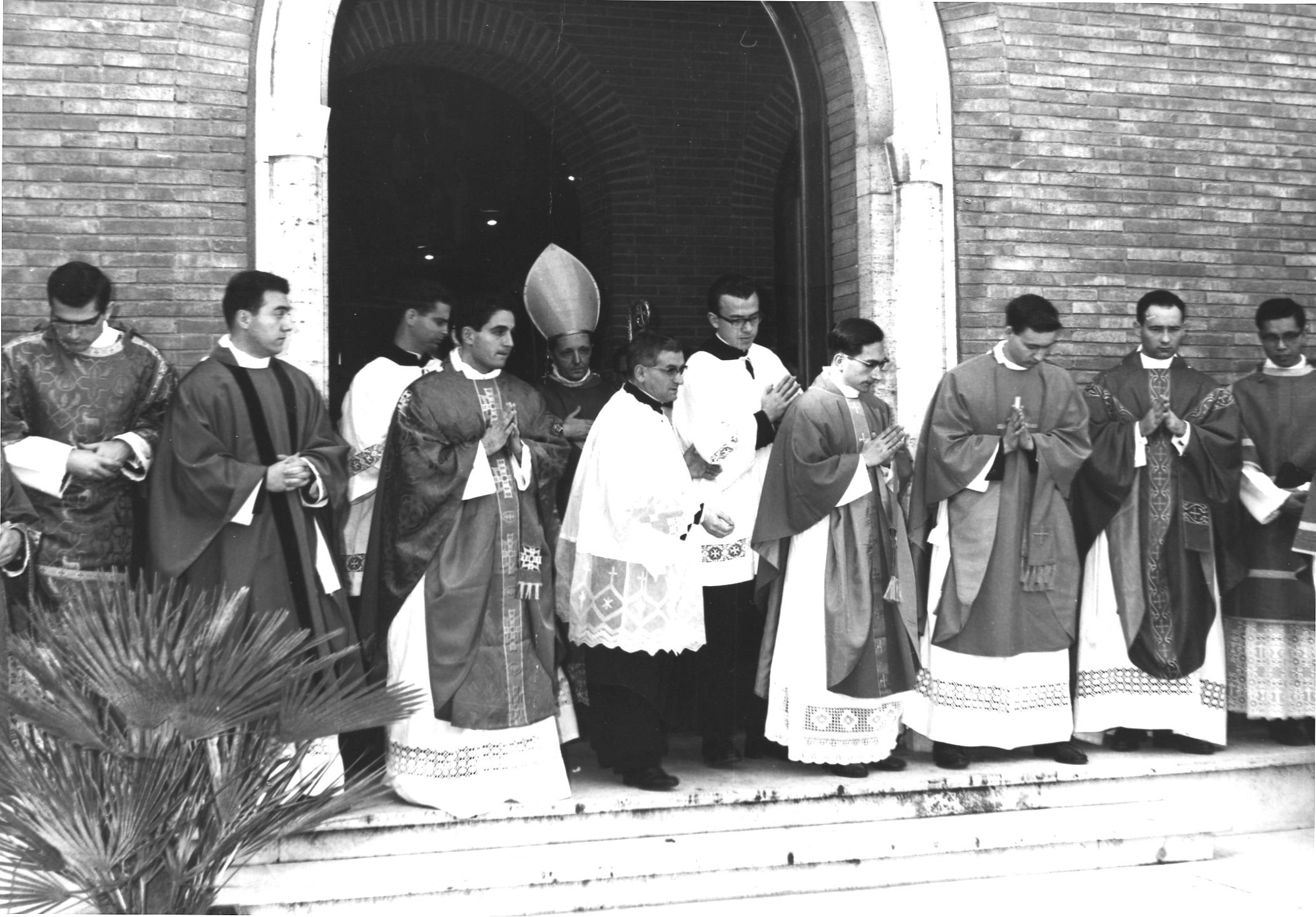 150 years of SCJ priesthood
Tonight the US Province celebrates the 50th anniversary of priesthood of three of its members: Bishop Joseph Potocnak, Fr. Anthony Russo and Fr. Thomas Westhoven. The Jubilee Mass will take place at Sacred Heart Monastery / Sacred Heart Seminary and School of Theology in Hales Corners. Fr. Ed Kilianski, provincial superior, is the main celebrant and the three jubilarians are each giving a part of the homily.
Although they were ordained in the same year, the paths the jubilarians followed in their priesthood varied widely.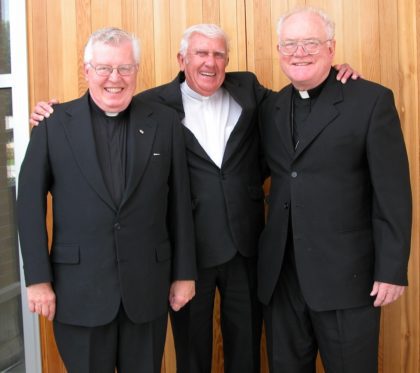 Bishop Joe spent 36 years in South Africa, eventually being named bishop of the Diocese of De Aar. The opportunity to get to know another culture is something for which he is especially grateful. "Being in a different culture allows a person to look at things from a new perspective," he said, "it can help you to see that people are people; there is goodness in everyone."
Seeing the basic goodness in others is the rudder that guided Bishop Joe in his ministry in South Africa. "If someone is nice to you, treats you with respect, you pick it up, even if your language is different," said the bishop. "If you are good to another, that person feels your goodness. The Catholic Church brings a bit of hope to people in need by treating them with respect, by caring for them… the first thing the Church must always do is be good to others, see the basic goodness in others."
Bishop Joe is now retired and is a member of the Sacred Heart Community in Pinellas Park, FL.
Fr. Tony did his theological studies and was ordained in Rome. After several years in formation, including serving as director of pastoral and field education at Sacred Heart Seminary and School of Theology, Fr. Tony entered parochial ministry. In 1975 he moved to San Antonio to become associate pastor of St. Cecilia's parish. Fr. Tony later served as pastor at Our Lady of Guadalupe in Houston and at St. Martin of Tours in Franklin, WI.
Fr. Tony also held several jobs in province administration including personnel director and director of justice and peace.
"Fr. Westy," as most know Fr. Tom, spent much of his priesthood in South Dakota where he served as director of St. Joseph's Indian School and on the pastoral teams of All Saints parish in Eagle Butte and in Lower Brule. Fr. Tom was also the Province Vocation Director (1990-1993) and was often the recording secretary at province gatherings.
"For me, being an SCJ means that I strive to give of myself totally out of love for the One who loves me and each person," said Fr. Tom reflecting on his vocation. "As an SCJ I recognize the calling to be inwardly dedicated to returning the love the Heart of Jesus has for each of us."
Click here to read more about the jubilarians on the province website.
Visit the province Facebook page tomorrow to view photos from tonight's celebration. And if you are planning to attend, please note that the liturgy, reception and dinner has moved from Sacred Heart at Monastery Lake to SHM/SHSST.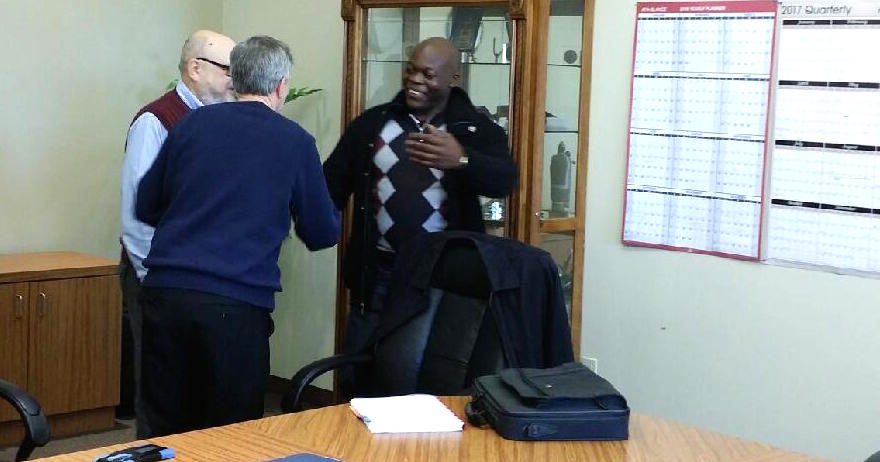 Welcome to the community!
This weekend the Admissions Board welcomed Celsus Robert, 43, as a candidate for the Priests of the Sacred Heart. He will join the Dehon Formation Community in Chicago in January, 2017. Originally from St. Lucia, Celsus has lived in the United States since 2000; his home is currently in Los Angeles. Celsus earned a bachelor's degree in Social Work and Criminal Justice in 2008 from Cheyney University in Pennsylvania, and an MBA in Health Care Management in August of this year from the University of Southern California. Welcome Celsus!
Please remember
Fr . Jean Geisen of the Franco-European Province, died on November 10. He was born in 1942, professed in 1963 and ordained in 1970.
Fr. Joannes J.T. Eijkman of the Dutch-Flemish Confederation died on November 11. He was born in 1933, professed in 1955 and ordained in 1960.
SCJ candidate presents a "Spiritual Coffee Break"
The Leo Dehon Library at SHSST celebrated "Theological Libraries Month" in October by hosting weekly "Spiritual Coffee Breaks." The first presentation was by Fr. Paul Kelly on the spirituality of the Sacred Heart.The month closed with a presentation by SCJ candidate Angel Romero along with fellow SHSST student Carlos Londoño on the customs of Dia de los Muertos (Mexico) and Dia de los Santos (Colombia).
Click here or on the image above to view a video of their brief presentation.
Candidacy for holy orders
Two students at Sacred Heart Seminary and School of Theology, Nelson Jésus Rubio Villabos ( Diocese of Little Rock) and John Gonzales (Diocese of Tucson), were admitted to candidacy for holy orders on November 9. Bishop Gerald Kicanas, bishop of Tucson, presided at the rite that took place in the main chapel at SHSST.
Good news!
Fr. Mike Burke received good news at his doctor's visit last week: he is cancer-free! Fr. Mike thanks everyone for prayers and support.
November SCJ News
Click here to download a PDF of the most recent SCJ News. Print copies will be in the mail this week.
Provincial's time
Fr. Ed Kilianski is the main celebrant at today's jubilee Mass for the 50th anniversary of priesthood of Bishop Joseph Potocnak, Fr. Tony Russo and Fr. Tom Westhoven. November 15-16 he has meetings with the Provincial Council. November 18-21 he will be in Mississippi for the 50th anniversary Mass for Christ the King parish in Southaven. And then the next day it is off to Rome for the Major Superiors Meeting. He returns to Milwaukee on December 4.
Closing shot
In recent years "internationality" has been a growing theme in the congregation. An example of it lived is seen in the photo below. On October 29 the Cameroon Province celebrated the final profession of nine SCJs. Among them were two from Congo, two from India and five from Cameroon.
"The internationality of our congregation was seen not only in the presence of the scholastics from India and Congo, but also by that of the presence of Frs. McQueen and Jojappa who came from India to ensure the support of all the confreres there," wrote Fr. Hervé Ndeffeu Fogang of Cameroon.
The main presider at the celebration was Fr. Jean-Marie Signé, provincial superior of Cameroon. An example of internationality himself, Fr. Jean-Marie is an alumnus of SHSST's ESL program and a graduate of St. Paul's University in Ottawa where he earned his doctorate in Canon Law. As some readers may remember, Fr. Jean-Marie visited the US and Canada in September. Click here to read an interview done with him during the visit.