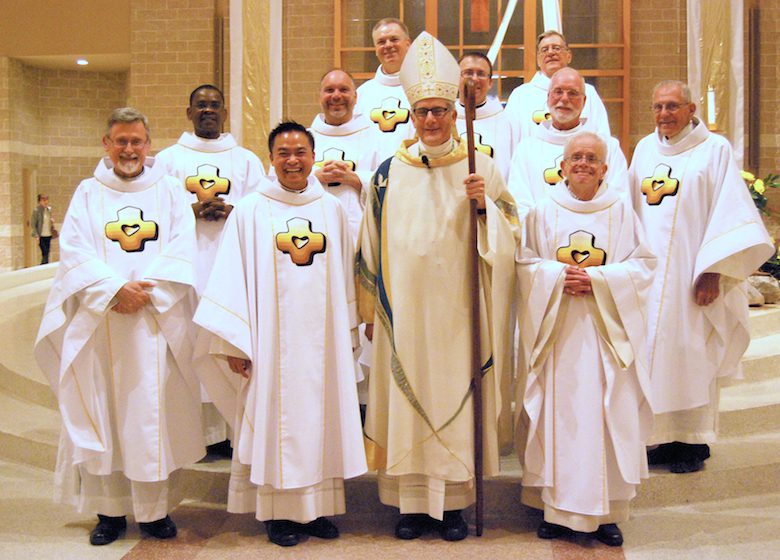 A long ways from the Auction Barn!
On Saturday, November 19, parishioners at Christ the King in Southaven, Miss., celebrated the 50th anniversary of their parish. Among those who joined them were Bishop Joseph Kopacz (bishop of Jackson), Fr. Ed Kilianski, (provincial superior of the US Province) and several SCJs who once served the parish including Fr. Richard Johnston, Fr. Pat Lloyd, Fr. Bob Tucker, Fr. Ed Zemlik and Fr. David Szatkowski.
Christ the King Church was established on March 13, 1966, as a mission of Sacred Heart Church in Walls.  Seventeen Catholics from Southaven and Horn Lake gathered with Fr. Michael Monley to celebrate Mass together at Dealers Auto Sales, a car auction barn.  Vehicles were moved out the building each weekend prior to Mass. The faith community would gather there for the next three years.
In 1969 construction began on the first parish church; it was completed by the summer.  The first Mass at Christ the King Chruch was celebrated on July 27, 1969; Fr. Howard Melzer was the main celebrant. Bishop Joseph Brunini dedicated the parish in October, 1969.  There was no rectory for the first pastor.  He lived in a small room in the back hall of the church.
Membership and programs at the parish rapidly grew. With a growing Hispanic population in northern Mississippi, Spanish and bilingual Masses were added to the schedule several years ago.
In 2002, the parish broke ground for a new church complex on Church Road; it includes offices and a religious education building.
The parish is now ministered to by a pastoral team that includes Fr. Thi Pham (moderator), Fr. Zbigniew Morawiec and Fr. Greg Schill.
Longtime parishioner and Horn Lake Mayor Allen Latimer said that Fr. Thi has a special way with members of the congregation. "Kids flock to him because he is such a joyful person," he said.
The quote is from an article recently published by the DeSoto Times-Tribune about the 50th anniversary. Click here to read it.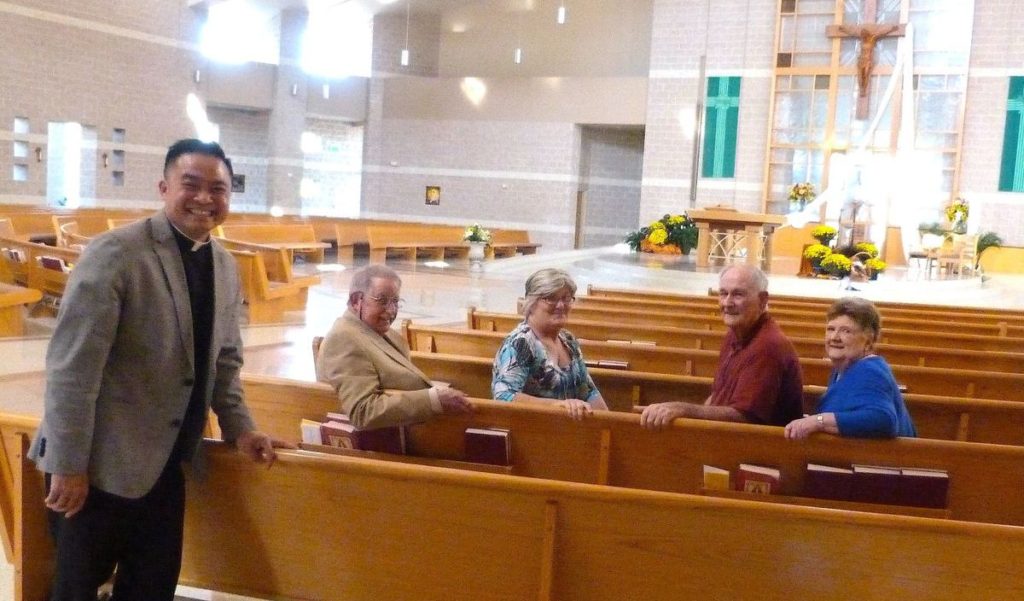 SCJ seminarian celebrates Our Lady of Aparecida
Frater Juan Carlos Castañeda Rojas, a seminarian with the US Province, is currently doing his ministerial year in Brazil. Recently he wrote about the devotion to Our Lady of Aparecida, Queen and Patron of Brazil.
"Growing up in Colombia I learned from my parents about the devotion to Maria Auxiliadora (Mary our Helper)," wrote Frater Juancho. "The Devotion to the Virgin Mary is very strong and important in my vocation…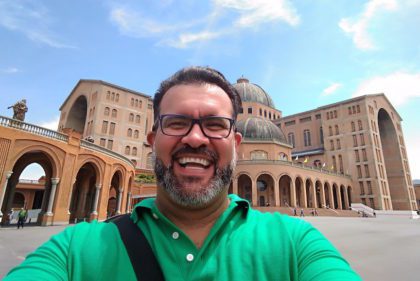 "On October 12 people in Brazil celebrated the feast of 'Nossa Senhora Aparecida' (Our Lady of Aparecida). During the entire month of October many people make their way to visit the Basilica of Nossa Senhora Aparecida in the city of Aparecida… I was amazed by the number of people whom I saw walking the highways in direction to Aparecida."
Click here read more from Frater Juancho on the province blog.
Please remember
Mark Zwick, one of the founding directors of Casa Juan Diego in Houston, died November 18 of Parkinson's Disease. He was 88. "The US Province has long been a sponsor of Casa Juan Diego through JPR grants," said Fr. Bob Bossie. "Members of the Justice, Peace and Reconciliation Commission visited Casa Juan Diego a few times and were immensely impressed by the ministry there. Fr. Dehon would be proud of the province's relationship with it."
Click here to view the obituary for Mark Zwick.
Remembering Fr. John Van Wezel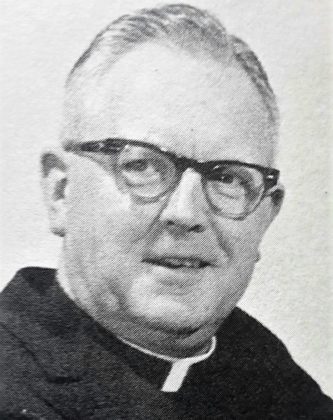 During the month of November the lives of several deceased SCJs are being highlighted in Dehonian Spirituality, a weekly e-publication of the US Province. The November 18th issue featured a reflection written by Fr. Jim Casper about Fr. John Van Wezel who served in Canada for many years.
"I loved to hear Fr. John's stories about his first ministry assignment to sailors at the Apostolate of the Sea in Rotterdam (Netherlands)," wrote Fr. Jim. "He was there during the war years. He recalled that one day he heard his mother had taken ill and he wanted to visit her. To do so he had to get through enemy lines. He told how one of the sailors connected with the underground got him a Nazi uniform and he boarded a boat to get to his mother's city. All he had to rely on was his knowledge of German and a few pointers from the sailors who assisted him. He managed to get to his mother without incident.
"John had an extremely important ministry after WW II. He was hired by the Dutch Ministry of Justice to help in the resettlement of political prisoners who were innocent but imprisoned during the war, oftentimes because they had a German spouse or became suspect because of a complaint. I believe he was chosen for this sensitive ministry because of his good judgment and compassion."
Click here to read more: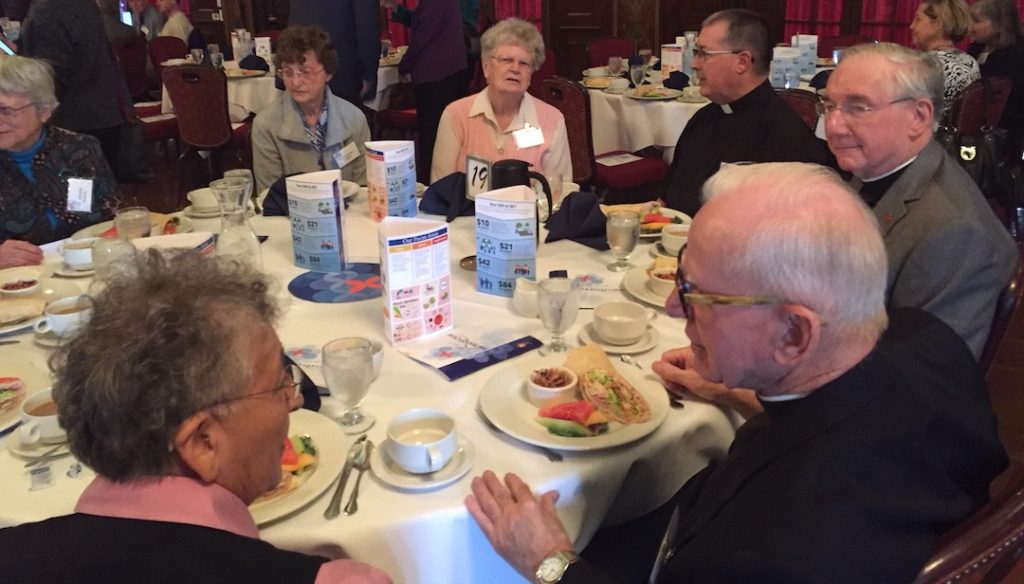 Celebrating SET Ministries
Last Thursday, Br. Ben Humpfer and Dr. John Olesnavage (SHSST Director of Pastoral Formation) attended SET Ministry's annual fundraising event with Justice, Peace and Reconciliation Commission members Fr. John Czyzynski, Fr. Wayne Jenkins and Mark Peters.  The US Province has sponsored SET (Service, Empower and Transform) for many years.
"When the SCJs had more personnel we had men ministering in three of the five poorest counties in the United States," said Fr. John. "With fewer numbers, that involvement has diminished, so it was heartening for me to learn that the funds we SCJs give to SET supports ministry in the 53206 zip code, which –– along with being one of the poorest in the nation –– has the more incarcerated fathers than any other in our country.  We are continuing the Dehonian tradition.
Click here to read more about the event on Dehonian Social Justice, the province JPR website.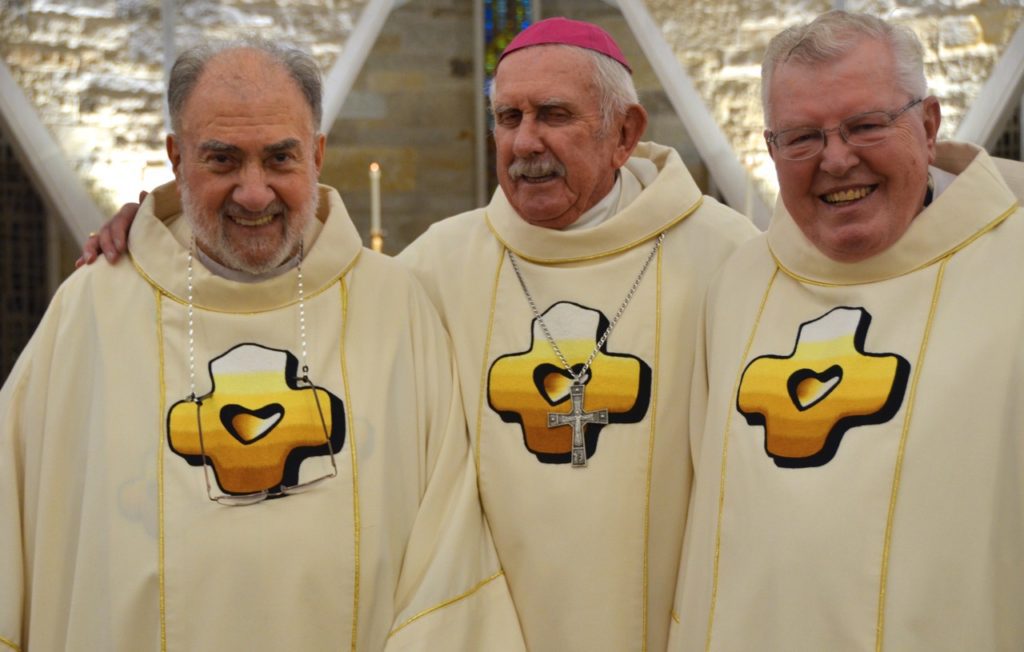 Jubilee photos
Click here to view photos from last week's celebration of the 50th anniversary of priesthood of Bishop Joseph Potocnak, Fr. Tony Russo and Fr. Tom Westhoven.
The photos are also available in an album on the province Facebook page. Click here to view them.
Holiday schedules
The Provincialate Offices will be closed November 23-25 for Thanksgiving. Also, there will be no Fridge Notes published next week, November 28. The next issue will be on December 5.
However, news for the Fridge Notes is welcome any time! Click here to send a news item or photo.

Happy birthday!
Those celebrating birthdays in December include: Fr. Chuck Wonch (70) on Dec. 5, Fr. John Strittmatter (81) on Dec. 6, Fr. Gary Lantz (81) on Dec. 8, Br. Mike Fette (65) on Dec. 12, and Br. Clay Diaz (52) on Dec. 19.
In Rome
Several members of provincial administration and staff are in Rome during the next two weeks. Dn. David Nagel leaves today for meetings of the General Finance Commission. Tomorrow, Fr. Ed Kilianski heads to Rome for the Major Superiors Meeting, and soon after Br. Frank Presto leaves for the Secretaries Workshop.
News and photos from the gatherings will be posted on the US Province Facebook page and on DehoniansWorldwide, the Facbook page for the general administration.
Provincial's time
Fr. Ed Kilianski was in Mississippi over the weekend for the 50th anniversary celebration at Christ the King parish in Southaven. He is home long enough to do some laundry and repack before heading to Rome tomorrow. He returns from the Major Superiors Meeting on December 4.
December 14 he has meetings with the Provincial Council (the two-day meeting was shortened to one) and on December 18 he goes to Pinellas Park, Fl., to lead a retreat for Advent. He returns to Milwaukee on December 23.