"It feels good to be back with my SCJ brothers!
After months of delay due to the pandemic, Fr. Juan Carlos Castañeda Rojas, SCJ, arrived in Ecuador on October 19 to join the Dehonian mission there. "It feels good to be back with my SCJ brothers," he said. Fr. Juancho is pictured above.
"I have always said that God works in mysterious ways and this time, once again, the change in my life is not an exception to that rule," he continued. "When we believe everything is going well in our lives, there is often something that may show us that we are not in complete control of our future. A year ago, I went to Colombia to get my religious worker visa and in my heart, I felt everything was going to be easy and it would take just a couple of weeks to get the visa. However, once again I was reminded that it is God who has a plan for all of us even when we do not understand it at the moment.
"I did not expect that I was going to be away for a year from the community that I had grown to love. I have trouble believing it was a year ago that I was doing my ministry as a newly ordained priest at Our Lady of Guadalupe in Houston, Texas. I would be lying if I did not admit how hard it has been to be away from the community and my ministry at Our Lady of Guadalupe.
"But I also recognize that God opened a new door for me at a time when I was feeling like so many doors in my life had closed. Thus, I was able to travel to Ecuador and return to community living. I was welcomed to the novitiate house in Quito as we wait for our brothers at the parish to overcome COVID-19 and the quarantine they need to follow. So, we pray that all our brothers at the parish get well soon so I can move there."
Click here to read Fr. Juancho's full text.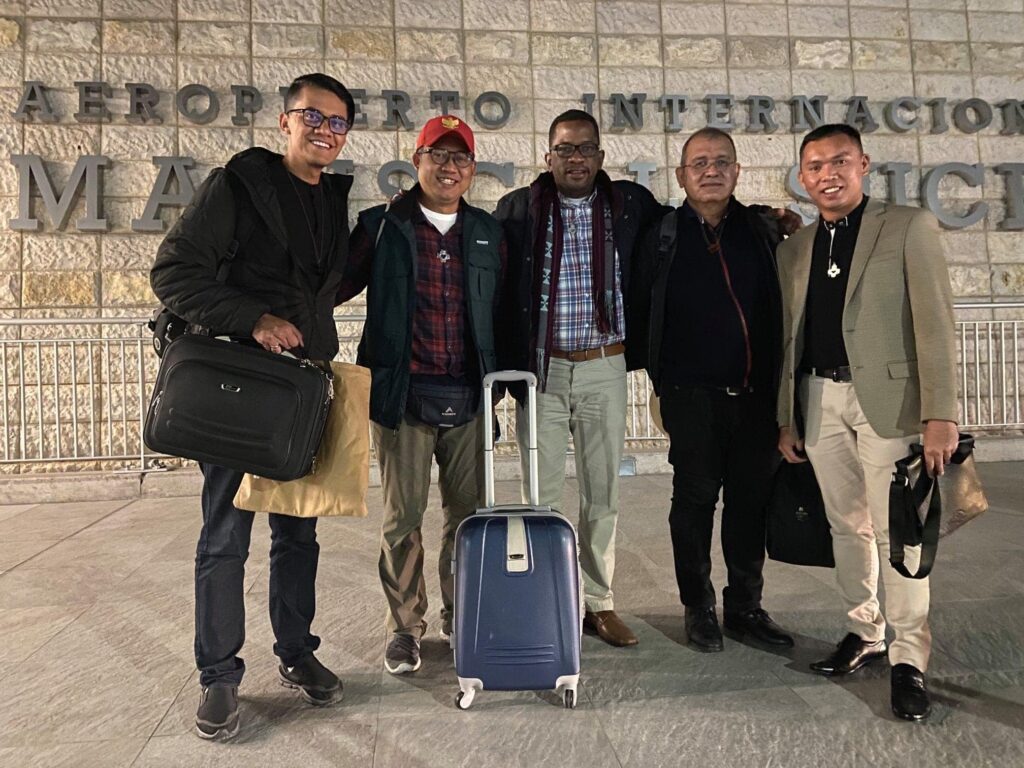 And as Fr. Juancho leaves Colombia…
The four-person team of SCJs who have been preparing in Ecuador for the congregation's first ministry in Colombia arrived in the country on October 19. The team includes: Fr. Joko Susilo (Indonesia), Fr. Rogereve Pausanos (Philippines), Fr. Delio Ruiz (Argentina) and Fr. Rafael Freire Nóbrega (Brazil).
"We were invited to prepare in the Dehonian community of Quito, in Ecuador," wrote Fr. Rafael. "The initial plan was to stay for four months learning the language, trying to get to know each other, and learning more about the Colombian reality and culture.
But with the pandemic closing borders between the countries, the group's time in Ecuador extended to eight months. "It was a beautiful opportunity to get to know the culture and beauty of Ecuador," wrote Fr. Rafael, "and also an opportunity to collaborate with our parishes and works. For the Asians in our group it was an especially helpful opportunity to practice Spanish and gain more pastoral experience with the people of the communities of Bahía de Caráquez, on the Ecuadorian coast. For all this we are very grateful to our Dehonian brothers from Ecuador, who heartily welcomed us and helped us to feel comfortable and at home."
Click here to read more on the general website and view a video about the new mission.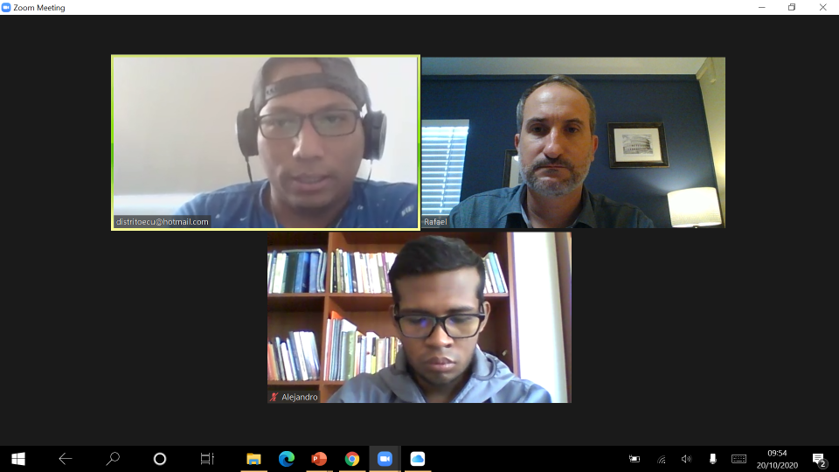 Zoom classes with Ecuador novices
We seem to have an Ecuador theme this week. Fr. Rafael Querobin, SCJ, recently held three sessions with the Ecuadorian novices via Zoom. Normally, the district's novices go to Spain for their novitiate, but the pandemic called for adaptation. Fr. Bruno Roque, SCJ, district superior, stepped in to serve as novice master, and with the help of the internet, SCJs from outside the country assisted with presentations for the novices. Fr. Rafael spoke about the Liturgy of the Hours. He is pictured here speaking with the novices, Fabian Lopez Espinoza and Alejandro Burbano. Fr. Rafael, originally from Brazil, is associate pastor at Our Lady of Guadalupe in Houston.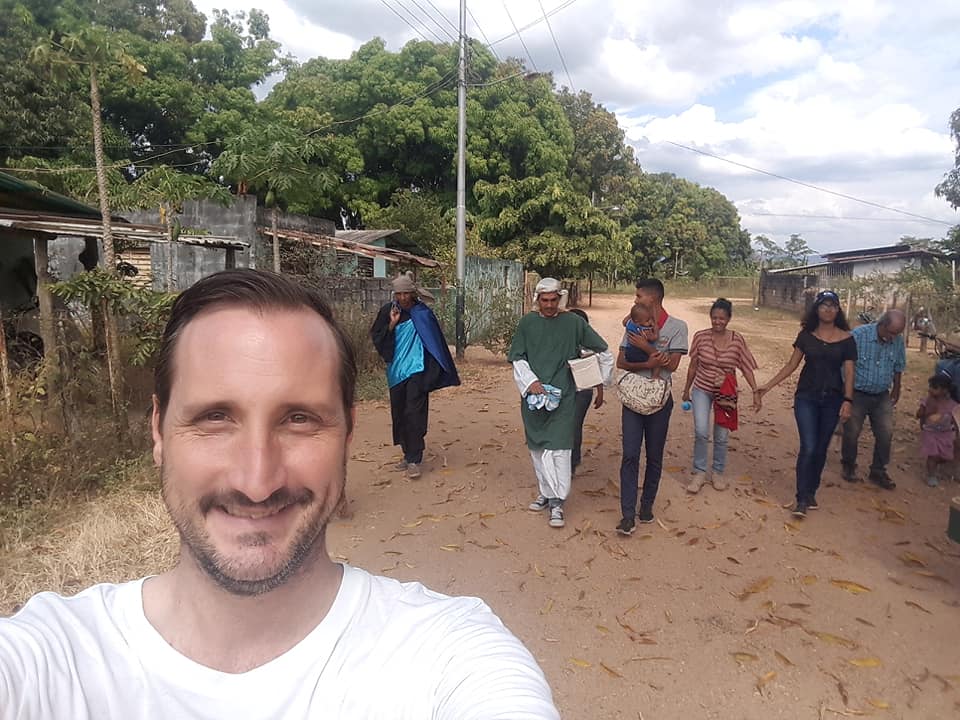 Priest murdered in Venezuela
Fr. José Manuel de Jesús Ferreira was killed by gunshot October 20 during a robbery attempt at his parish of San Juan Bautista, in San Carlos, Cojedes, Venezuela. He was 39, professed first vows with the SCJs in 2004, and was ordained to the priesthood in 2009. At the time of his death he was a priest with the diocese of San Carlos.
Click here to read more on the general website.
Click here to view a video interview with Fr. Carlos Luis Suarez Cordorniú, SCJ, superior general, on Italy's TeleDehon. Before his election as superior general, Fr. Carlos Luis had ministered in Venezuela for many years and had known Fr. José Manuel well.
And now, it's Poland's turn
Last week, the formation community at Sacred Heart Monastery posted a lighthearted video of SCJs and students doing blind taste-tests of Vietnamese snacks. This time, the spotlight is on Poland with reaction to treats such as "Ola Pola,""Pikolo," and "Krakus Waferio."
Click here or on the image above to view the video. Our YouTube Channel is "DehoniansUSA." Be sure to subscribe to see the latest videos and support the efforts of the formation community.
Please remember
+Monica Lanham, the aunt of Fr. Mark Fortner, SCJ, died on October 24, in St. Louis.  She was the last of his mother's siblings. Funeral arrangements are pending. Please keep the family in prayer.
+Richard Dupuis, honorary member of the Priests of the Sacred Heart and former principal of the Séminaire du Sacré-Cœur in Pointe-au-Chêne, QC, died October 24 in Hawkesbury, Ontario, from COVID-19 at the age of 77. Mr. Dupuis studied at the Séminaire du Sacré-Cœur from 1956 to 1961, came back as a teacher in 1965, and was principal of the school from 1978 to 2012. He is survived by his wife Yolande, and his two sons, Simon and Vincent.
Update
On October 23, Mary Balistreri, province director of healthcare, shared the following update on Fr. Bob Tucker, SCJ:
"I just spoke with the Care Coordinator regarding Fr. Bob.  He continues to make very good progress.  He has been advanced from pressure support to trach collar in the process of weaning him from the ventilator.  With the trach collar, Fr. Bob only receives oxygen support via his trach (rather than pressure support where there is minimal ventilator assistance) and is independently breathing.  Yesterday, he tolerated this procedure for 6 hours and 40 minutes!!  After this time, he was switched back to the vent to allow him time to recuperate.  Today they will work towards 8 hours.  Because of this great progress, RML is looking ahead to the next step of more intensive physical rehabilitation.  Once weaned from the vent, he will most likely need either acute rehab (in a hospital setting) or perhaps subacute rehab (in a skilled nursing home setting).  I was asked to provide settings in the Milwaukee area that we would like to see Bob transferred to once he is ready.  There isn't a time frame yet; however, the fact that this conversation is happening is fabulous news.  He has also made progress in decreasing dosages for some of this medications and will finish his antibiotic therapy today.  Things indeed are looking good."
Although Wisconsin residents are not able to visit Fr. Bob due to the high number of COVID cases in the state, he has had several visitors from the Chicago area who report at that Fr. Bob has been in good spirits. One visitor was able to play a game of cribbage with him and notes that Fr. Bob beat him.
Please continue to keep Fr. Bob in your prayers.
Personnel Directory
The 2020 North American Personnel Directory will be printed this week and distributed soon after. The most recent updates can be found in the online directory in the Members Section of the US Province website. Among the changes to note is a new cell phone number for Fr. Jean Claude Mbassi, SCJ, and a new email address for Fr. Bill Marrevee, SCJ.
Two former superior generals in the news
"German bishops and leading statesmen have been visiting the Vatican with the express purpose of easing tension and healing rifts between the Vatican and the German Church," writes Christa Pongratz-Lippitt in the Tablet.
Bishop Heiner Wilmer, SCJ, one of Germany's youngest bishops at 57, had a private audience with Pope Francis. The Tablet reports that he sees "reconciliation between the German Church and the Vatican as one of his chief commitments."
Click here to read the full article.
Click here to read a recent interview with the bishop on the congregational website.
Bishop Heiner, former superior general of the Priests of the Sacred Heart, (2015-2018) is bishop of the diocese of Hildescheim.
On October 13, Bishop José Ornelas Carvalho, SCJ, president of the Portuguese Bishops' Conference, led prayers at the start of the anniversary celebrations of the Miracle of the Sun at Fatima, and prayed for an end to the coronavirus. He is reported to have said that the pandemic had made society's "problems visible" and shown us that "we are all in the same boat … we all help each other or the boat sinks."
Click here to read more.
In America magazine, Bishop Ornelas was quoted as saying that "Valuing the role of women contributes decisively to the appreciation of ministries in the church today, overly focused on the ordained ministries."
Click here to read the full America article.
Bishop Ornelas, superior general for 12 years prior to Bishop Heiner's election in 2015, is bishop of the diocese of Setúbal.
Closing shot
Last week Bishop Joseph Kopacz (Diocese of Jackson) celebrated a livestreamed Mass for students and teachers at Sacred Heart School in Southaven and Holy Family School in Holly Springs, MS, and then spent time visiting with students at each. Both schools are ministries of Sacred Heart Southern Missions. The bishop is pictured below with a student at Holy Family.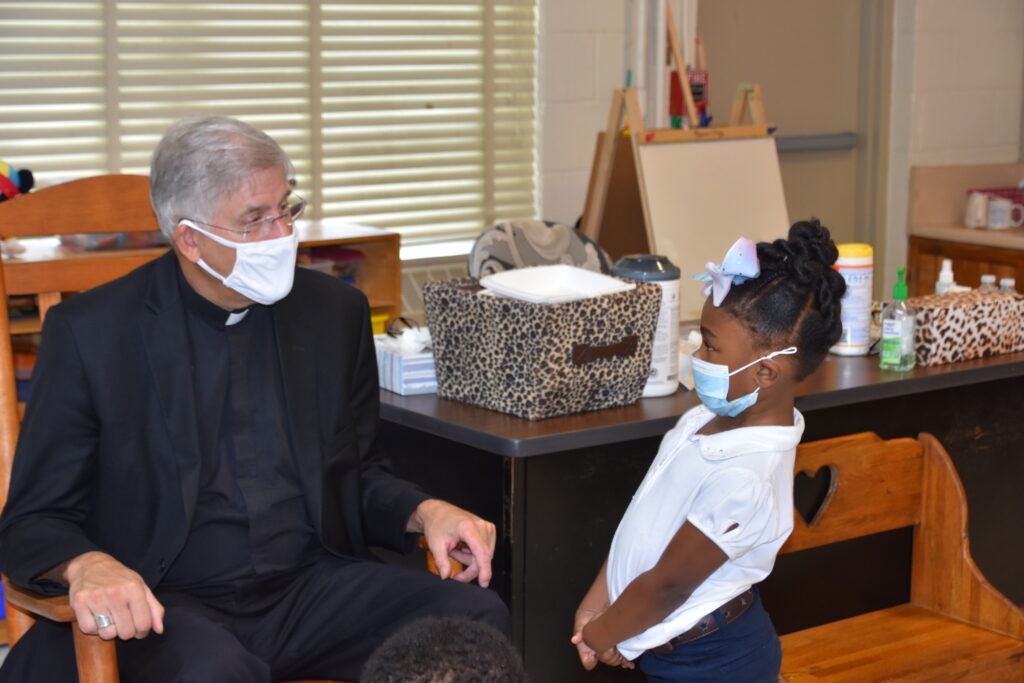 Click here to subscribe to the weekly news (Fridge Notes) via email