"If there is anything that is for sure in our lives it is that we will experience many transitions, changes, and experiences and that many of those may come to us when we least expect them. Surely this is one of lessons we have learned from the pandemic which has changed lives around the world."
-Fr. Juan Carlos Castañeda Rojas, SCJ
Finally!
After months of delay due to the pandemic, Fr. Juan Carlos Castañeda Rojas, SCJ, arrived in Ecuador on October 19 to join the Dehonian mission there.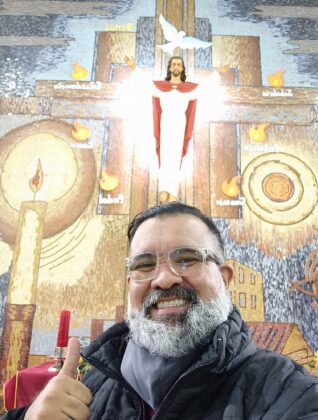 "I have always said that God works in mysterious ways and this time, once again, the change in my life is not an exception to that rule," wrote Fr. Juancho. "When we believe everything is going well in our lives, there is often something that may show us that we are not in complete control of our future. A year ago, I went to Colombia to get my religious worker visa and in my heart, I felt everything was going to be easy and it would take just a couple of weeks to get the visa. However, once again I was reminded that it is God who has a plan for all of us even when we do not understand it at the moment.
"I did not expect that I was going to be away for a year from the community that I had grown to love. I have trouble believing it was a year ago that I was doing my ministry as a newly ordained priest at Our Lady of Guadalupe in Houston, Texas.
"But if there is anything that is for sure in our lives it is that we will experience many transitions, changes, and experiences and that many of those may come to us when we least expect them. Surely this is one of lessons we have learned from the pandemic which has changed lives around the world.
"I would be lying if I did not admit how hard it has been to be away from the community and my ministry at Our Lady of Guadalupe. Amazing people there welcomed me – a new priest – with open hearts. But I also recognize that God opened a new door for me at a time when I was feeling like so many doors in my life had closed. Thus, I was able to travel to Ecuador and return to community living. I was welcomed to the novitiate house in Quito as we wait for our brothers at the parish to overcome COVID-19 and the quarantine they need to follow. So, we pray that all our brothers at the parish get well soon so I can move there.
"The day that I arrived in Ecuador I was asked to help with confessions for the young people who were going to be confirmed at the parish. It was very nice to be back in such a ministry even with the new regulations and procedures due to COVID-19. But at least I felt that I was back being part of a community.
"I am confident this will be a good experience for me as well as being a step closer to returning to my province in the United States, and God willing, to the ministry there that I love so much. While the process to make my way back continues, I will give and do my best to learn from this experience and also to give my heart to this new ministry for the time that God has planned for me here. This is a new situation, but it truly feels good to be back in community with my SCJ brothers."
Fr. Dehon sent the congregation's first missionaries to Ecuador in 1888. But due to several complex problems the mission did not succeed and the SCJs left the country in 1896. One hundred years later the Spanish Province took up the mission anew. The district now consists of two communities in Quito and one on the coast at Bahía de Caráquez. District members have included SCJs from Spain, Venezuela, Brazil, Ecuador and now, the US Province.
In a letter during his 2016 visit to Ecuador, Fr. Stephen Huffstetter, SCJ, vicar general, described the parish at which Fr. Juancho will be ministering:
"Our parish in Quito, Santa María de la Argelia, is actually a series of nine chapels that serves a large area of the southern section of the capital. The area houses around 50,000 people. 90% of the country is nominally Catholic, and as is true in most parts of the world, the challenge is to serve the smaller percentage we see in church each week and reach out to those who are on the periphery. This area of Quito has grown as people from smaller countryside villages flock into the cities in search of work."
¡BIENVENIDO PADRE JUAN CARLOS!