Fr. Stephen Huffstetter, SCJ, former provincial superior of the US Province, was elected to a second term on the General Council of the Priests of the Sacred Heart. He was a member of the previous council whose term was shortened following the appointment of Fr. Heiner Wilmer, SCJ, then superior general, as bishop of Hildesheim, Germany.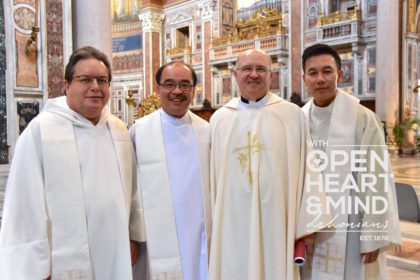 Fr. Steve, 59, professed his first vows in 1982 and was ordained in 1989. Prior to his election as provincial superior in 2013, Fr. Steve was executive director of St. Joseph's Indian School in Chamberlain, SD.
Originally from South Bend, Ind., Fr. Steve studied at and earned degrees from Loyola University and Catholic Theological Union in Chicago. At CTU, he received a Doctor of Ministry in Theology and one in Cross Cultural Ministry.
He has had a long commitment to Native Americans and the people of South Dakota since his initial years with the community. Before completing his seminary studies, Fr. Steve worked for two years with the Cheyenne River Pastoral Team in Eagle Butte, SD.
Following his ordination in 1989, Fr. Steve returned to Eagle Butte, where he had also served as a deacon. In 1997, he moved from pastoral work to formation and became the director of the undergraduate program in San Antonio from 1997 to 2001.
He went back to South Dakota in 2001 and ministered with the Lower Brule Pastoral Team until 2004, when he was named president of St. Joseph's Indian School.
Interview
At the start of the General Chapter, Fr. Steve did a short video interview in which he reflected on his first three years as a general councilor. The following are a few snippets from the interview:
Question: Fr. Steve, please tell us about your responsibilities during your three years as General Councilor.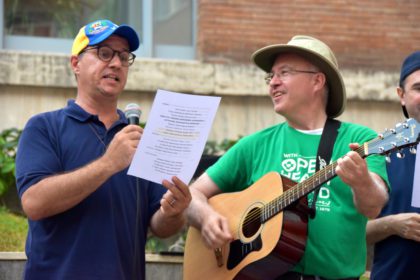 Fr. Steve:  My first responsibility was to learn Italian. They sent me to school for six weeks in Bologna so I could understand what we were talking about in council meetings! I worked with the United States and Canada; I also worked with England and Ireland, and the superior general thought that I should also work with India because it is a young and developing entity. I made three trips to India during my first three years, trying to spend some substantial time there.
I also had responsibility for the Spanish-speaking entities in Latin America. That was more of a stretch. I had to work on my Spanish while I was learning Italian at the same time.  I'd get the two mixed up. But little by little I seem to have a better understanding of both.
In terms of sectors, I had responsibility for evangelization, the way that we interact with people and apostolic work. This meant that I worked with our schools and parishes, as well as those who do justice and peace work and those who seek to develop interculturality. I had a lot of different areas that were interesting to work with.
Question: You had a wide variety of tasks. Can you talk about some of your greatest joys during your three years?
Fr. Steve: Definitely my greatest joy was the visitations, to see what people were doing on the ground, how they were interacting with people, the new vocations coming into the community filled with questions and enthusiasm. I enjoyed visiting the elderly, the people who had committed much of their lives to working in the different areas. Seeing the social projects, going to our parishes, celebrating mass, hearing music in many different languages – I enjoyed all of this. I have always enjoyed one-on-one contact with people, just listening to people's stories and perspectives.