Br. Duane Lemke, SCJ
"That is my calling as a Priest of the Sacred Heart: to welcome the Spirit into my life for both the big and small things that make up a life, and to let that welcome lead me to extend God's love to others as it has been extended to me."
-Br. Duane Lemke, SCJ
"I baptize you in the name of the Father, and of the Son, and of the Holy Spirit."  How often do we recall these deeply significant words that marked our baptism?  If others are anything like myself, I imagine that their deeper impact tends to get lost in the day-to-day concerns of life.  These words mark us as Christian and certainly give us identity, but, above all, they speak of relationship.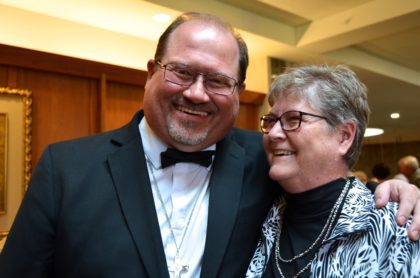 Several years ago I took a course about discernment according to the tradition of St. Ignatius. I was affected there by the profound closeness of the Spirit within the heart of the baptized.  The Spirit is a guide during significant moments of life, but just as much during the day-to-day experience of living, sometimes drawing us toward choices that lead us closer to God, and at other times repelling us from those that lead us away.
It was humbling to see God's action and interest in me in such an intimate way.
That is my calling as a Priest of the Sacred Heart: to welcome the Spirit into my life for both the big and small things that make up a life, and to let that welcome lead me to extend God's love to others as it has been extended to me.
I began that journey formally in 1997, when I took my first vows with the community. Time flies!  The first half of my life as an SCJ was as a member of the Pastoral Team in Lower Brule, SD.  Those were very privileged years spent with the Lakota and Dakota in Indian Country, as well as with farmers and ranchers.
For almost ten years I was a formation director, helping form our students ––candidates, fraters and brothers –– in the charism of Fr. Leo John Dehon. It was a privilege to be with them as they discovered the moments of the Spirit as they discerned their calling in life: to be a priest or brother, to be a Priest of the Sacred Heart.  It was a joy and a challenge, but always rewarding and meaningful to be with them as they discovered the movement of the Spirit within them in the day-to-day of living of religious and common life.
It is not always easy for spouses to learn to live under the same roof with each other, and it is not always easy for religious to learn how to live under the same roof with many others.
When I left formation I continued to work with students, but primarily our international Dehonians who were studying in the English and Culture studies program at Sacred Heart Seminary and School of Theology. I later became the superior of our retirement community at Sacred Heart at Monastery Lake, and I now serve on the Provincial Council. I also enjoy being a part of the pastoral ministry at St. Martin of Tours parish in Franklin, Wis.
Before I end this introduction to me and what I do, I must add words about my family.  My parents, my sister, brother, their spouses, and my six nieces and nephews are perhaps my best foundation in my vocation as a Priest of the Sacred Heart.  Fr. Dehon often referred to his family as the place where he first learned the love of God.  When it comes to learning how to welcome the Spirit and experience God's love, kindness, and truth, my family is a sure foundation, example, and source of strength, support, and supportive challenge for me.
A special word about my parents, John and Judy:  they were married by a Priest of the Sacred Heart and took me to be baptized by a Priest of the Sacred Heart in Sacred Heart parish.  Without them, I would not be one myself.
---
Meet our 2023-24 students!
Fr. Juan Carlos "Juancho" Castañeda Rojas, SCJ
Fr. Christianus Hendrik, SCJ
20 Questions with Dehonians