Fr. Christianus Hendrik, SCJ
"Giving up anger and hate changed my life. Love is so good. As Dehonians we are called to live our life with love. With love we can be open to everything."
-Fr. Christianus Hendrik, SCJ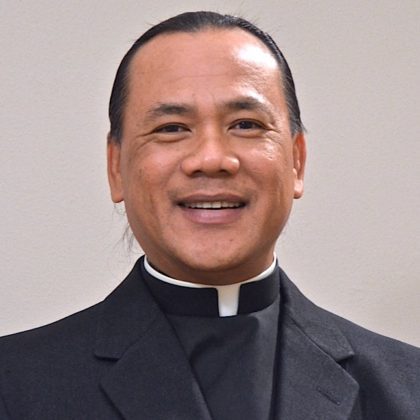 "I never think of myself as a missionary," said Fr. Christianus Hendrik, SCJ. "I just came here to help."
Originally from Indonesia, Fr. Hendrik has served for many years with the Lower Brule Pastoral Team in rural South Dakota. He is also a member of US Provincial Council.
Fr. Hendrik's first mission assignment was in West Papua but it was an assignment cut short when he came down with a difficult case of malaria that led to a stroke which paralyzed much of his body. After eight months of recovery his provincial superior suggested that he take a sabbatical in the United States to learn English and then go to a new assignment in the Philippines.
He was preparing to be a missionary, but instead of going to the Philippines he was asked to serve on the Lower Brule Pastoral Team in rural South Dakota. It was one of the congregation's first missions in the United States; its first missionaries were from Germany.
"And so I am a missionary here, but again, what does that mean?" said Fr. Hendrik. "We are all preparing to be missionaries, wherever we go we are doing mission."
He said that his own preparation began at home where learned from his mother's generosity to others what it means to serve. "Our house was always open to people and I asked my mother, 'Why, when we have so many needs ourselves, do we give to others?'" said Fr. Hendrik.
"We give to the poor so that one day we may all harvest," is what his mother told her son. The family often suffered challenges and hardship, but the generosity of Fr Hendrik's mother never wavered.
From his family he also learned how to live in diversity, in plural cultures. Like many Indonesians, Fr. Hendrik's family is a blend of several faiths, both Christian and Muslim. In a family picture that he showed to students, two of his sisters' wear headscarves, following the tradition of their faith. "Most of my friends growing up were Muslim," he said.
His parents' separation when he was eight was also preparation to be a missionary. "My mother worked to support us," he said. "Before she went to work at 6:00 in the morning she left a list of chores for us kids to do. Because of that I learned to cook. This too was preparation; I can feed myself, but I can also feed others."
However, the most important preparation, the most important thing that Fr. Hendrik learned from his family was forgiveness and love. Yet it was a difficult lesson to learn.
For many years Fr. Hendrik was angry at his father for leaving the family; they didn't speak to each other.
In the seminary one of Fr. Hendrik's formation directors –– Fr. Paulus Sugino (now a general councilor) –– knew of his anger and encouraged Fr. Hendrik to write to his father. Unknown to Fr. Hendrik, his father had reached out to the rest of his family while he was in the seminary.
"My family didn't tell me," he said. "They didn't want to upset me while I was away at the seminary."
Fr. Hendrik's formation director continued to ask him, "Did you write to your father?" One day, he told Fr. Hendrik that his father wanted to visit, that he was traveling in the area and hoped to stay with the community briefly.
It was then that father and son finally spoke with each other. "We sat down together, we talked," said Fr. Hendrik. "Something had changed. I had no hatred; I had no anger. It was gone.
"Giving up anger and hate changed my life. Love is so good. As Dehonians we are called to live our life with love. With love we can be open to everything."
And that, said Fr. Hendrik, is the most important preparation for becoming a missionary. "Wherever your mission is," he said, "to be a missionary you must have an open heart. You must love."
---
20 Questions with Dehonians
Fr. Juan Carlos "Juancho" Castañeda Rojas, SCJ
Fr. Christianus Hendrik, SCJ