On All Souls Day…

May we never lose hope
"May we never lose our memories as a family, a people. May we never lose hope, always contemplating the horizon, always looking ahead. May God grant us the grace to recognize the lights that accompany us to where He awaits us with so much love."
-Pope Francis, All Souls Day, 2018
---
News of the week

Winning the lottery, pursuing a vocation
For Frater Kodjovi Hubert Liassidji, SCJ, winning the lottery didn't involve a scratch-off, lotto ticket or Powerball number. He was one of approximately 50,000 people who won a permanent residency visa ("green card") through the Diversity Visa program. Administered by the US Department of State, it was established in 1990 as a way to increase the diversity of immigrants to the United States.
Originally from Togo in western Africa, Frater Hubert moved to the United States in 2010 and became a US citizen in 2017. He professed his first vows in 2019. Click here or on the image above to learn about his vocation story in his own words. The video is another in a series being produced by our formation community at Sacred Heart Monastery.
Click here to access the DehoniansUSA YouTube channel. And while you are there, be sure to subscribe! It's free!
Mother Frances Cabrini, patron saint of immigrants and refugees
Wednesday, November 13, is the feast day of Mother Frances Cabrini, MSC, patron saint of immigrants and migrants.
In a new world, a new culture, without contacts, not knowing the language, Mother Cabrini began her ministry to the migrant community in New York City. She and her community established 67 institutions dedicated to caring for the poor. In 1946, Mother Cabrini was the first US citizen to be canonized.
Members of the North American Migration Committee write: "To celebrate not only the life of this remarkable woman and of her congregation, but also to celebrate our own prayer, presence and solidarity with immigrants and refugees, we offer you a prayer."
Click here to download a PDF with the prayer.
Happy birthday!
Our November SCJ birthdays begin with Fr. Ed Kilianski and Fr. David Szatkowski who both celebrate their birthdays today, November 2. Other birthdays this month include Frater Hubert Liassidji (take a look at his vocation story in the video above) on Nov. 3, Br. Brian Tompkins (Nov. 4), Fr. Martin Antony Kadamattu (Nov. 10), Fr. Greg Schill (Nov. 14), Fr. Albertus Joni (Nov. 16), Fr. Jan de Jong (Nov. 17), Fr. Tim Gray (Nov. 18), Fr. Antonio Maria Resende Pereira (Nov. 22), and Celsus Robert (Nov. 30). Happy birthday!!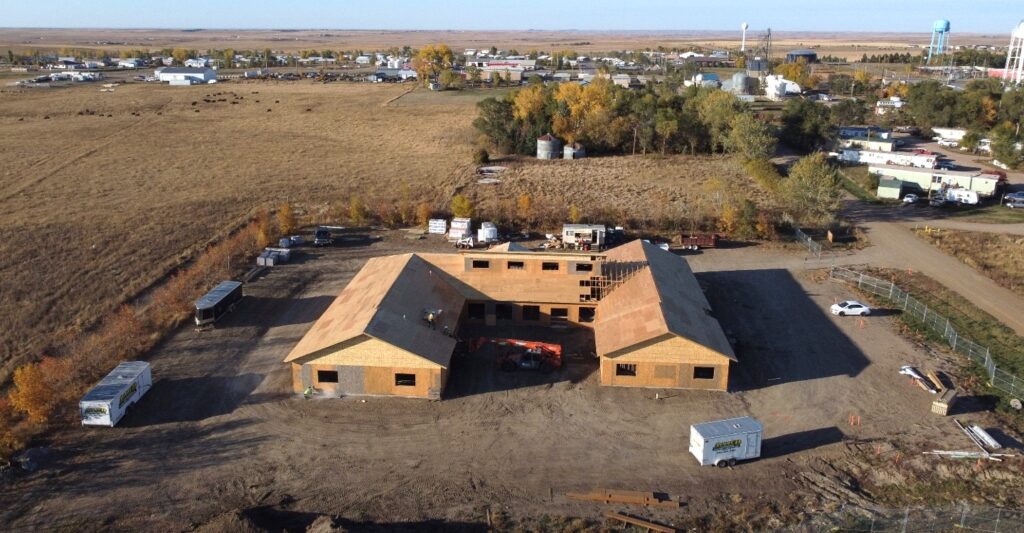 A year later
It has been just over a year since a groundbreaking ceremony was held for the new Family Violence Women's Safe Shelter in Eagle Butte, SD. The shelter is a ministry of the Sacred Heart Center, which was begun by the Priests of the Sacred Heart and continues to be sponsored by St. Joseph's Indian School.
As with many projects during this year of COVID-19, unexpected delays have slowed construction, but even in the midst of an early autumn snow, the building continues to take shape.
"It's easy to see progress when you observe walls and trusses being erected and sheathing added to cover them," said Greg Fischer, executive director of the center. But now, much of the vital work that isn't easily seen is underway, such as plumbing and insulation. Duct work and the installation of the fire system is expected to take place in early November. Sheet rock will go up at the same time. "Exterior windows and doors are on site and due to be installed within the first couple of weeks in November. Along with this, the roofing contractor is due in this Monday or Tuesday to start heaters inside the building to melt the snow and ice from the roof so shingling can be completed."
In an interview shortly after construction began, Greg described the new facility, noting that it will have enough space for victims to have their own rooms, including a private bath. [Something which is now vital in the midst of the pandemic] The common areas will be significantly larger. There will be an indoor play area for the children of victims. Traditionally, most emergency shelters across the country are not able to house male victims, or a woman who has a teenage son. The new building will have rooms located separate from the main shelter which will allow the center to house these victims.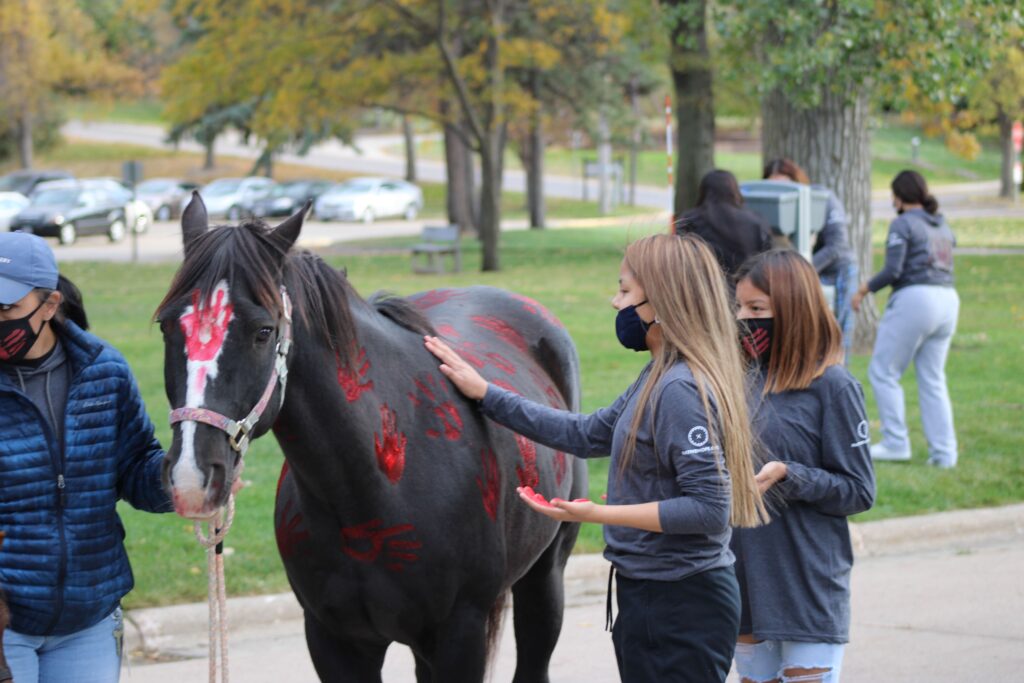 Difficult talk about a difficult topic
On October 14, St. Joseph's Indian School and Native Hope staff led female students in grades 6-12 through an educational opportunity on Missing and Murdered Indigenous Women and the Red Sand Project. The event brought awareness and provided information on protective factors around sex trafficking. Sex trafficking is prevalent in South Dakota, and Native American women and children are disproportionately at risk.
The late-afternoon sessions began in Our Lady of the Sioux Chapel and included prayer, sharing statistics and a video created by Native Hope. Following the presentation, students made prayer ties while alumnus and houseparent Shawn Zephier sang a Native American suffering song. The ties were strung together to hang in the wind from the school's prayer tree, carrying the students' prayers for victims to the heavens.
Following the presentation, each student received a bag of red sand provided by the Red Sand Project. Students filled cracks in the sidewalk outside, an action demonstrating a commitment not to let anyone fall through the cracks because of a lack of awareness about sex trafficking. According to the Red Sand Project, "The most vulnerable people in our communities carry the greatest risk of losing their freedom … The simple act of placing sand in a crack or posting a photo on social media may seem inconsequential, but small actions build upon each other to make transformational change."
The emotional yet educational day closed with students dipping their hands in red paint and placing them on the body of one of the therapy horses that reside on campus. The handprints symbolize the voices of the women and girls silenced by sex trafficking.
Staff mental health counselors worked with students before, during and after the event.
Click here to learn ways to assist youth from becoming vulnerable to trafficking.

Jewish studies webinar designed for Christians
Beginning November 11, the Lux Center for Catholic-Jewish Studies at Sacred Heart Seminary and School of Theology, is hosting a three-part webinar. The topics: "What do Jews believe about death and dying, salvation and forgiveness?" on Nov. 11, "The Hebrew bible: Jewish and Christian Responses" on Nov. 18, and "Hanukah is NOT the Jewish Christmas and other Jewish holidays" on Dec. 2. The presentations are free and held as webinars (online) but participation is limited.
Seminar faculty include Rabbi Evan Moffic (an author, and rabbi at Makom Slel Lakesid Congregation in Highland Park, IL), Bishop Richard Sklba (auxiliary bishop emeritus of Milwaukee), Rabbi Steven Adams (director of Pastoral Care for Ovation Senior Communities in Milwaukee), and Rabbi Rachel Kaplan Marks (associate rabbi and director of Congregational Learning at Congregation Shalom in Fox Point, WI).
Click here to access more information and register. The seminar is supported with a grant form the Harri Hoffmann Family Foundation.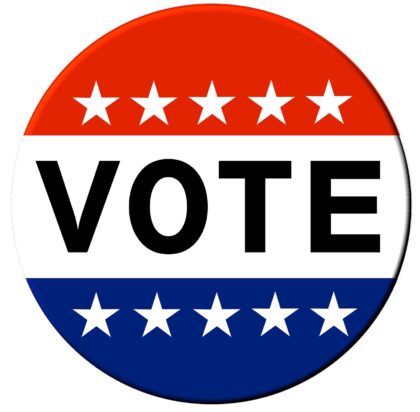 Election day
It would be hard to believe that anyone would be unaware of the fact that tomorrow is election day in the United States. Citizens of the country may be strongly divided on many things, but most agree on at least one thing: it will be good to see the campaign advertising, phone calls and robo-texts come to an end.
Regardless if you identify RED, BLUE or PURPLE, Fr. Ed Kilianski, SCJ, reminds those who are eligible, to vote tomorrow if you haven't done so already. "It is incumbent on every citizen to do so," said Fr. Ed. "This isn't just about who will lead our country as president, but about leadership on many levels including local and state leadership."
Civilize It
In the midst of election season the United States Conference of Catholic Bishops (USCCB) launched Civilize It: Dignity Beyond the Debate asking Catholics to pledge civility, clarity, and compassion in their families, communities, and parishes, and call on others to do so as well.
"Civilize It is about making room in your heart for those with whom you disagree," state organizers. "We are called to recognize that each one of us is a beloved child of God and to respond in love to that reality. Civilize It is a non-partisan call to focus on the dignity of all people, even when we disagree, and to put faith in action by bearing witness to a better way forward."
Click here to learn more.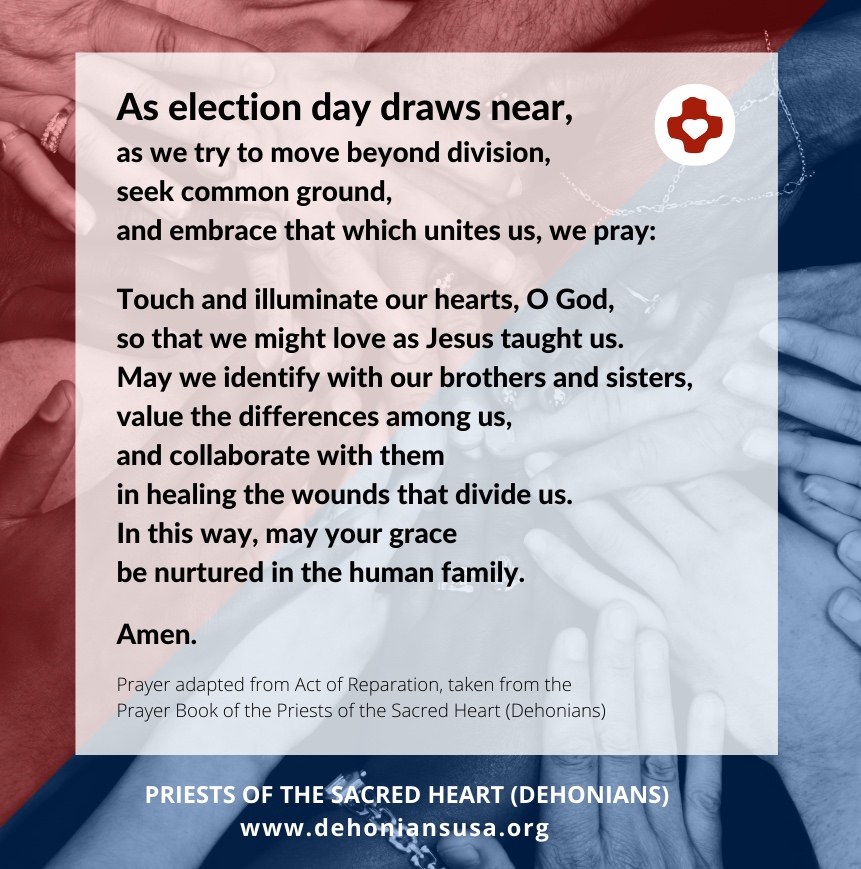 Click here to subscribe to the weekly news (Fridge Notes) via email